---
Marketing Mistakes (And How to Avoid Them) Podcast Series
Join Stacy Jones on this podcast, the CEO and founder of Los Angeles entertainment agency Hollywood Branded. Learn from her 20+ years of experience as she shares top notched advice on marketing best practices for brands and walks you through how to leverage entertainment content and influencer partnerships to increase your brand's overall consumer engagement and most importantly, your sales.
In this Marketing Mistakes podcast episode, Hollywood Branded's CEO Stacy Jones discusses 9 downsides of programmatic advertising and media buying for product placement, and why it just doesn't work.
---
---
Get The Podcast Transcript
Visit our podcast page to download the full transcript!
---
So…. What Is Programmatic Advertising And How Does It Works?
Generally, programmatic advertising was invented to help automate the decision-making process of media buying by targeting specific audiences and demographics.
Basically, opportunities for advertisers are loaded into a software system, which then can spit out what content - be it digital or televised – that the advertiser can buy around. You can segment your search by specifics, including audience composites and size.
Content shared in these software scheduling programs may include:
Display

Mobile
Video
Social
Search
TV
What a relief!....right? This sounds very time-saving and for media, it can work.
But for product placement? If your brand is offered a programmatic option to purchase product placement within content - run. Run as fast as you can. Because it doesn't work and you are going to get sold a marketing partnership that is bound to fail from the get go.
There is just too much that has to be customized for a brand to be embedded within content. The right storyline. The right character. The right scene. The right usage. Too many wrongs can happen if there is not oversight and actual discussion.
Our team truly believes that a "real connection" will always overpower the "artificial intelligence(AI)." It's just like choosing Google Text-to-speech for your script over hiring a professional voice-over artist – they both deliver the message but the impact to your buyers is massively different.

---
Why Does A Programmatic Media Buying Database Not Work For Product Placement?
Unless something major changes in the way Hollywood communicates within its production structure, programmatic scheduling for product placement is something that is only a brand nightmare in waiting which is recognized by those who truly understand the practice. So to dig a little deeper... check out our infographic we've made for you to understand why you should avoid trying to make product placement programmatic.
---
The Marketing Mistakes (And How To Avoid Them) Weekly Podcast
Want to learn more how product placement magic happens, what celebrity event activations exist or ways influencer partnerships help your sales? Visit HollywoodBranded.com to gain access to free content to learn which key tactics best fit your brand.
You'll find surveys, webinars, daily blogs, e-books and guides, all created to make sure you have access to the best possible marketing practices. Don't forget to join Stacy Jones for our next podcast conversation about Marketing Mistakes and How To Avoid Them and learn how to start making that entertainment marketing magic happen for your brand!
Click here or below to access our Podcast and sign up for the RSS feed!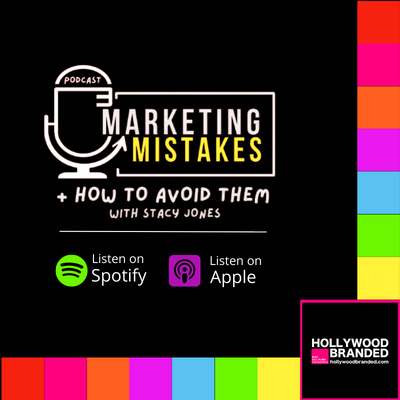 ---