---
Marketing Mistakes (And How to Avoid Them) Podcast Series
Join Stacy Jones on this podcast, the CEO and founder of Los Angeles entertainment agency Hollywood Branded. Learn from her 20 years of experience as she shares top notched advice on marketing best practices for brands and walks you through how to leverage entertainment content and influencer partnerships to increase your brand's overall consumer engagement and most importantly, your sales. In this blog, Hollywood Branded's CEO Stacy Jones discusses how entertainment marketing is different than advertising or public relations, and shares an infographic on how brands can benefit massively from it.
---
---
Get The Podcast Transcript
Visit our podcast page to download the full transcript!
---
A Commonality Shared Amongst Generations - Fast Forwarding Through Ads
What Hollywood Branded does as entertainment marketing specialists, is deal expertly in the art of consumer suggestion - something which flows along the lines of both advertising and PR. But there are differences in these marketing practices.
Unless you have a degree in PR, advertising, or marketing (and perhaps even if you do), the fine points of public relations and advertising versus marketing can blend together a bit.
Advertising is the most in-your-face way of promoting a brand, and a practice that can be alienating, intrusive and bitterly complained about by many. Or quite frankly… just ignored, flipped through and DVR'd fast forwarded.
---
So How Is Marketing Different?
Marketing tends to be more subtle than advertising or public relations. Marketers study the way their target demographic shops, reads, watches and, in general, consumes. They then use this information to organically reach their audience.
Entertainment marketing is a specific facet of marketing that focuses on reaching consumers through entertainment - specifically product placement, brand integration, celebrity endorsement, social media influencer campaigns and event activations.
Our agency not only believes, but knows star-power turns heads. Marketers who focus on entertainment marketing in particular have extremely established relationships with the stars of Hollywood and with the people who run it behind the scenes. They are experts at creating a marketing strategy that fits the brand and feels organic to the consumer while still 'wow'-ing them with celeb power.
---
The Infographic On The Differences
To see your product or brand used on TV or in the hands of a celebrity? Well it quite simply validates the quality of your brand to those who consume that form of entertainment, whether the consumer realizes it or not. And 43% of consumers report actively being aware of making a purchase from seeing a brand in content they are watching! That's a big number. That is 43 people out of 100 who may never have bought the brand if they hadn't seen the content. And that's only those who are aware of it. This power of suggestion is very important in a marketing strategy and therefore should be to brand marketers. It can completely sway the way your demographic views your brand.
Before you spend another dollar on traditional advertising and PR, start thinking about ways to make your marketing more engaging to consumers using entertainment marketing. This infographic will help you learn how...
---
The Marketing Mistakes (And How To Avoid Them) Weekly Podcast
Want to learn more how product placement magic happens, what celebrity event activations exist or ways influencer partnerships help your sales? Visit HollywoodBranded.com to gain access to free content to learn which key tactics best fit your brand.
You'll find surveys, webinars, daily blogs, e-books and guides, all created to make sure you have access to the best possible marketing practices. Don't forget to join Stacy Jones for our next podcast conversation about Marketing Mistakes and How To Avoid Them and learn how to start making that entertainment marketing magic happen for your brand!
Click here or below to access our Podcast and sign up for the RSS feed!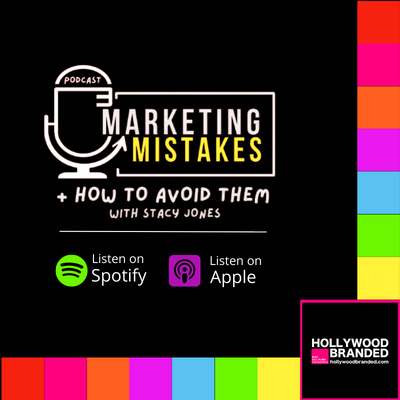 ---