---
Sharapova Was The Perfect Match For Many Brands
When Maria Sharapova retired from professional tennis in February, she left as one of the richest female athletes ever. While she had a very successful career as an athlete, it was her brand partnerships that earned her the majority of her wealth during her career. From the time of Maria Sharapova's Wimbledon victory at the age of 17 in 1987, she was one of the most highly sought after female athletes when it comes to celebrity endorsements.
Brands loved the combination of Sharapova's attractive looks and competitive spirit. She was the perfect face for many brands - at least until 2016 when she received a two year ban from the International Tennis Federation for doping. In this blog, Hollywood Branded shares 17 of Maria Sharapova's celebrity driven brand partnerships through her career, and how choosing a brand spokesperson can impact the positive image of the brand.
---
---
A Successful Yet Controversial Career
Maria Sharapova, one of the most successful stars the WTA has ever produced, announced her retirement on February 26th. Sharapova held the number 1 ranking for 21 weeks in her 19 years on the WTA Tour. She also holds a Career Grand Slam, having won all four of the Majors (Wimbledon, US Open, Australian Open, and French Open), including winning the French Open twice. In addition to her major victories and numerous other championships on the Tour, Sharapova also won a silver medal in the London 2012 Olympics.
Sharapova tested positive for Meldonium, a banned substance, during the Australian Open. In spite of her claims of ignorance and that she was using the drug to recover from injury rather than improve her performance, Sharapova was dropped by many of her brand partnerships.
Maria Sharapova's suspension was lifted after 15 months and some of her prior brand deals returned to her. While other previous endorsements were not revisited, many new partnership arose for her. Sharapova made a lot of money during her professional tennis career but the majority of it came through her many celebrity endorsement deals. Here is a look at 17 of the major brand partnerships in Maria Sharapova's career.
---
Avon
Avon partnered with Maria Sharapova in 2014 to launch a new fragrance called Luck. Maria was excited to join Avon due to their reputation for empowering women. Sharapova announced this partnership saying, "I am excited to represent Avon Luck, a fragrance that reminds us to savor and truly enjoy our triumphs."
---
Canon
Sharapova landed one of her first big endorsement deals with Canon at the age of seventeen soon after winning her first major title, Wimbledon, in 2004. Canon, who is no stranger to running partnerships with exciting tennis stars, had previously enjoyed a long and successful endorsement campaign with Andre Agassi. Canon cleverly connected their Power Shot camera to Sharapova's tennis style by having her serve up their slogan: "Make every shot a Power Shot."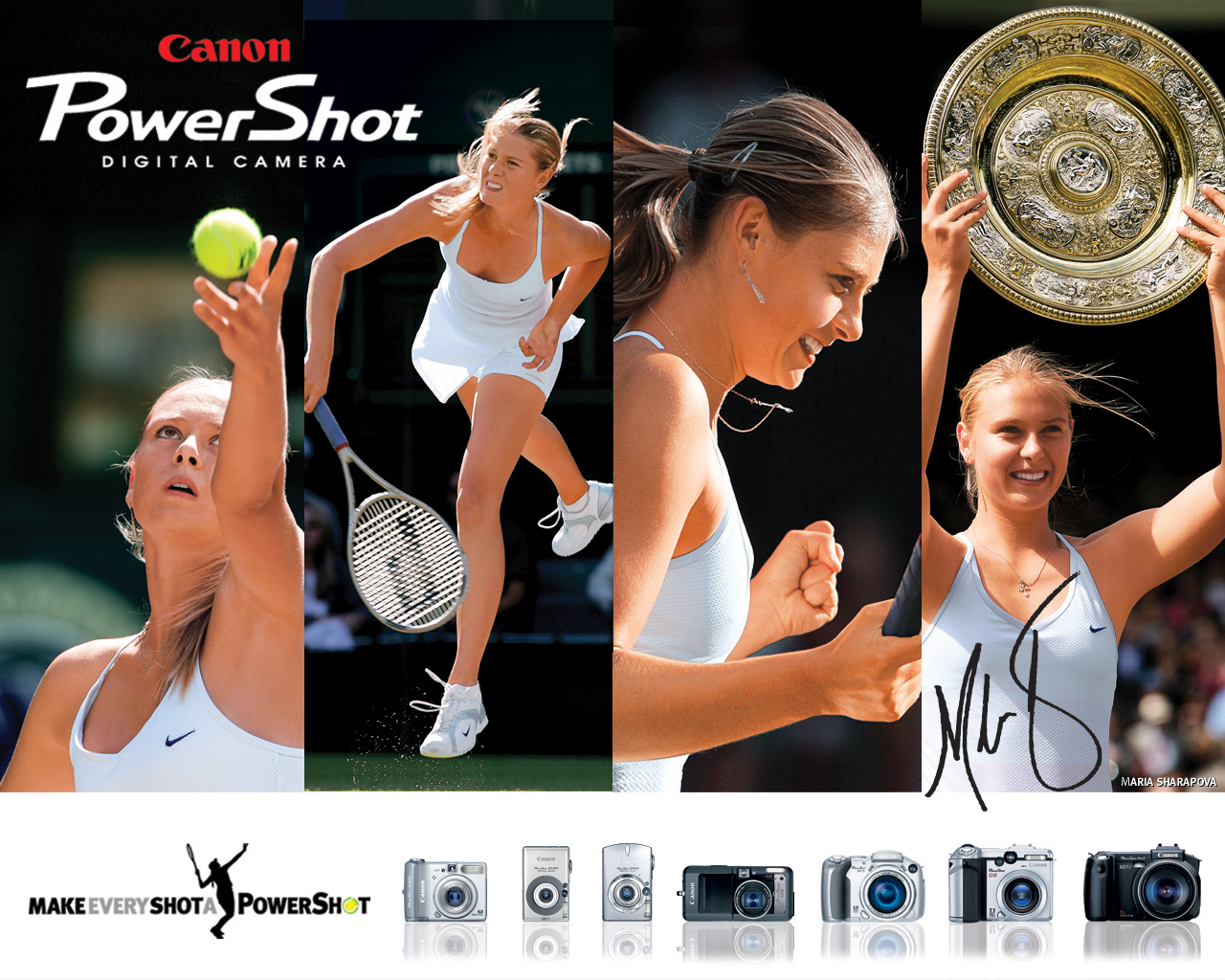 ---
Cole Haan
Cole Haan partnered with Maria Sharipova in 2009 as a brand ambassador and model. This brand endorsement relationship gave Sharapova the opportunity to design shoes and accessories. Sharapova took eagerly to this active role in her relationship with the brand, setting off to help design fashionable items that worked for taller young women like herself at a lower price-point much of the Cole Haan line.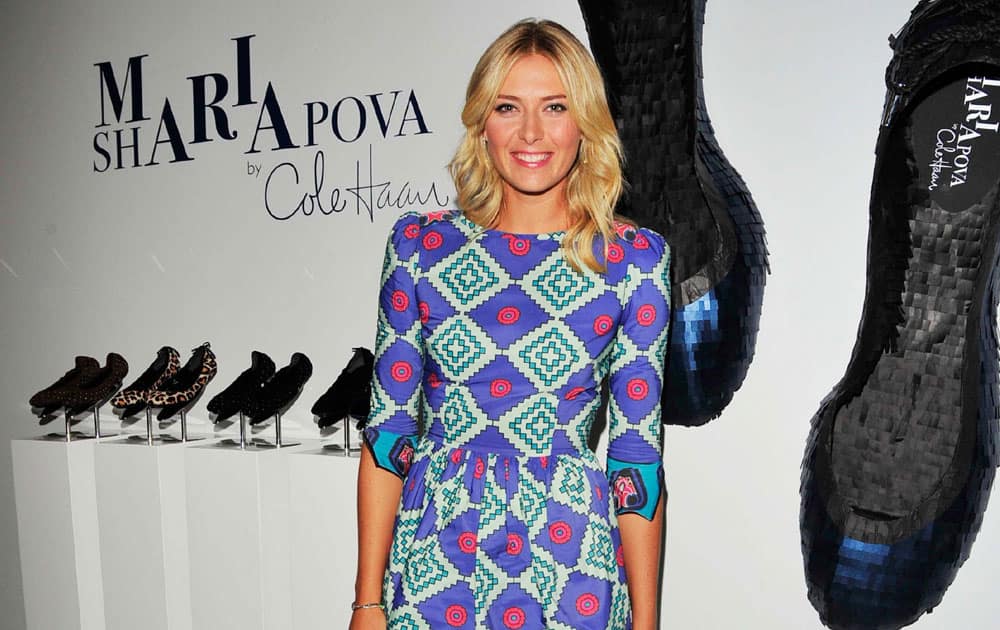 ---
Evian
Evian began their brand partnership with Sharapova in 2009. Sharapova was strongly utilized by Evian's long-running "Babies Campaign" with the slogan "Live Young." The brand chose to retain her even after shifting campaigns in 2018, believing that she was still very much in line with their shift to targeting millennials with their "I Wanna..." slogans.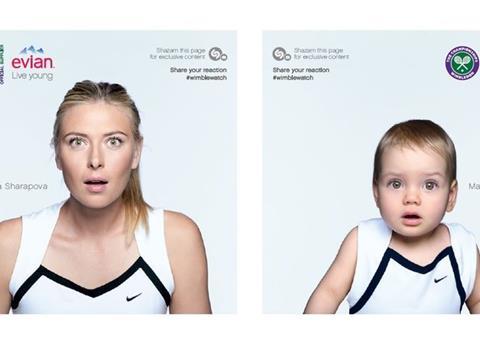 ---
Head
Sharapova joined Head in 2011 with a multi-year partnership that continued to renew until her recent retirement from the sport. Maria joined a team known as "Head Racquet Rebels," which also included ATP tennis stars Novak Djokovic and Andy Murray. The deal with Head allowed her to work with the brand on designing her own high-performance racquets as well as a line of racquets for kids and juniors.
---
Land Rover
Maria Sharapova joined with Land Rover in an endorsement partnership in 2006. In Sharapova's press release announcing the partnership, she said, "When I won Wimbledon, I told myself, 'Now I can have a Land Rover.' Now that I am driving myself, I love the protection and style that this adds to my daily commute." Sharapova was drawn to Land Rover as a result of the way they treated her early in her career, loaning her courtesy cars well before she made it big.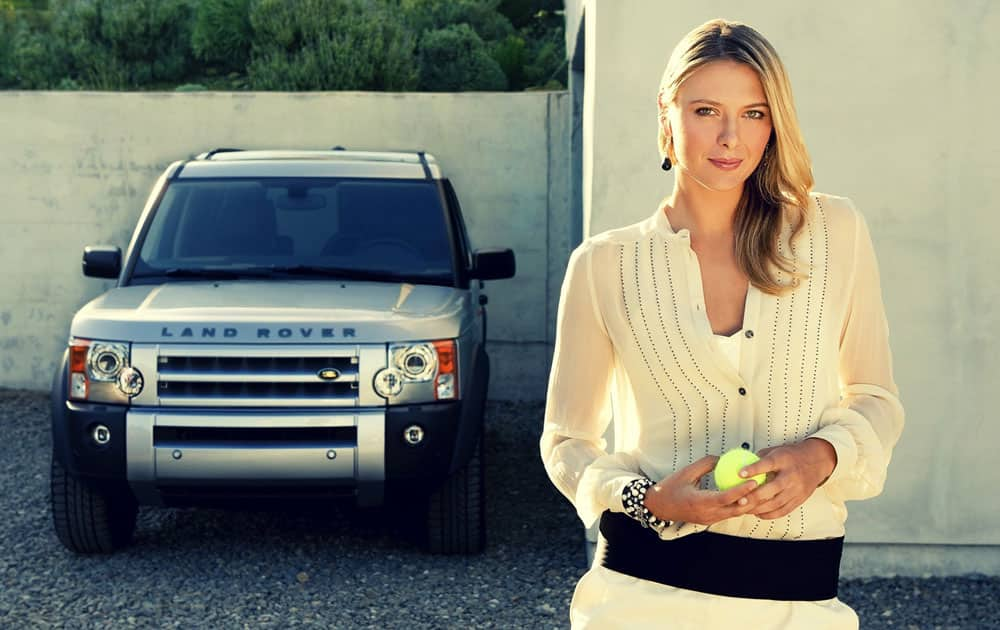 ---
Motorola
Motorola was another company who was drawn to Maria Sharapova after her early career success at Wimbledon. They brought her on in 2004 as a brand spokesperson with a goal of drawing more younger consumers to their products. The brand also hoped to utilize Sharapova to reach a more global audience. Motorola looked to increase sales of their Razr phone by linking Sharapova directly with their Pink Razr by running advertising with her using the phone and even placing her image on the box.
---
Nike
Nike signed Sharapova in 2010 to an eight-year brand partnership worth $70 million. The brand briefly put her deal on hold after she was found guilty and banned from tennis for doping. Yet Nike decide to stick with Sharapova in spite of her drug-related ban, trusting her claims that her violation was unintentional and the result of her attempts to treat and recover from an injury.
---
PepsiCo - Gatorade & Tropicana
PepsiCo signed a two year deal with Sharapova in 2007, after she won the US Open, to promote their Gatorade and Tropicana brands worldwide. She even helped to sell Pepsi Twist, a diet version of Pepsi with a twist of lemon, in Japan. PepsiCo opted not to renew Sharapova's contract in 2009 after she fell out of the top 50 of the WTA Rankings while recovering from a shoulder injury.
---
Porsche
Maria Sharapova became a Porsche brand ambassador in 2013. Sharapova was familiar with the brand, having won the prior year's Porsche Tennis Grand Prix in Stuttgart and being awarded a 911 Carrera S Cabriolet in addition to her tournament prize money. Matthias Mueller, CEO of Porsche AG saw her as the perfect fit for Porsche because Sharapova "combines top performance in her sports with elegance and power. These are precisely the qualities that are embroiled in our sports cars." An authentic partnership to the core.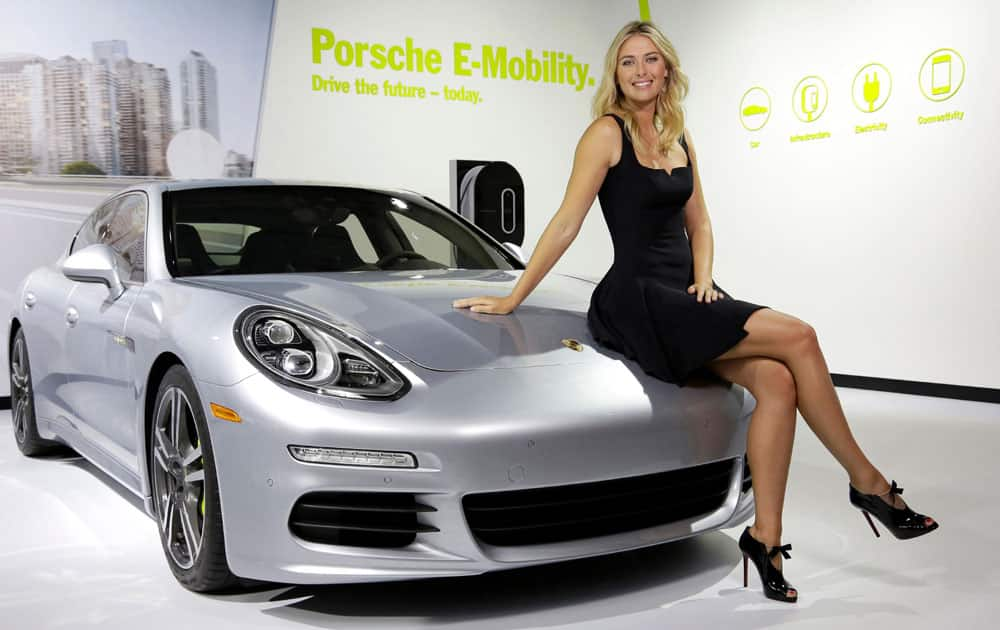 ---
Samsung
In 2012, Samsung enlisted Maria Sharapova as a celebrity spokesperson for their full line of electronics in Russia. They later expanded the relationship with the tennis star to have her helping to sell their televisions, phones, and other electronics world-wide. She became closely associated with Samsung's Galaxy phone during this brand relationship.
---
Sony Ericsson
Sony Ericsson signed Sharapova to a four-year sponsorship deal in 2008, making her their first ever global brand ambassador. Sony Ericsson were in the middle of their 6 year title sponsorship agreement with the WTA at the time and believed she would bring even more attention to their "never Miss A Shot" campaign.
---
Supergoop (Co-Owner)
Sharapova became both a brand spokesperson and co-owner for Supergoop in 2014. She was a fan of the product prior to this partnership, making the product her choice of sunscreen during training and competitions. Like so many of her brand partnerships, Supergoop was a product that Sharapova found to be a competitive asset for herself in her professional tennis career.
---
Sugarpova (Co-Owner)
Maria Sharapova launched her own brand of candy, Sugarpova, in 2013. She was drawn to candy as a business venture as a result of her own sweet tooth and how her father used to reward her for her hard work after practicing tennis for many hours. Sharapova started the company while nursing a series of shoulder injuries, which left her wondering what comes after tennis in her life.
---
Tag Heuer
Tag Heuer was one of the brands in 2004 to bring Sharapova on board in a partnership quickly after her first major win at Wimbledon at the age of seventeen. They made her a part of their "What Are You Made Of?" campaign. Tag Heuer and Sharapova were in the process of negotiating an extension of her contract in 2016 when she was found guilty of doping and the brand decided to not move forwarded with the negotiations and ended the partnership.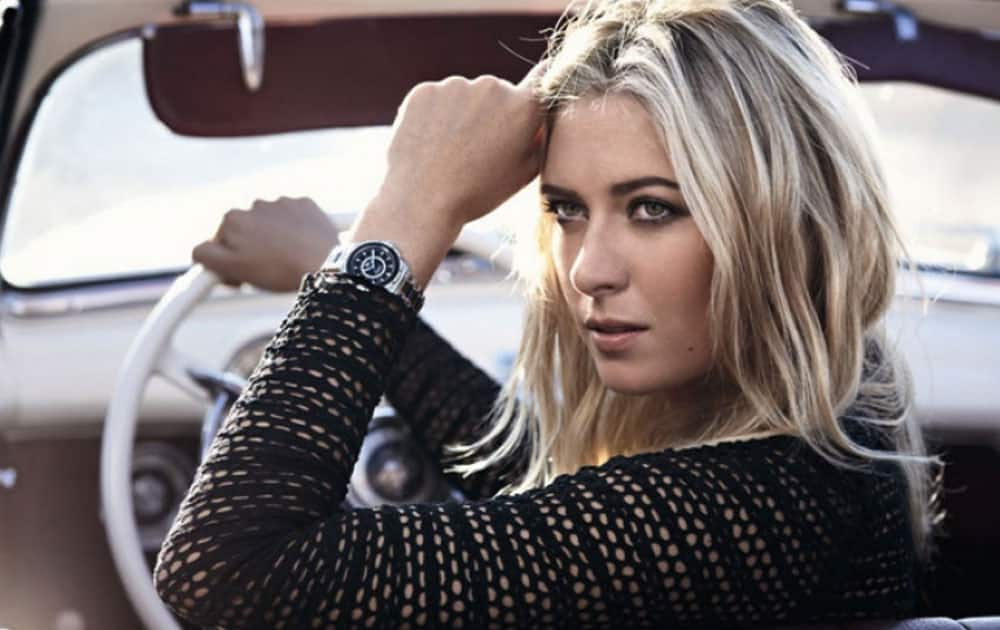 ---
Sharapova Made Brands More Interesting
Maria Sharapova has had a pronounced impact on all of the brands with whom she has partnered. Brands entered into endorsement deals with her because they found her magnetic and they hoped that the public would feel the same way about their brand once they associated the two together.
Finding the right celebrity spokesperson can have a major impact on the image of the brand. Creating a strong and appealing brand image creates positive sales results, and allows that star dust of the celebrity to shine around your brand.
Want to learn more about working with celebrities? Check out these other blogs from our Hollywood Branded team!
---