The Queen Is Coming...Back
In the wise words of Mia Thermopolis, "shut up!" Apparently, "miracles happen once in a while (if you believe)" because The Hollywood Reporter recently announced the third installment of the iconic Princess Diaries franchise with Disney. It's hard to believe that only 21 years ago, Anne Hathaway graced the silver screen for the first time and introduced us to Genovia.
While you may not have noticed at first, there are many brands placed and integrated into the films. M&M pizza, ring a bell? In anticipation of the upcoming film, let's highlight some brands shown in the previous two installments. In this blog, Hollywood Branded looks back at the top product placements featured in The Princess Diaries franchise.
---
---
Details On Princess Diaries 3
If you've somehow not seen this Gary Marshall rom-com classic franchise, allow me to shed some light on what you've missed. Mia Thermopolis', played by Anne Hathaway, teenaged life is turned upside down when she is revealed to be the princess of the royal family of Genovia—a sadly fictional country. The Queen (who is also Mia's grandmother), played by the practically-perfect-in-every-way Dame Julie Andrews, is set to step down from the throne and has sought out her granddaughter to pass it on to in the rightful succession. Mia, understandably shocked by the revelation, resists the idea until she learns what it truly means to be a princess. She later ascends to the crown and becomes the rightful Queen of Genovia.
Here's what we know so far about the upcoming film:
The plot is currently held tightly under wraps; however, it is confirmed that the film will continue the story from the previous two films—it is not a reboot. Anne Hathaway is not currently listed as part of the film, but there are high hopes that she will join. Back in 2019, on Watch What Happens Live with Andy Cohen, Hathaway confirmed that there was, in fact, a script for the third installment. "I want to do it, Julie [Andrews] wants to do it, Debra Martin Chase, our producer, wants to do it," she said. "We all really want it to happen, it's just we don't want to do it unless it's perfect, because we love it just as much as you guys love it."
I don't know about you, but it sounds like there is a high probability of the original cast returning for the film.
---
Ford Mustang
Ford had a great placement because this is Mia's absolute DREAM car. She speaks about it with reverence and admiration. In one of the most memorable scenes in the first film in the franchise, Mia takes her grandmother (Andrews) around San Franciso in her "baby," aka her baby blue, slightly battered, but well-loved 1966 Ford Mustang.
What's interesting about this placement is that it is not always positive. When Mia drives up a troublesome San Francisco hill, the car rolls backward and the handbrake fails, causing a collision with a streetcar—although, to be fair, this is more due to driver error and not the vehicle manufactures fault. Later, when Mia is attempting to run away from becoming a princess (in the rain, no less), the convertible top refused to go up, and the car broke down while she was driving away—luckily, Joe was there for the rescue.
But wait! That's not the end for this classic car! In The Princess Diaries 2: Royal Engagement, the baby blue Ford Mustang makes a triumphant return looking super shiny and healthier than ever—one fit for a queen. I expect that the car will have a least a small cameo in Princess Diaries 3.
This kind of integration made the product feel organic to the story; it was not in your face but instead a meaningful part of the narrative.
Photo Credit: The Princess Diaries | Walt Disney Studios Motion Pictures
---
NARS
Who can forget Paulo and the ICONIC makeover scene where he takes Mia from teenage obscurity (aka having glasses and curly hair...the horror) and transforms her into "a princess." Under his and his posse's expert hands, Mia is given the rom-com requisite royal treatment as she is treated to a makeover complete with a montage and fun 90s music. Classic. The magic begins with a quick shot of all the products used to take Mia from "Not" to "Hot," with the most prominent brand featured being NARS cosmetics. NARS products are strewn across the table, including their lipstick, nail polish, eyeshadow, blush, foundation, and a palette, all of which create a beautiful look on Hathaway (who is just as gorgeous barefaced, I might add).
Photo Credit: The Princess Diaries | Walt Disney Studios Motion Pictures
---
M&Ms
Dare I say it...this is the best chocolate candy product placement since Speilberg's E.T. and Reece's Pieces. When Michael, played by Robert Schwartzman (brother of Jason Schwartzman), invites Mia on a sort of date they reference adding M&Ms to their pizza. What sounds like a gross concoction, the two make it seem sweet, special, and a little romantic. It's their thing. However, Michael is stood up by Mia when she goes to the beach party with douchey Josh. To make up for her mistake, Mia sends him a pizza with M&Ms spelling out "Sorry." A pretty great apology if you ask me. It's a good callback, personal, and shows she cares.
The placement was actually already written in the script. The writer, Gina Wendkos, told Thrillest, "It was almost like they had this private language, and this was the element that they shared that nobody else could. Everybody in the world sends flowers to say I'm sorry. People send food. People send cupcakes, but nobody sends that...It became kind of a romantic theme between them, a signature," Wendkos recalls. "When you're in 10th grade and you have no money, how do you express passion? You're not going to go buy necklaces or rings. He's quirky and she is quirky."
To be honest, I think about this pizza more often than I should. Have I tried it? No. Will I ever? Signs point to...a strong maybe.
Photo Credit: The Princess Diaries | Walt Disney Studios Motion Pictures
M&M even had a little cameo towards the beginning of the film when Michael is playing the piano with his band at the auto shop. M&Ms are strewn across the keys, with Michael taking a nibble every now and again, cementing him as one of the coolest teens in San Francisco.
Photo Credit: The Princess Diaries | Walt Disney Studios Motion Pictures
---
Panera Bread
Yes, there is a Panera Bread in Genovia. You can spot the delicious bakery-sandwich shop during the royal procession in The Princess Diaries 2: Royal Engagement. Royal dignitaries from around the globe perch themselves in front of the American chain restaurant, including villain Viscount Mabrey (John Rhys-Davies). Mabrey even has a short conversation in which Panera branding is seen behind him.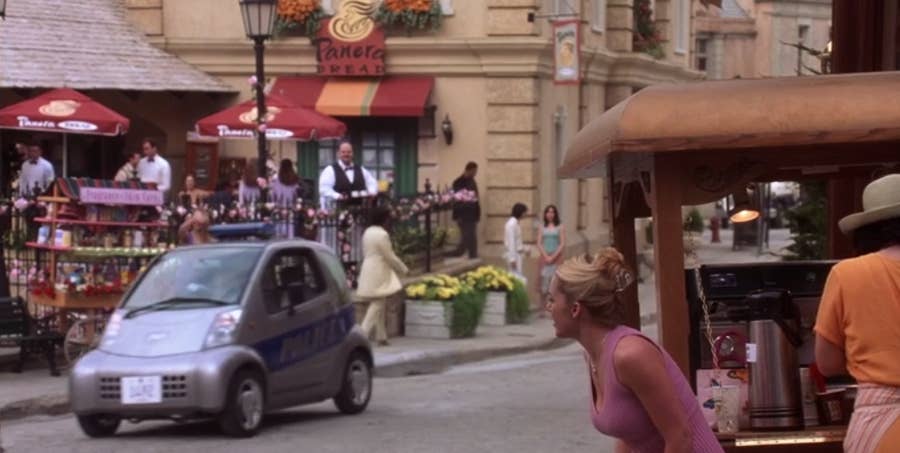 Photo Credit: The Princess Diaries 2: A Royal Engagement | Walt Disney Studios Motion Pictures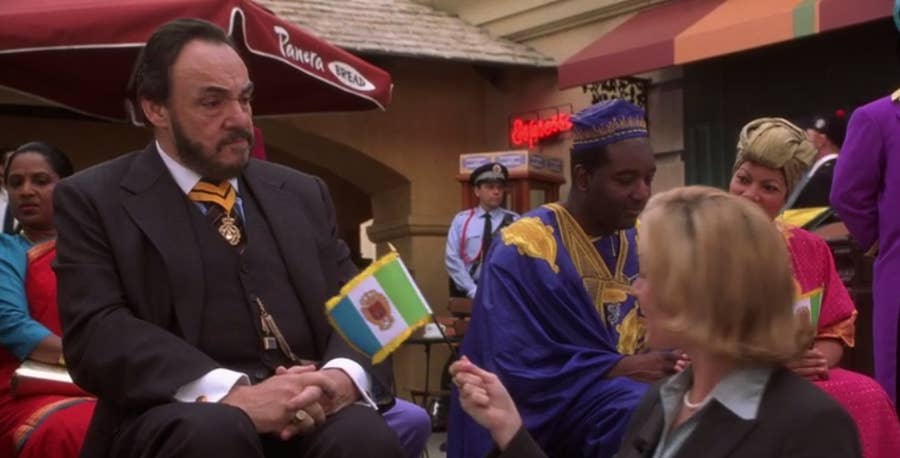 Photo Credit: The Princess Diaries 2: A Royal Engagement | Walt Disney Studios Motion Pictures
---
Product Placement Works
These are not the only products featured in the franchise; there are so many other brands from different categories that make an appearance, including The North Face, Wilson, Camelbak, Saltines, Dasani, and Coach. In the world of Pop Culture Marketing, a brand must roll the dice and be ready to engage with interested filmmakers. Because when you find your way into media that becomes a cultural classic, for example, The Princess Diaries and The Princess Diaries 2: Royal Engagement (and possibly The Princess Diaries 3), that co-starring role will pay dividends for decades.
Check out this post to learn exactly what makes a product placement successful.
---
Eager To Learn More?
Want to keep reading more about big wins that brands have made in other blockbuster films or learn how the magic happens? Check out these other blog posts we've written on product placement!
Are you interested in integrating product placement into your entertainment marketing mix, but simply don't know where to start? Our brief guide helps give you a broad overview and next steps to make it happen for your brand!
---