Spot These Brands In Action
There are tons of moving parts when it comes to films. From set decoration to props and costumes, it can be difficult for brands to have an organic spotlight moment.
Luckily for brands, there's product placement! Without any investment, there's no way for brands to control the specific way they want their product to be shown in a production. In this blog, Hollywood Branded discusses how brands have used product placement to showcase their products in The Suicide Squad.
---
---
A Quick Synopsis Of The Suicide Squad
Before we jump into how brands made their mark in the recently released film The Suicide Squad, allow me to provide a little background. The action-adventure film, not to be confused with the very similar titled film Suicide Squad which came out in 2016, tells a different story with a fairly different cast.
The Suicide Squad follows supervillains (Bloodsport, Peacemaker, King Shark, Harley Quinn, Polka-Dot Man, and Ratcatcher 2) and Colonel Rick Flag who form a rag-tag team that works together on a mission given to them by the U.S. government.
Credit: Warner Bros.
The film comes to a climax when their original mission to destroy evidence for the government turns into their own personal one of stopping an alien starfish from taking over the island of Corto Maltese.
Credit: Warner Bros.
Now that we have the plot of the film established, let's dive into the product placement!
---
Crocs
The infamous resin material shoe we all know and have a love-hate relationship with (some leaning more one way than others).
Credit: Crocs
For those wondering how the brand has managed to stick around, the answer is simple. Crocs have used product placement and brand and celebrity partnerships to become a huge part of pop culture. As a result of their efforts to remain unforgettable, they're making a comeback in this year's 2021 trends.
Credit: Twentieth Century Fox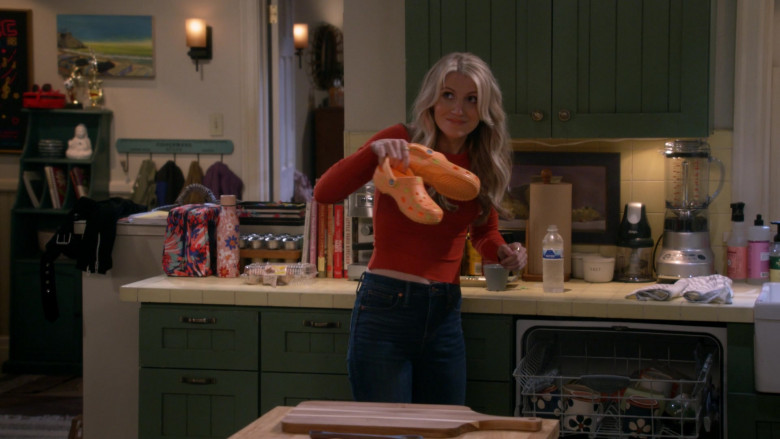 Credit: B Positive (CBS)
Having done partnerships with Justin Bieber and Bad Bunny along with having product placements in Deadpool 2 and B Positive, it's no surprise that Crocs made their way into the spotlight in The Suicide Squad.
Credit: Crocs
Crocs have managed to get some amazing product placement that gives them over 30 seconds of screen time during The Suicide Squad. It's a wonder how much they invested in order to secure this placement.
Credit: Warner Bros.
On top of their monetary investment, they also provided shoes for some of the main cast and additional actors for costuming.
Credit: Warner Bros.
It's safe to say that their investment has paid off in terms of brand awareness as it's hard to forget the bright orange of those Crocs during the first 20 minutes of the movie. It's very likely that will have the same effect in terms of sales, but we'll just have to wait and see!
---
Coca-Cola
Other brands that were noticeable in the film were Pibb Xtra and Coke. The two brands owned by the Coca-Cola company pop up in two different scenes.
One moment is with TDK (Nathan Fillion) who is seen drinking a Pibb Xtra right before the team loads a carrier to take them to their destination.
Credit: Warner Bros.
The second placement is at the U.S. government facility where officer Amanda Waller (Viola Davis) and her team monitor the squad of inmates. This time, mission control support John Economos (Steve Agee), is seen sipping on a Coke during his shift.
Credit: Warner Bros.
The placement of their drinks for the specific scenes was wise of Coca-Cola since the exposure of each was different. In this case, Pibb Xtra, a less popular brand of Coca-Cola, had better exposure than the easily recognizable red Coke can (pictured above).
The varying placement of these two drinks is a great way for brands to learn. Here brands can see how product placement can work to keep a brand top-of-mind and bringing awareness to a less popular product.
---
Acer
A brand that was also given some moments in the sun was Acer.
When the squad of supervillains is transported to Corto Maltese, a great shot of the Acer desktop is shown with clear branding.
Credit: Warner Bros.
The monitor is seen again when Emilia Harcourt (Jennifer Holland), a member of officer Amanda's mission control team, is surveying the positions of the supervillains as they begin their mission.
Credit:Warner Bros.
Unfortunately, the lighting of the monitor in the second shot makes it difficult to see the logo in the shot. It is still clearly visible, however, viewers may need to turn up their brightness to see it. That is... if they're streaming the film on HBOMax.
That minor detail aside, it's a suitable placement for Acer. It's decent exposure and provides them an opportunity to join the roster of computer companies that people think of when looking to purchase one.
---
Benefits Of Product Placement
Product placement is a useful tool for brands in the growth and maturity stage. With the right productions, it can increase sales and make products trendy.
Credit: Marketing Insider
Another opportunity brands have when they do product placement is sending extra product to allow cast and crew to keep and sample products.
For example, while filming season 2 of Outer Banks the cast is seen having fun in between takes. Below is a video Chase Stokes, who plays John B as the lead of the show, films Madison Bailey, who plays one of John B's best friends Kiara, while she jokes around. Later in the video, she is seen taking a sip of her Gatorade. Furthermore, by having surplus product on set cast and crew are able to trying the product(s) and potentially turn into unofficial brand reps for your company.
Additionally, it can open the door for brands if they want to work with a celebrity in the future and spread the word through crew that your brand is one that is a must-have for productions.
---
Grow Your Brand With Product Placement
Learn more about how to grow your brand through product placement. See the blogs below to learn more about why it's such a valuable tool!
Ready to dive into product placement? Find out how your brand can be cemented into pop culture below!