---
These Hollywood Veterans Didn't Just Enchant Their Country On The Silver Screen – They Served It As Well
Everyone who serves in the United States Armed Forces is a hero. These Hollywood stars whose faces we recognize instantly and whose names have become legendary remind us that there were many in the country willing to put their life on the line for their nation.
Whether they were drafted or recruited, or whether they achieved stardom before or after their service, they are icons as both celebrities and veterans. In this blog, Hollywood Branded takes a moment to recognize 20 Hollywood mega stars and celebrities who served in the United States Armed Forces.
---
1. Chuck Norris – Air Policeman, United States Air Force
Some people like to say that Chuck Norris didn't join the Air Force, the Air Force joined him. Either way our nation's token bada** served in the US military in South Korea. This is in fact where his interest in martial arts began. After leaving the military and going on to stardom, Chuck returned with the USO to entertain the troops and was made an honorary Marine because of it, an honor bestowed upon less than 100 people.
---
2. James Earl Jones – First Lieutenant, United States Army
James Earl Jones, known to most people as the voice of Darth Vader, was recruited into the US Army during the Korea War, where he underwent Ranger training before leaving to pursue a career in show business.
---
3. Mel Brooks – Corporal, United States Army
Famous Comedy Director Mel Brooks served in the US Army from 1944 to 1946 during World War II, and his unit was one that worked to defuse land mines in Germany.
---
4. Clint Eastwood – Lifeguard, United States Army
For an actor who has played a soldier in so many films, it comes as no surprise that Clint Eastwood actually served in the Army himself. He remained stateside for his time in the Army, but his training came in handy when a bomber he was a passenger in crashed into the ocean off the coast of Northern California and he and the pilot escaped the sinking plane and swam three miles to land.
---
5. Humphrey Bogart – Seaman Second Class, United States Navy
The USS Leviathon was where Humphrey Bogart spent most of his time while serving in the US Navy, and it is rumored that his famous lisp came from an injury he sustained from German shelling of his ship. Bogart used his experiences to hone his acting skills for later roles.
---
6. Ronald Reagan – Captain, United States Army Air Forces
Ronald Reagan, Hollywood star and future United States president, served in the Army Air Force at the 18th Army Air Forces Base Unit during World War II and rose to the rank of Captain. Of course, later he would rise to the rank of Commander-In-Chief of the United States Armed Forces as the President. Although he didn't see combat during the war, he produced over 400 training videos and kept reels of film from the war, one of which showed the liberation of Auschwitz. Its preservation was very important to him, in case anyone doubted the horrors that occurred during the Holocaust.
---
7. Jimmy Stewart – Brigadier General, United States Army
James "Jimmy" Stewart was one of the greats of the Golden Age of Hollywood but also had an extensive and noted military career. He served in both World War II and the Vietnam War, flying combat missions and rising to the rank of Brigadier General during his time.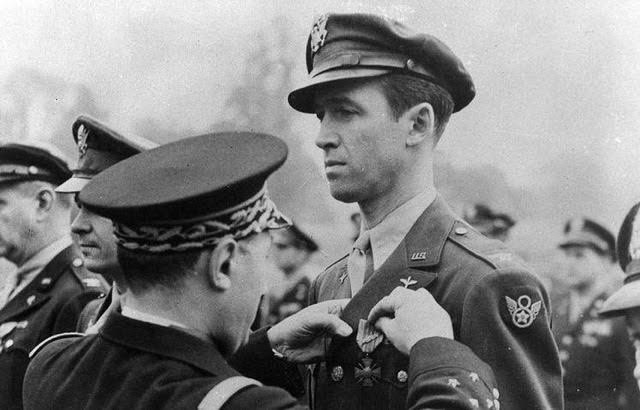 ---
8. Clark Gable – Major, United States Army Air Forces
The "King of Hollywood" himself served in the US military and flew combat missions during World War II. He found himself under gunfire and in combat zones constantly and narrowly missed death. What's very interesting is that he was Adolf Hitler's absolute favorite actor, and a hefty reward was offered for his capture – completely unharmed, of course. However Clark escaped captured and returned to his Hollywood career after the war.
---
9. Johnny Cash – Staff Sergeant, United States Air Force
The Man In Black joined the Air Force in 1950 as a part of the 12th Radio Squadron Mobile. His unit was responsible for intercepting and interpreting German Morse code. After leaving the Air Force, he returned with the USO during the Vietnam War to raise troop morale and entertain.
---
10. Henry Fonda – Lieutenant, United States Navy
Henry Fonda was one of the many men of Hollywood to contribute to the cause and join the military during World War II, famously saying, "I don't want to be in a fake war in a studio." He served on the USS Satterlee and was the recipient of both a Navy Presidential Unit Citation and Bronze Star for his time served.
---
11. Paul Newman - Aviation Radioman Third Class, United States Navy
America's heartthrob Paul Newman was also a decorated seaman who served in the Pacific theatre during World War II. Towards the end of the war, he was serving as a gunner on an Avenger torpedo bomber. He narrowly escaped death when his plane was grounded due to the pilot's ear infection. The ship he was supposed to be flying to, the USS Bunker Hill was sunk by a kamikaze bomber and the rest of his unit was killed.
---
12. Steve McQueen – Private 1st Class, United States Marine Corps
Steve McQueen was known for his impulsiveness and thrill-seeking behavior. He joined the Marines and was at first a very rebellious member. He was actually demoted seven times. However, he began to take the job more seriously and saved the lives of five other Marines from a shipwreck in the Arctic. He was later asked to serve on the Honor Guard, which was in charge of guarding President Harry Truman's yacht at sea.
---
13. Elvis Presley – Sergeant, United States Army
Perhaps one of the most famous servicemen, Elvis Presley bravely honored his draft notice and joined the 3rd Armored Division of the US Army. He continued to work on his music while at war, however, and recorded songs while on leave. He also donated his Army pay to charity. He was a model for other US citizens to contribute to the war effort.
---
14. Rob Riggle – Lieutenant Colonel, United States Marine Corps Reserve
Although comedian Rob Riggle often plays unsavory or crude characters in the movies, he's an incredible veteran in real life. Rob joined the Marine Corps Reserve in 1990 and served for 23 years, seeing combat in places like Liberia, Kosovo, Albania, and Afghanistan. He used his experience as part of his character as a Military Analyst on The Daily Show and used his character to entertain the troops as a part of USO.
---
15. Morgan Freeman – Airman 1st Class, United States Air Force
It's not just his velvety voice and commanding screen-presence that Morgan Freeman has graced Americans with: he served in the Air Force for four years as an automatic tracking radar repairman.
---
16. Ice-T – United States Army
Ice-T, or Tracy Marrow as he was born, joined the Army right after the birth of his daughter, for the money to support her. He spent 4 years in service in the 25th Infantry Division from 1979-1983 before he was honorably discharged and became the rapper-turned-SVU-star we know him as today.
---
17. Mickey Rooney – United States Army
Mickey Rooney was drafted into the Army in 1944 and spent almost two years during World War II serving. He traveled around to different areas entertaining the troops and becoming a favorite personality on the American Forces Network. He received the Bronze Star Medal for his work entertaining in combat zones along with the Army Good Conduct Medal, American Campaign Medal, European-African-Middle Eastern Campaign Medal, and World War II Victory Medal.
---
18. Charlton Heston – Staff Sergeant, United States Air Force
Charlton Heston, best known for his Oscar-winning performance as Moses in The Ten Commandments, joined other Hollywood stars in joining the military during World War II. He served in the 77th Bombardment Squadron as a radio operator and aerial gunner for two year, reaching the rank of staff sergeant. After the war, he continued to contribute to the US Armed Forces as a narrator on top secret instructional films, especially regarding nuclear developments.
---
19. Bea Arthur – United States Marine Corps Women's Reserve
Sitcom queen Bea Arthur (All In The Family, Golden Girls) served during World War II in the USMCWR. She is one of the first women to serve and one of the only ones who went on to become famous in Hollywood. During the war, she worked as a truck driver and a typist.
---
20. Mr. T – United States Military Police Corps
Laurence Tureaud, aka "Mr. T" served in the Military Police Corp and achieved Squad Leader position as well as "Top Trainee Of The Cycle." According to a story, he was once assigned to a detail responsible for cutting down trees; he managed to cut down over 70 trees in 3 hours.
---
Thank You To All Who Served
These celebrity veterans put everything on the line to serve, as did each and every one of our country's veterans and do everyday. On behalf of everyone at Hollywood Branded, thank you for your service.
Interested in learning about celebrities and brand partnerships? Then check out these blogs.
Curious to learn more about our company and what we do?
This video will answer all of your questions on how product placement works, and what brands need to know, as it shows the steps and processes taken by Hollywood Branded that lead to your brand increasing both consumer engagement and sales!