Coachella 2022: Brand Activations At Parties
Coachella Festival Parties Galore
After two years, Coachella is back! A long awaited time by music fans, music artists, and brands everywhere.
At any event you never know who you'll see. Coachella Weekend 1 is full of surprises which makes it half the fun. In this blog, Hollywood Branded shares an inside look into Coachella 2022 parties and the brands that stood out.
---
---
Brand Partnerships Left and Right
Coachella pre-parties and after-parties, especially during Weekend 1, are scattered with brands. Some brands have found this strategy so successful they even take part in more than one, like Revolve.
Photo: Vivien Killilea | Stringer | Getty Images
These events are phenomenal ways for brands to reach potential customers as people are able to try the product, ask any questions (which is great for building that relationship), and maybe make a few onsite purchases if the brand offers it.
According to the Promotional Products Association International's findings, "71.6% of attendees who received a promotional product remembered the name of the company that gave them the product. Additionally, 76.3% of attendees had a favorable attitude toward the company that gave them the product."
This is especially great for brands that have brand awareness as their main goal.
For others that are looking more so to gain more purchases, the Product Sampling Study" by Arbitron and Edison Media Research, found 35% of customers who try a sample will buy the sampled product in the same shopping trip."
Depending on the party and how brands chooses to participate in, they can amplify their chances of being posted and tagged on social media and get more even more impressions!
That said, with 25+ parties happening this past weekend it was difficult to choose which ones to attend. Here are the ones that made the list and an inside look into the brands behind them.
---
Galore x NTWRK Ranch
Kicking off Coachella day 1 at the historic and iconic Lazy C Ranch, Galore x NTWRK held a Coachella pre-party hosted by
rapper
Tyga
and
Euphoria's
Chloe Cherry.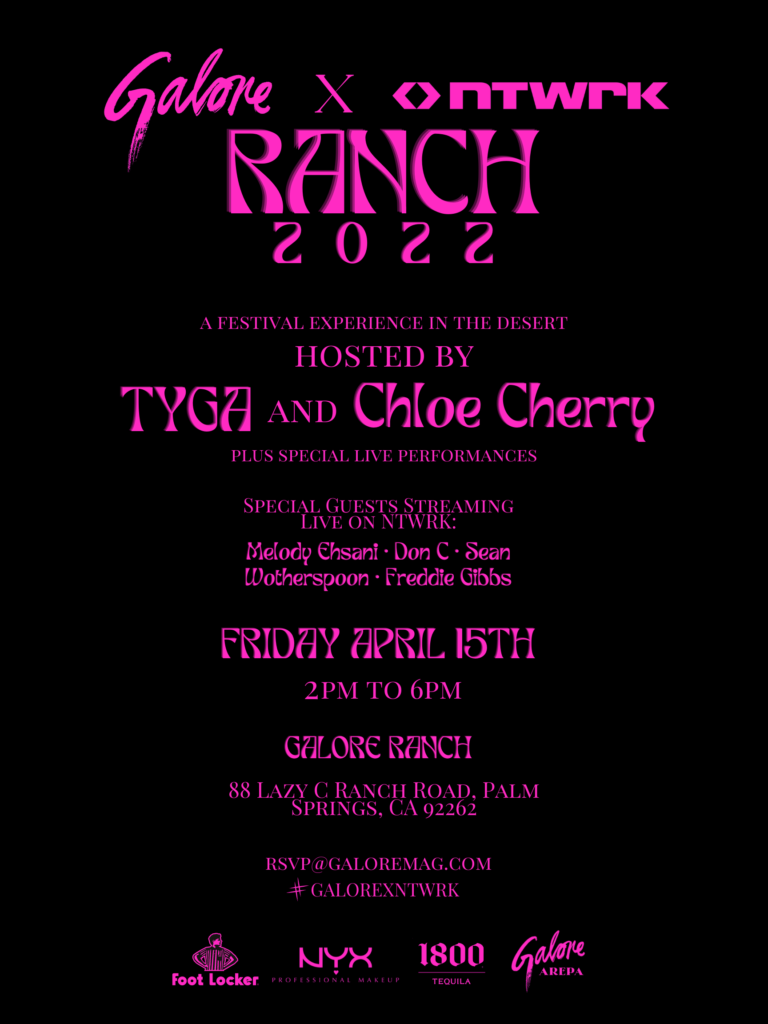 Photo: NTWRK | Galore
It was an unforgettable afternoon where guests were first able to grab hand-crafted drinks from the pool-side bar by
1800 Tequila.
Photo: NTWRK
Stationed next door with drinks in hand, attendees could take pictures showcasing them enjoying their drink and post on social media.
Also surrounding the pool were glam stations from NYX Makeup and
Foot Locker
pop-up shops launching
streetwear designer
Melody Ehsani
and
Chicago-born footwear legend
Don C's
newest capsule collections
.
Photos: Sarah Kistler | Hollywood Branded
Photo: Isaac Zoller | NTWRK | Galore
Not only did Tyga performed a DJ but the wonderful Chloe Cherry joined in as well!
Photo: Isaac Zoller | NTWRK | Galore
Photo: Isaac Zoller | NTWRK | Galore
Throughout the event attendees were able to explore the property and pick up some ice cream at Freddie Gibbs's truck, a can of Liquid Death, and taste of Desert Water (which actually is pretty tasty).
Photos: Sarah Kistler | Hollywood Branded
The atmosphere was full of energy as guests mixed and mingled with each other and even some of the horses and goats got some love!
---
Hanjan Oasis
A party that never stops is what took place at the Hanjan Oasis during Coachella Weekend 1.
Photos: Sarah Kistler | Hollywood Branded
At the Hanjan Oasis powered by Gushcloud International, talent such as BIA, Nicole Scherzinger, Qveen Herby, Bretman Rock, DJ MOS, and many more streamed in across the three day dayclub.
Photo: Hanjan
The Hanjan Oasis was an exclusive invite-only lifestyle and wellness retreat where guests were treated to a Bali-inspired rejuvenating experience.
Photo: Hanjan
A brand all about wellness the accompanying brands that made an appearance at the Hanjan Oasis were all about that too.
Photos: Sarah Kistler | Hollywood Branded
With drinks flowing, music blasting, and handfuls of Hanjan attendees were left feeling refreshed as they headed to hit the festival.
---
Remenzcla House
Another place we stopped by was
Remezcla
House which took place inside a massive 20,000 sq. ft. plane hangar at the Palm Springs Air Museum.
Photos: Sarah Kistler | Hollywood Branded
Photo: Ian L. Sitren | Remenzcla
Photo: Ian L. Sitren Remenzcla
Surrounding the importance of this event, Remezcla Managing Director Neylu Longoria commented,
"Latin music is having a moment right now with its largest presence ever at major U.S. music festivals across the country. We're celebrating this year's surge in Latin artist bookings by bringing Remezcla House, our Latinx music and culture experiential series, to the Coachella Valley. With support from Pandora and Tecate, we hope that Remezcla House in the Desert will help shine a light on the diversity of Latin music culture, while creating a truly unforgettable weekend in the desert."
With drinks provided by Tecate, the vibes were going strong as they danced to the music and wander the space.
Photos: Sarah Kistler | Hollywood Branded
As the guests roamed, they were able to appreciate the
giant art installations from Milkman
.
Photos: Sarah Kistler | Hollywood Branded
Through this special collaboration with Pandora, Remezcla will be developing a short documentary that goes beyond festival coverage and dives deeper into the growth, diversity, and cultural influence of Latin music.
It's exciting to see how Remenzcla, a Latin driven media company, and Pandora have formed a strong partnership to continue to uplift Latin artists.
With Pandora's reach among music fans, this is a great opportunity for Remenzcla to grow, especially with Remenzcla's radio station on Pandora called Sonic Bloom.
---
Events Partnerships Get Impressions
Being partnered with big brands regardless if your brand is established or on the rise is always good for press.
For example, from a quick search on critical mention over, Hanjan Oasis reached an audience of about 114M people earning a publicity value of $77K in only this past week.
Photo: @stephanie_8 | Instagram
In contrast, a more notorious brand, such as Soho House's Soho Desert House had over $2.3B impressions and received a publicity value of $16.2B.
When it comes to brand activations at events like these, most find success in product sampling or gifting. Some brands at these events gifted a specific product or sample and then had others on display for purchase.
Either way, brands are able to connect with potential consumers and get them excited to learn more!
Photo: Sarah Kistler | Hollywood Branded
---
Eager To Get Involved In Events?
Who doesn't love free stuff?! Common consumers, influencers, and celebrities a like all love free samples and the ability to experience products so get going and let's cultivate those partnerships! Below are some blog that will help you with your journey into the world of events, influencers, and celebrities.
See how to build excitement and buzz around your brand by having celebrities attend your event. Click to download our e-book and see how.
---