Marketing Value Of The Macy's Thanksgiving Day Parade
Happy Thanksgiving, Y'all!
It wouldn't be Thanksgiving without the Macy's Thanksgiving Day Parade! The spectacle is known for its masterfully decorated floats, high-flying balloons, celebrity performances, and high-school marching bands nationwide. And don't forget about the true star of the show, Santa Claus.
This iconic parade brings millions of consistent viewers from across the US to celebrate the holiday with their friends and family. And with this kind of large and devoted viewership, it's a brand marketer's dream. In this blog, Hollywood Branded shares what it takes to be a Macy's Thanksgiving Day Parade sponsor and the everlasting marketing value of the spectacle.
---
---
History Of The Parade
The store-sponsored Macy's Thanksgiving parade began in 1924, the prosperous roaring 20s, to celebrate the "World's Largest Store." You see, Macy's & Co's flagship New York City location had expanded to cover an entire city block stretching from Broadway to Seventh Avenue along 34th Street. Fun fact! The parade used to be called "The Macy's Christmas Parade;" the hope was a Christmas-themed parade would excite consumers enough to inspire a holiday shopping spree - at Macy's, of course. Themed store floats, Macy's employees dressed like clowns, and Central Park Zoo animals - including camels, monkeys, elephants, and bears - along with marching bands promenaded their way down the NYC streets, followed by the guest of honor, Santa Claus, sitting high upon his sleigh.
The parade was deemed such a success that Macy's announced the next day they would parade again the next year. It quickly became a New York City holiday tradition, much to the delight of everyone. Today, the parade is televised to over 50 million people in the US and is an iconic holiday staple.
Photo Credit: Underwood & Underwood | Corbis
---
Macy's Parade Marketing Tactics
The balloons in the parade are not only held up by helium and strings; they're also lifted up by the money of big corporate brands—it is not only for entertainment, but it's also a way for companies to boldly market their brands ahead of the holiday season. Win-Win! Sponsoring a ballon and/or float is no small cost. Companies that participate must pay for the construction in addition to a parade fee of $190,000. However, some companies choose to participate for several years, which helps offset the construction cost as it doesn't need to be rebuilt every year, and the parade fee drops to $90,000. Average construction fees range from $30,000-$100,000, bringing average totals to $120,000 - $300,000 for a brand to participate. Of course, this number doesn't include the cost of costumes, helium, and manpower, and if you include a celebrity, the cost will most likely increase significantly. The price may sound steep, but if you recognize that the average TV advertising cost to run a 30-second commercial on a national network is $104,700, then you'll most likely get more bang for your buck with the parade, as millions of people across the US watch on TV while another 3 million people flock to the streets of New York for three hours to watch the annual Macy's Thanksgiving Day Parade. Plus, a brand is sure to get millions of media impressions after the fact. It's a brand marketer's dream!
Here's how it works: brands can sponsor balloons, floats, or performances, with each design correlating with the brand's messaging or values. The Today show hosts (this year, it's Savannah Guthrie and Hoda Kotb) will mention the sponsor's name on air and discuss the design of the balloon or float in detail for 2+ minutes when the parade participant reaches the main stage in front of Macy's, along with banners with the brand's name are shown on screen. It's subliminal messaging, and it's genius! It's brand recognition when it matters most, and most people don't realize that it's marketing, or they just don't care because it's centered around a fun event.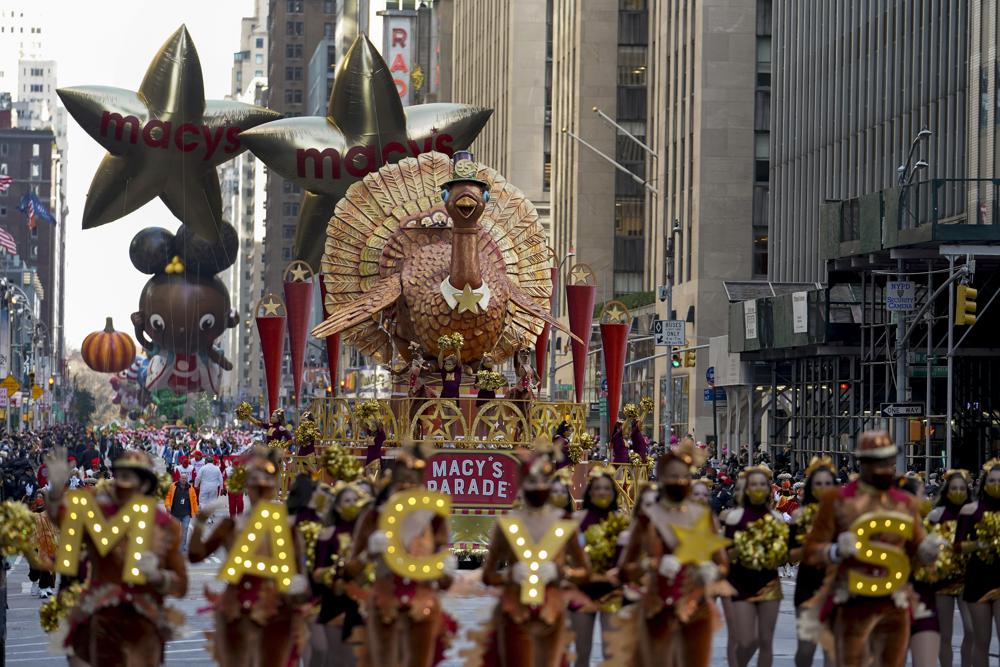 Photo Credit: Jeenah Moon | AP Photo
---
Why Is The Marketing Successful?
The short answer is...children. Seriously! NBCUniversal's President of Ad Sales and Partnerships, Mark Marshall, told Adweek that the parade "is our Super Bowl of family viewing." Kids are drawn to familiar character balloons, such as Spongebob and the Pillsbury Doughboy, their favorite celebrities, and the eye-catching floats, and then influence their parents on what to buy as the holiday shopping begins. For adults, it's a bit more subliminal, but when a brand is mentioned, or a particular design catches your eye, it's a name you're more likely to remember when holiday shopping. If you're a parent, and a brand is touted as family-oriented or wholesome, you may be drawn to that company and feel good about spending dollars there.
It's timeless marketing that hasn't changed much since the 1920s. It's consistent with its content that aligns with brand messaging. It's fun, relevant, and nostalgic.
"What the Thanksgiving Day Parade has over the sporting events is this connection to a beloved, national holiday," Landor's Global President of Consumer Brands Mary Zalla told Adweek. "It just binds everybody, so from a marketing standpoint, that's kind of a dream."
---
This Year's Brands
Keep your eye out for these brands and their floats & ballons this year as they fly down the NYC streets:
Toys R' Us - Geoffrey's Dazzling Dance Party
Macy's - People of First Light
Netflix - Supersized Slumber
Wonder Bread - The Wondership
McDonald's - Big Red Shoe Car
Peacock - Birds of a Feather Stream Together
Louisiana Office of Tourism - Celebration Gator
The Lumistella Company - Elf Pets
Kinder - Fantasy Chocolate Factory
Olay - Her Future is Stem-sational
Lego - The Brick-changer
Sinclair Oil Corp. - Sinclair's Dino
Funko - Grogu
Pillsbury - Pillsbury Doughboy
And so many more!
---
Where Can You Watch This Year's Parade?
Want to see the brand-sponsored floats in action? You can watch the 96th Macy's Thanksgiving Day Parade on NBC on Thursday, Nov. 24. The parade kicks off at 9 a.m. ET local time; however, if you don't have cable, you can also watch the live broadcast streaming on Peacock.
Happy Thanksgiving!
---
Eager To Learn More?
Event activations are a marketer's dream! Having celebrities and influencers and companies all in the same place, with massive amounts of media exposure, is the perfect way for a brand to showcase its products and services. Check out these Hollywood Branded blogs to learn more about event activations:
Want to learn even more about event activations and why they're so helpful for brands? Download our E-Book on how to invite a celebrity to your next branded event!
---