---
Helpful Tools Matter In Creating Successful Social Posts
With billions of buzzing activity across social media platforms, it's very hard to have your brand stand out unless you're an icon or a celebrity. And aside from competition, social site algorithms are getting tougher in filtering content that appears on your follower's newsfeeds.
So that means when they DO see your content, it better be top notch. And that means you need to have a plan in place on how to most easily create content. Which is something our agency has worked on for years now, to varying degrees of success, and we've finally nailed down a process that works for us.
In this blog, Hollywood Branded shares the 15 best digital software marketing tools to create content we've discovered that can help your content generate likes, comments, shares and calls-to-action from your social networks.
---
---
Our Content Strategy
We create A LOT of content at our agency about Hollywood Branded. In fact, we've made our own agency one of our top clients in that we create content to build awareness around what we do every single week. If you are a constant reader of our blogs, and sign up for our Monday morning e-newsletter, you get to see that first hand.
And it goes way beyond just writing content. In fact, we often re-purpose original blog content into videos and infographics, which get shared not only in other blogs, but also across our YouTube channel, as well as Instagram, Facebook, Pinterest, LinkedIn and Twitter accounts.
And then there is the whole matter of needing images for our blogs, which we also design using a couple of handy tools. In fact, everything we do is made easier from a variety of online marketing software tools we've incorporated into our content creation process.
Look, there are a lot of factors that have to come together into the perfect storm in order for the content you create to actually be found in social search results. Just putting it out there isn't the end of the game. But the first step is... making that content actually become reality. And you need a few helpful hands to make that happen.
---
Creating Still Image Content And Presentations
Today, there is really no excuse for a business of any size to not have professional graphics, presentations and videos. It's not about having to hire someone who has tremendous graphics arts training either. With the massive amounts of software and apps that have been developed to make design a breeze, there is a solution that will work for whatever talent level you or your team have. And when you do have some talented individuals on your staff, they too can use these tools to be just a little bit faster - as our constantly posting social world requires quick turnkey results.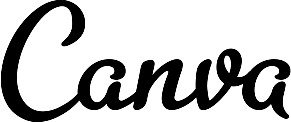 One of our daily go-to tools that our entire team uses is Canva. If we need any sort of image - from a brochure to a social post, you can be sure that Canva is the tool we use. Yes, for highly complex editing and design we will use Photoshop... or InDesign. But most of our team has no experience using that software, as it's just not easy. Canva is made for the non-designer, and designer alike, offering templates where you simply upload an image and add some text on top and BAM, just like that, you have a completed design ready to share with the world. Seriously, it's really easy to use, and even our interns get to learn about it on day one because we know they will quickly be up and running on it for any client social post creation needs. We love Canva and shout from the rooftops about how much it has truly helped our agency create fast, turnkey content - that looks professional.
Why We Love It: Everyone On Your Team Becomes A (Good) Graphic Designer
Adobe InDesign's software helps us create truly excellent looking poster, flyers, brochures, magazines, proposals, presentations, books and eBooks. I'm telling you - whatever the magic of this software is, it's taken our sales proposals up so many notches that we get compliments all the time. And hired for jobs because of it. They also have options to publish the content directly to the web, which is great if you need to make a deck and share to many people - and still go in on occasion to tweak it. And it works on small devices like tablets and phones with Adobe Digital Publishing.
Why We Love It: Look more professional than you may even be.
Piktochart really helped us grow Pinterest followers and social shares from our blogs. With its drag and drop feature, you don't need to hire a professional designer to do the graphics for you. We are an infographic making machine now as an agency. Because it looks cool... and is just so easy to do.
Why We Love It: Make information beautiful with easy infographics (that even your interns can do)
---
Pictures, Video & Music Speak A Thousand Words
You can't really just upload songs you like or pictures you find on Google within your graphics either. Why? Because they are copy-righted - and the original owner isn't going to be so happy with your using it for free. Plus with images, most of what you find online just isn't a high enough resolution to work well. It might look good when you design it - but go to publish or print it, and its going to pixelate and not look professional at all.
Dreamstime is a site you can use to find great stock photos. Despite giant competitors like Shutterstock & iStock, they are one of the leading stock imagery platforms in customer satisfaction. See the stats here. We like them because they really do have a wide variety of stock images that solve an issue - you need to have stock imagery not only for presentations, but for social media and blogs.
Why We Love It: Get images (and videos) that provide a massive amount of options for every topic. We don't find ourselves re-using images due to lack of options, which we did on other sites.
Audio Jungle is the first place we visit every time we are in need of royalty free music for our marketing campaigns, social media, sizzle reels and ad campaigns for clients. If you don't use cleared music on social platforms, you run the risk of having your content yanked down. And that's no fun after all of that hard work of getting it up there in the first place!
Why We Love It: Music that won't get your videos pulled from YouTube. Or fined for using them in advertising.
---
A Look At Video Content Creation, Hosting & Sharing
According to Social Pilot, "100 million hours of video content are watched on Facebook daily." Which means your brand needs to learn how to use video marketing as an advantage! You don't need to hire a filmmaker or animator, there are tools available that are extremely beneficial in helping you create highly engaging video content. Especially if you are trying to create a lot for inbound marketing. Trust us - your team can do this. You can do this. You no longer need a graphics design degree to create great looking content! Breathe in, breathe out... these tools make it easy to get that professional look and provide some awesome solutions.
PowToon is a video creation tool that can turn your content from boring to fun and animated presentation without acquiring technical skills. It offers music built in that you can choose from, and tons of animated characters, icons and imagery that will dance across the screen while your voiceover tells the story of what you are looking to share.
Why We Love It: Make animated video reels with voice overs that you can use on your website and social platforms - without spending hundreds or thousands of dollars!
If you have something to share on screen like a how to demo and tutorials, or you are working with someone on a shared project that you just want to walk them through and capture the video to send to them - with your voice included, Loom is a perfect tool for you! With its very easy interface, you can share what you are doing on your screen in just one click. This is a Chrome tool... so make sure you have that too! And it's free.
Why We Love It: Document and share notes from what's on your computer screen to get team members faster feedback, and create videos to share How To's across your organization.
Magisto is really good at turning your photos and videos clips into series stories SUPER FAST. Whether you're working on a computer or a mobile, their powerful movie editor app lets you upload photos or video, lay in headlines, move things around, add music and DONE ... just like that you have a cool video to share super easily for your social networks! When we do events, this is our go-to tool of choice. We choose our favorite photos and videos, organize them in order, add in some titles... find a song we like, and we instantly have a nice take away that can be repurposed. Plus show the client the snazzy work we did.
Why We Love It: Super easy, fast option to create videos with some sizzle!
SproutVideo provides inexpensive commercial video hosting solutions for small businesses. What we love about this tool is.. it has a built in marketing features where we can analyze video performance plus we can also integrate lead magnet forms inside the video. At... and I'll say it again, a much more affordable price. Plus it is easy - and the look professional and polished.
Why We Love It: To provide a place to store all those videos... and easily share them with the world - or at least your website and social media platforms.
Wavve is the tool we use in creating sneak peaks for our podcasts on our social platforms. It's also excellent in creating animated audio tools for testimonials and interviews. We love repurposing content - and purposely look for ways that we can present what we've already created in a little different way. Wavve helps us do this.
Why We Love It: To help you turn audio content you've created into ... you guessed it! Even more content for your social media platforms.
---
Content Is King - And You Are Its Master
It takes a lot of work to create content, find content, share content, see how your content is performing. But hey - they are even more tools out there that will help you keep your work week from going into overload. Here are some more online tools that help our team produce and track the gignormous amount of content we share every week.
We care about our audience so we don't limit our networks in sharing our own blogs. In fact, we share valuable content from other sources, which even includes our own competitors when they create cool stuff for others to learn from, almost everyday. But we don't have time and energy to find all this good stuff. And the Emphatic social tool really helps save our time in creating unique and optimized headlines. Plus, they take care of searching for hashtags. And did I mention their writing? It's spot on. Right usage of words, great handling of the English language, and fun not boring. Your team will have a hard time replicating their ability to create massive amounts of social posts. Plus the stories they find are great idea starters for your own company's blogs!
Why We Love It: Bring on a social media writing expert who provides tons of content for your team to post with the click of a button, without having to pay for even part time help!
We use SurveyMonkey for internal surveys, customer surveys and research for new clients we are pitching. We also use it for our HR team to send out surveys to new recruits to easily see who to immediately weed out - after all, of someone submitting a job application won't go through a short survey, then you know they are not going to be a future employee who steps up their game. Additionally, we run lots of surveys on the state of our industry, and use that data to create research reports, social posts and reports - more cool data that we consistently repurpose. If you need a sample audience and don't have a list to send your survey to, you can use their pre-built one too.
Why We Love It: It makes comparing job applicants more easy, and it provides a turnkey platform for us to get data that we can repurpose for social content.
Hubspot is the Content Management System (CMS) software we use in our blog, plus our overall Contact Relationship Manager (CMR) software. It allows us to go blog-posting crazy, see what people are looking at, have a way to track all of them and gives our sales team a way to stay on top of who they should be following up with. Basically, it just makes a lot of things, really easy. There is a ton they do beyond this that we use the software for - creating landing pages, sending weekly enewsletters, finding the right keywords to use in content, scheduling all of our social media... the list goes on! They are also world's leading inbound marketing and sales platform with 31,000+ customers in more than 90 countries, so seemingly they are going something right.
Why We Love It: HubSpot is on a mission to make the world more inbound.
---
Analytics To Spy On
So you build a website. You create social media. "They" will come, right? Well... maybe. There is a lot of fine tuning that still needs to take place and to truly see how your content is performing. These tools help with planning and tweaking.
SEMrush is known as an SEO tool, but their new social media tracker help us to create an intensive social media plan based on how your audience reacts to what you post. And they send you weekly little nudges as its' little bots travel your website pages finding things that Google is going to penalize you for. Ultimately, its goal is to help you get more eyeballs on your content that you have worked so hard to produce.
Why We Love It: It dives in deeper than Google Analytics and lets you know where you might have a little whonkyness going on that you can easily tweak.
Although Later is an all-in-one platform for social scheduling, they are more focused on helping you to plan an effective content marketing campaigns for Instagram. They have a lot of features that other tools don't have, like creating a shoppable Instagram feed, linking out to different websites or blog posts, and adding multiple links to one post.
Why We Love It: We've been able to use this software to have people easily link out to our blogs from Instagram, as well as other content like ebooks. Much nicer business driven results than just have pretty photos on Instagram.
To learn more about Instagram marketing hacks using Later, check our blog about "Five Instagram Hacks For B2B Brands That Grow Your CTR Up To 30% In 2 Weeks".
---
Get Your Software & Get Ready to GO!
Creating content takes a lot of time, and you want to make sure you do it all in one voice from everyone on your team, no matter what tool they are using. Your brand's aesthetic and personality need to come through in every presentation, proposal, post or video. Whatever the type of content, video, picture, text or audio, these digital materials should reflect your brand's overall persona - consistently.
---
Need A Helping Hand?
We know this is a lot, and sometimes, it can feel a bit difficult if you don't even know where you need to start. That being said, consider partnering with a top digital marketing company, so they can do the work for you and you can get the most out of your buck!
If you want to find out more about digital marketing, check out some of our team's blogs below to find more tools and learn ways to innovative in marketing your brand!
Also, be sure to check out our Influencer Marketing Survey. In this report, brands and agency marketers receive first person influencer feedback on how to make brand influencer partnerships work. Today, influencer marketing is a must-have plan for any brand campaign. Learn the insider tricks and tips from over 600 social influencers on what they think YOU should be doing, and what you need to skip.