European and American Brands Are In Love
While the fashion industry has always sought to be associated with luxury, few things are quite as luxurious as product placement in a show like Emily in Paris. The series is a hit around the world, seen in literally almost every country, and a dress worn by Emily can make a designer sell out in minutes.
From designer apparel and accessories to luxurious vacation accommodations and glamorous events, this Netflix hit provides viewers with an exclusive glimpse into some of life's most coveted luxury items in their natural settings. In this blog, Hollywood Branded highlights the success of product placement in Emily in Paris and why it's been such an effective tool for brands looking to expand their visibility.
---
---
Sales Happened. Product Placement Is Legit.
Product placement is an effective way to reach consumers and increase brand awareness. By aligning a product with a particular show or character, companies are able to associate their brand with the image being portrayed and also benefit from the show's audience.
Emily in Paris has had a significant impact on the fashion industry, with multiple fashion designers experiencing a surge in sales due to their product placements. Some of these designers include Celine, JW Anderson, Stella McCartney, Fendi, Balenciaga, Miu Miu and Christian Louboutin. Many fans have taken to social media to express their admiration for the clothing seen on the show - so much so that some pieces have sold out within days of being featured.
The secret to Emily In Paris however is that while SOME brands pay for integration, the vast majority are selected by the props, sets and costume designer for loan to the production. Not a fee payment. Why? Because brands are part of the world that Emily lives in, and the show needs them, as much as they need the PR power of the series.
Consumers are also more likely to remember a product if they see it in a specific context or situation - as demonstrated by McDonald's in Emily In Paris. Additionally, product placement can be helpful for directors who need to fill scenes with props that fit their storyline. This can lead to more meaningful placements, as was seen when Cartier provided jewelry for Emily during her romantic dinner with Gabriel. Product placement has become increasingly popular over the years, and it looks like it will be here to stay!
Cartier has also experienced an increase in sales due to its jewelry pieces being spotted throughout the series. Even Emilio Pucci saw an increase in swimwear and beach bag sales as a result of Emily's summer look. By placing their products alongside the characters of Emily In Paris, these fashion brands are able to reach an even larger audience and establish themselves as key players within the fashion world.
---
Emily in Paris: Why Product Placement Works
Product placement has become an increasingly popular way for businesses to get their products seen onscreen and reach audiences in unique and memorable ways. In the popular Netflix series Emily in Paris, the strategic use of product placement provides the audience with a heightened reality – by including luxury brands from around the world in its storylines, the series allows viewers to have a front-row seat to experiencing some of life's most coveted luxury items in their natural habitat.
The show's protagonists, Emily Cooper (Lily Collins), a marketing expert from Chicago whose dream job takes her to Paris, and Gabriel (Lucas Bravo), a handsome chef-owner at a French restaurant, provide the perfect backdrop for luxury product placement. From designer apparel and accessories to luxurious vacation accommodations and glamorous events, Emily in Paris offers viewers an exclusive glimpse into the high-end lifestyle they crave.
The show's use of product placement s not just about showcasing glitz and glamour; it also serves as an effective tool for developing characters and their situations within specific storylines. For instance, when Emily is preparing for a first date with Gabriel she dons a beautiful dress from Dior – which not only looks stunning but also underscores her Cinderella-like transformation into becoming one of "the chosen ones" during her tenure in Paris.
Throughout the series, viewers are taken on a journey through some of Paris' iconic neighborhoods filled with references to luxury labels like Givenchy, Chanel and Cartier along with tourist spots such as Galeries Lafayette and Le Bon Marin Market.
---
Unpacking Product Placement In Emily In Paris
Not only does this type of product placement help create a more believable reality for viewers, but it can also help brands build visibility among target audiences who may be more likely to purchase those items or services because they were featured on screen. Although there isn't explicit advertising overtones throughout much of Emily in Paris' product placements, it still serves as an effective way for brands to associate their products with desirable characters or experiences that viewers can relate to on some level.
Product placement can provide tangible benefits for participating brands such as increased visibility among target audiences who often will remember what products were featured even if it wasn't explicitly mentioned or visited onscreen during key moments within storylines.
As viewers become more accustomed to seeing luxury goods associated with certain characters or plot points, these items can become even more desirable because they have been included so frequently within each episode throughout both seasons of Emily in Paris thus far. This type of product placement gives each brand involved the opportunity to leverage their partnership within one of today's most fashionable television shows. At the same time, brands are able to capitalize on its inherent power as an influencer over consumer decision-making processes related to purchasing luxury items across all genres due to its global reach throughout 196 countries around world which makes it an incredibly attractive proposition.
---
A Front Row Seat to Luxury

Emily in Paris has had significant success working with numerous brand partners for product placement. Examples of brands that have benefited from their product placements in the show include Louis Vuitton, Dom Pérignon, InterContinental Hotels & Resorts, Givenchy, and Chloé. French restaurants like La Rotonde also appear on-screen. Additionally, fashion brands like Chanel, Balmain and Yves Saint Laurent, as well as LA-based designer Misha Nonoo, have had their luxury items showcased along with McQueen sunglasses, Cartier jewelry and Emilio Pucci swimwear.
Even McDonald's got in on the action in Season 3, creating a massive integration centered on their newly introduced sandwich, the McBaguette.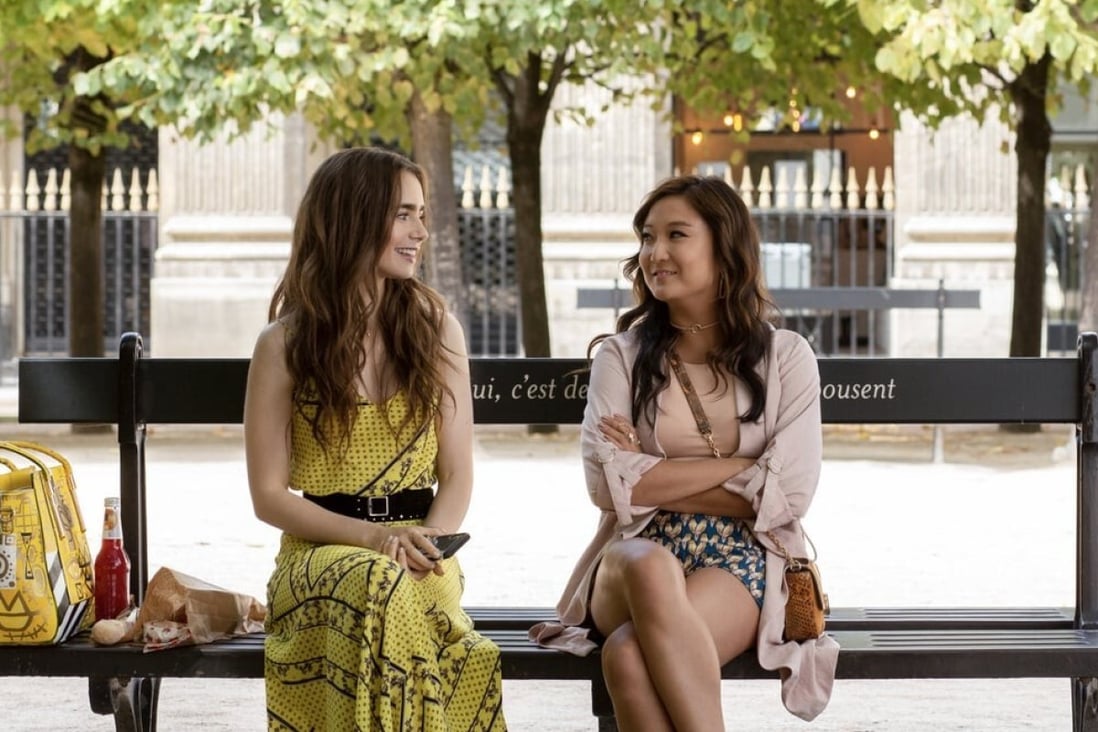 Additional brands and fashion designers featured in product placements throughout Emily in Paris include:
NetJets Europe - The private jet company provided custom charter flights between Paris & London



Hotel Prince de Galles - A luxurious 5 star hotel located near Avenue des Champs-Élysées where many scenes throughout season 1 were filmed





Christian Louboutin offers beautiful handbags and shoes that are seen throughout Emily in Paris.



Europcar - AED Rentals used high end cars from Europcar including Jaguar XE & Mercedes S500 cabriolets


Thalys - The intercity rail line was used by Emily when traveling between Amsterdam & Brussels


Air France – Used during multiple scenes featuring short haul flights within Europe


Cartier's jewelry pieces have been spotted throughout the show.

Alexander McQueen sunglasses incorporate modern design features with traditional craftsmanship to create timeless eyewear.

Diesel, Only The Brave (an Italian streetwear brand).

Veja sneakers (eco-friendly, sustainable sneakers made of vegan materials like organic cotton and wild rubber).

Celine (luxury clothing and accessories).

JW Anderson (British designer label with a focus on denim and knitwear).

Stella McCartney (British luxury fashion house specializing in ready-to-wear clothing and accessories).

Fendi (luxury Italian fashion house known for leather goods and fur items).

Nike Air Force 1s (classic 1987 basketball sneaker now used as an everyday shoe by both men and women worldwide).

Balenciaga (luxury Spanish fashion house known for its avant-garde designs, sculptural shapes, exaggerated silhouettes, daring colors and eclectic combinations of fabrics such as velvet, faux fur or crochet).

Gucci sneakers are seen in the show.

Miu Miu offers a wide range of luxury clothing items including dresses, skirts, tops, jeans, bags and shoes.

Emilio Pucci provides swimwear as well as beach bags perfect for a day out by the Seine river.

Lanson Champagne – High quality champagne chosen by Emily that was featured multiple times throughout season 1.

Perrier Water – Featured while Emily was out exploring different markets & monuments around Paris


Courir – Footwear brand prominently displayed as part shoe store scene 9 .Hermès Beauty - Rodin facial oils featured when Emily stocks up on beauty supplies after moving apartments


Cartier Jewelry - Necklaces wore by both Emily & Mindy (her neighbor) during various filming scenes
---
---
Eager To Learn More?
Now that you know why product placement is important, you need to learn how to best implement product placement into your marketing plan. For help with this, look no further than our blog! We have plenty of pieces on how to explore product placement like a pro!
Want to stay in the know with all things pop culture? Look no further than our Hot in Hollywood newsletter! Each week, we compile a list of the most talked-about moments in the entertainment industry, all for you to enjoy!
---