---
More Than Supplemental Income: Endorsements
One of the biggest stories in sports coverage recently was NBA superstar LeBron James' decision to sign with the Los Angeles Lakers. It made headlines across the world, and besides his move to LA, what caught a lot of people's attention was the size of his contract, a reportedly 4-year, $153.3 million deal. That is a lot of money, but did you know that LeBron will make more per year not on the court?
Forbes released their list of the highest paid athletes of the past year, and for LeBron and many other athletes, endorsements are where a bulk of their money comes from. Endorsements are a lot more than a supplement to the athletes big contracts, they are just as important as their playing contract. In this blog, Hollywood Branded looks at three of the top highest paid athletes and their endorsement deals that have helped make them a global brand.
---
---
"Money" Is #1
When looking through Forbes' list, the different means of income for the athletes are broken down into categories, Salary/Winnings, Endorsements, and overall pay, so let's start with the #1 overall earner.
The #1 highest paid athlete of 2018 is, (drum roll please), Floyd "Money" Mayweather. The interesting thing about him is that he did not make as much money from endorsements compared to the others around him on this list.
Floyd made a lot of money this past year from his super fight with #4 on this list, Connor McGregor. In fact, the $275 million he made was his only fight last year, and was enough for him to top the list in one fell swoop! Imagine making $275 million in 36 minutes, that is exactly what Mayweather did in this clash of Boxing vs MMA. Floyd really lived up to his "money" moniker this year!
However, he still had a major endorsement that made headlines....
---
Floyd's Big "Money" Endorsement: Hublot
Floyd Mayweather's major endorsement came from luxury Swiss watch company Hublot, who capitalized on his 50-0 record after his win over McGregor. In February of this year, Hublot made two versions of a watch called the Big Bang Unico TMT, based off the trunks he wore in the fight.
They made a 100 watches worth $28,300 each and 10 limited edition versions worth $93,700 each that included a signed boxing glove. Deals like this one has led Floyd to become only the sixth athlete to make $1 billion in their career, and with high-end endorsements like these it is not hard to see why.
---
Roger Federer: Tennis And Endorsement Champ
Now that we know who the #1 overall earner is let's find out who made the most from their endorsements this year. That man is one of the greatest tennis players ever, the one and only Roger Federer. Tennis is an interesting sport compared to others, because you only get a "salary" from winning tournaments, so to get the big bucks you have to make your money elsewhere.
Roger is doing that through his endorsement deals, making a whopping $65 million from his endorsements alone! That is over 5 times his tennis winnings from this past year! The international appeal of tennis and Federer himself has made brands eager to partner up with him, including one earlier this month.
---
The UNIQ...LO Endorsements of Roger Federer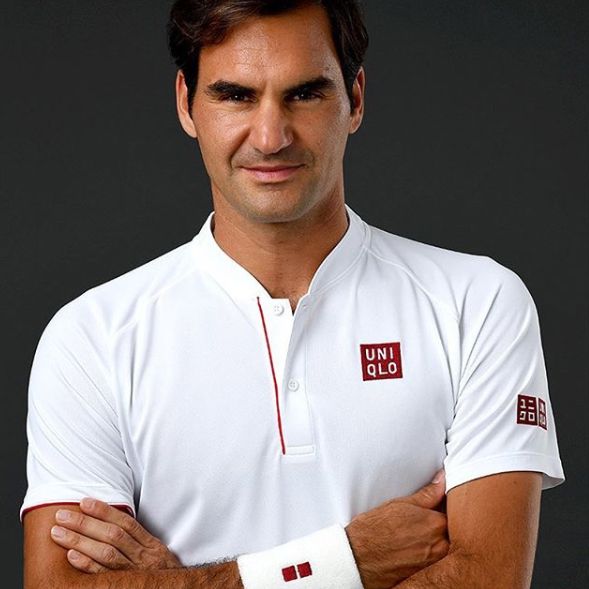 The big news this past month was that Federer left his longtime partner, Nike, to sign a huge deal with Japanese company UNIQLO. The deal is reportedly worth $300 million over 10 years, and started at this year's Wimbledon, where he traded in the swoosh for the UNIQLO logo on the court.
Apparel is just the start of the many deals Roger has, as he represents all types of brands, from pasta to cars. He just resigned with Mercedes Benz in December, and last year signed a deal with the largest pasta company in the world, Barilla, that will net him $40 million. That could buy a lot of pasta! He also reps Rolex, Wilson, NetJets and many others.
Roger Federer might be the champion of endorsements, but the following guy is the king... that's his moniker after all!
---
The King (of Endorsements)
The next man on this list, and maybe the most popular here in America, is Los Angeles' newest blockbuster star, LeBron James. When you think of popular current American athletes, LeBron James is at the top of the list. King James has dominated the NBA for years, and he has taken that off the court to be a major brand in his own right.
A big debate in basketball on the court is if LeBron has overtaken Michael Jordan as the GOAT (Greatest of All Time), but at the very least he has followed in his footsteps in racking up major endorsements. LeBron made $52 million in endorsements alone this past year, much more than his $33.5 million salary, to come in right behind Federer. LeBron has made a brand of himself fit for a King.
---
The King's Court of Brands
The first brand that comes to mind when thinking of LeBron is Nike. LeBron has the top selling shoe of active players in the NBA, and signed a lifetime deal with the swoosh in 2015 that is worth over $1 billion.
LeBron's vast portfolio of endorsements doesn't end there. He has deals with Sprite, Kia, Intel, and Beats by Dre, reaching across multiple industries and representing products that match his own personal brand. LeBron also has his own media and production companies, and was an early investor in the fast-growing pizza chain Blaze Pizza. We will have to see if his move to Hollywood will grow his brand even further, and push him up the Forbes list.
---
Become #1 With Celebrity and Athlete Endorsements
Celebrities and athlete endorsements can help take any brand to the next level. Having a celebrity or an athlete endorse your brand can bring it more attention and drive sales. With the right campaign, brands can (almost) instantly become recognized as top of its own brand categories with a great celebrity endorsement on it, lending star power gold dust to the brands image.
Make sure you check out our team's blog on The Top 10 Highest Endorsed Athletes And Their Brands
Check out some other blogs our team has written on Celebrity and Athlete Endorsements:
Interested in working with celebrities as part of your brand campaign, and want to know if the money you spend will actually lead to sales? Check out this video that highlights a variety of celebrities who have had endorsement deals, and the sales results for their brand partners.