---
From The TV Screen To Your Kitchen
In the world of product placement, food and drink brands are desired by productions to be placed within the storyline. Having actual brands within in a film or TV show inspires the realism given the setting and situation, which is why we often see so many popular products on screen.
Let's be honest, everyone loves food, and those integrations can cater to audiences in a more engaging ways than most. In this blog, Hollywood Branded looks into why popular food and drink integrations tend to connect the most with the viewers.
---
---
Product Placement vs. Branded Integration
As a viewer, we tend to look away when a lousy or irritating commercial interrupts our favorite programs. In-your-face advertising is the most disruptive way of promoting a brand, and a practice that can be divisive amongst audiences. In short, product placement serves as a natural way to add a sense realism to the scene. Productions then turn to brands or their agency to arrange an organic insertion of logos or merchandise, without explicitly focusing on the product.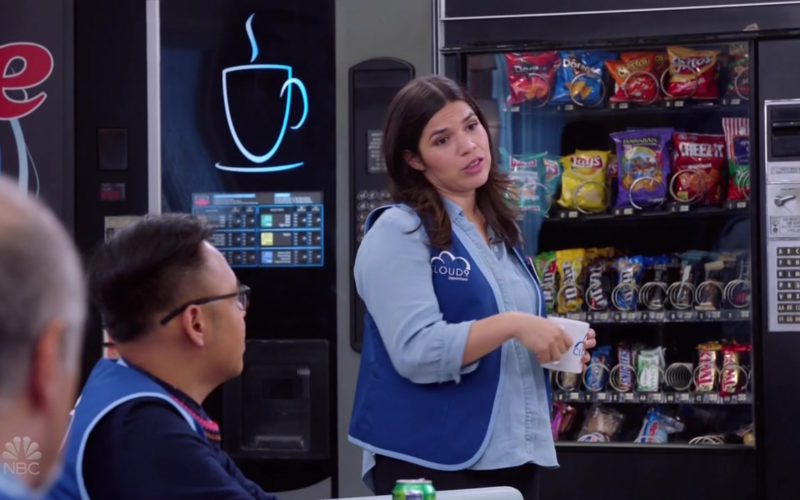 Conversely, branded integration is defined as a more sophisticated way of promoting an advertiser's product. Instead of being placed amongst the background, brands are embedded within the storyline, in which characters interact and showcase the product as the main focus to the scene. Thus, making the content more engaging as the brand is molded in a way that doesn't feel like an aggravating advertisement, but more so as a bridge to build relationship between the consumer.
---
#1: Krispy Kreme - Power Rangers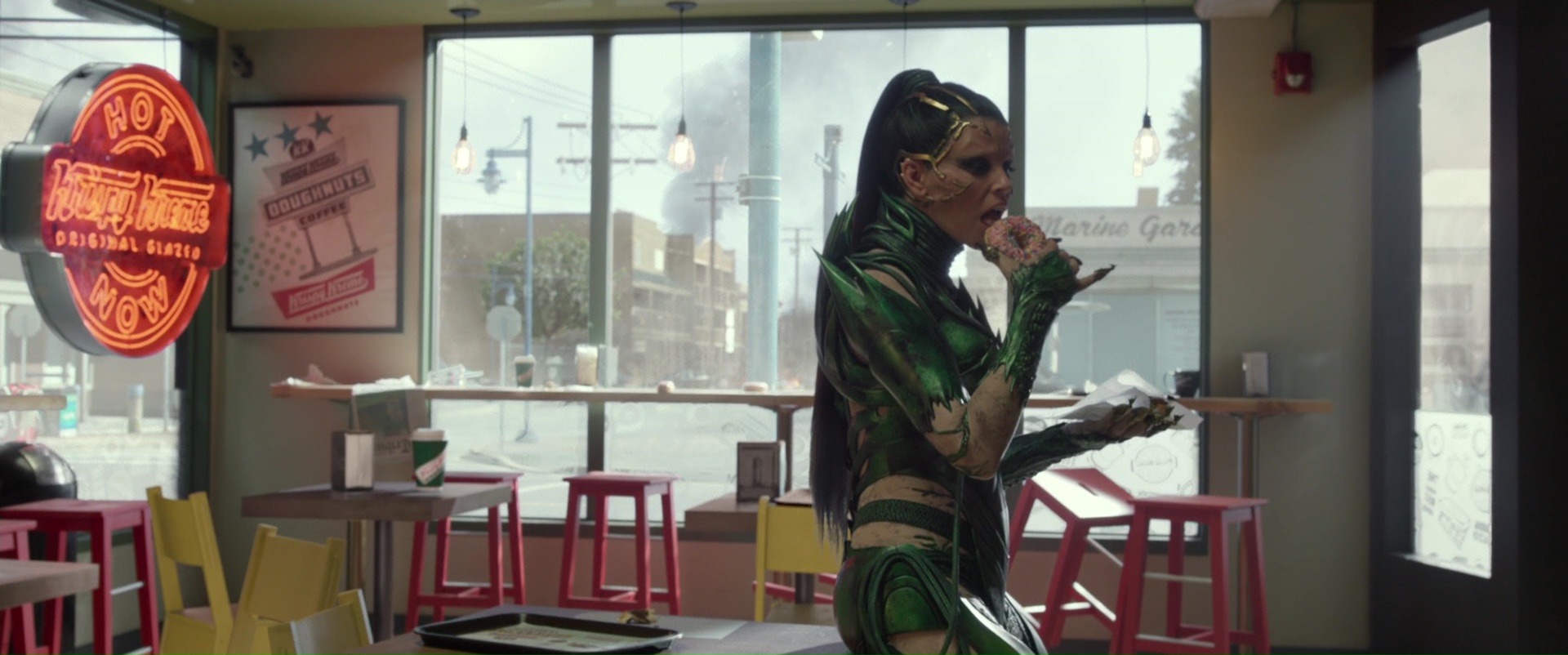 In 2015's Power Rangers, Angel Grove's local Krispy Kreme is home to more than just the world's best glazed donuts. In this case, the teenagers with attitudes have the world on their shoulders, having to rescue "the Zeo Crystal" buried beneath the famous donut storefront.
Krispy Kreme hasn't been this big this its $1 dozen donut deal, let alone be the center of attention in a major studio film. There's no denying the fact that Krispy Kreme received excellent exposure. Frequently mentioned throughout the second act as the location of the Zeo Crystal, the main cast finally meets up at Krispy Kreme in order to defeat Rita, who's also after the crystal. Even the evil witch herself can be seen enjoying the tasty pastry right in the middle of all of the chaos.
Up until Krispy Kreme's spotlight in the last act, the film hardly exposes any degree of additional placements. In fact, most of the other businesses or products featured in the story are not covered by big brands, leaving Krispy Kreme as the star of the show. So for Krispy Kreme to be the leading brand placed in the film and actually serving as a major plot device, you have to give them credit.
Whether or not you like this kind of exposure, if you are locally based surrounding one of the few Krispy Kreme's out there, more likely than not you at least thought about going out and getting a dozen.
---
#2: Coke - Stranger Things
Stranger Things has taken complete advantage of its 80's allure. Nostalgia rides high in the little town of Hawkins, where more often than not, you'll hear or see your favorite brands, movies, and pop culture nuances referenced. In season 3, the series planned to revive a marketing nightmare that Coke experienced in 1985.
Ironically, Stranger Things is no stranger to product placement. We could have picked a number brands to highlight here (Slurpee, M&M's, and Eggo's are a few that also come to mind. But the story that has taken the hit show by storm is its revival the infamous Coca Cola line, New Coke.
Some things are better to be left untouched, but after 94 years of simplicity and originality, Coke executives decided to change-up the recipe with an entirely new taste and design. To the disgust of many consumers, Coke's new campaign would only last a brief two months, quickly retracting to the old formula.
New Coke showcases how a plotline includes visual and verbal messaging about a brand. The new drink made several appearances throughout season 3 and even the Stranger Things writers couldn't help themselves by comparing the quality of New Coke to old Coke to that of the difference between the original The Thing to John Carpenter's 1983 remake. The verbal mention comes off a little strong, abruptly disrupting the tension in a rather important discussion about what the cast is about to do next. "The original is the classic, no question about it. But the remake ... sweeter, bolder, better", Lucas says. Sure it's a fun pop culture tie-in to a big marketing disaster, but its implication on the story and the scene are meaningless.
Since season 1, Coke has been frequently placed throughout the show. With this latest integration, older fans were reminded of the once disastrous debacle, and new generations like myself, could learn more about what had people going crazy over Coke in the 80's and try it for themselves today. If you want to see what all the fuss is about, you better hurry. 500,000 cans were released for a limited time only
---
#3: Hot Cheetos and Takis - Orange Is The New Black
Hot Cheetos and Takis lyrically paired in the hit Netflix show, Orange is the New Black. Two of FCI Danbury's hungriest inmates, Blanca and Red, can't help themselves but dance their way into the prison kitchen when a package of their most recent request arrives.
"Spicy, Cheesy, Crunchy. They're great!" says Blanca, while enjoying listening to a hip-hop rap promoting the newest hit: Hot Cheetos and Takis brand. The episode "Flaming Hot Cheetos, Literally", takes place around a three-day prison riot when Taystee convinces the authorities that they will let the guards go if they receive their high demand. In this case, boxes of Hot Cheetos and Takis.
With Orange Is The New Black being one of Netflix's most popular shows, Hot Cheetos and Takis' exposure was front and center as a key feature to the storyline, and doesn't hit you over the head with meaningless propaganda. These are characters who have faced stressful days as inmates. Prison food isn't great, so the craving for a casual snack such as Hot Cheetos or Taki's comes off as a natural request. Just like the ending of the episode, which saw Taystee and her fellow inmates light the crunchy snacks up in flames, you cannot deny that this particular integration was indeed fire.
---
#4: Reese's Pieces - ET
Product Placement has always been considered a driving concept within the media to increase sales and exposure for a brand, and Reeses Pieces in E.T. is a perfect example on accumulating brand awareness.
In the film, the extraterrestrial being, also referred to as E.T., is befriended by a young boy named Elliot. Elliot treasures E.T. and aspires to protect him government intervention. In lieu of his recent arrival on Earth, Elliot lures E.T.with a trail of Reese's Pieces to backyard shed.
A newly launched brand at the time, Reese's Pieces was amongst many brands looking to be featured in Spielberg's Sci-Fi classic. Although the biggest mistake of them all was M&M's denying Spielberg to be in the film. Thus, Reese's saw their opportunity and ran with it.
In order to connect with the viewer beyond the silver screen, studio and production executives find that partnering with brands is the most effective way to maximize a productions promotional campaign. E.T. and Reese's showed us how branded integration can mutually benefit both long term and short term goals of a brand.
While product placement is great exposure for brands to increases the sales of their advertised product, brand integration most notably attempts to increase a brand's equity. Seeing Elliot use Reece's to attract E.T. inspired young audiences everywhere to purchase the candy and try to lure an alien themselves. On the dollars side, the company experienced a 67% sales increase after being featured in the film. For Reece's, this proved to be a huge success as the peanut butter candies also saw an 80% rise in profits two weeks after the movie's premiere. At the time, the cash flow was certainly nice, but the legacy E.T. has left on Reece's has lasted forever.
---
#5: White Castle - Harold and Kumar
What's better product placement than actually having the name of the brand in the title of the film itself? The first installment of the Harold and Kumar series saw its titular characters high on the crave for a White Castle Burger. After a TV advertisement promoting the chain, the two protagonists venture off on a psychedelic journey in order to satisfy their hunger and eventually reach the restaurant.
The interesting tidbit about this placement was that White Castle didn't pay to be part of the movie. To gain attention themselves, White Castle promoted the film with collectible cups and radio ads. But as a small, mostly regional chain, the company saw it worthwhile to be integrated in a big feature film, despite its stoner-esque storyline.
This goes back to the value of having brand equity. At the time, White Castle was a relatively small name in the world of fast food retailers. By serving as the central focus of storyline, this brand integration uplifted the interests of consumers, curious to see what makes the restaurant such a desired destination. The popularity of the film and its mark as cult classic has since established the mass popularity of the White Castle crave, growing as one of fast food's most popular chains.
---
#6: Wayne's World
When it comes to food and product placement, 1992's Wayne's World is the ultimate example. Following the new trend of product placement being widely integrated into film and TV in the 1980's, Wayne's World took the typical inorganic and blatant usage of product placement, and turned it for comedy.
For those who have seen the film, the particular scene that comes to mind is when the protagonists, Wayne and Garth, discuss promotional sponsorships surrounding their new contracts. The usage of product placement in the scene is surprisingly clever as illustrates just how inorganic product placement can be. But how these brands are promoted and fixated into the script assures that this can also be seen as a form of branded integration.

When we talk about conventional ad placements, consumers tune out and turn their attention elsewhere. This has caused more brands to shift their dollars into integrated content, whereas the retention and benefit from the viewer is much more worth the price. In the case for most brands, using film as a promotional medium is a much more subtle use of catering to the interests of the audience. While Wayne's World takes their integrated space to the extreme, it still serves a genuine purpose and is one that we surely won't forget.
---
Branded Integrations and Beyond
Branded Integration isn't telling you to buy something, and that's the beauty of it. It's authentic storytelling that naturally embraces the desires of the consumer: to feel connected to the brand.
To clarify, branded entertainment meets both ends of the spectrums. In which the consumer - who want to feel enlightened, entertained- and the brands - who crave more exposure and engagement. Brands want to increase profits, but building brand equity can prove to be more valuable in relation to the interests of viewer. As media marketing continues to keep pace with today's digital age, it makes more sense for marketers to invest in integrations, cultivating what would be a mutually beneficial scenario.
---
Hungry for More?
Are you craving more information on how to bring your story to life? Our expertise at Hollywood Branded will find which dish serves you best with the best marketing strategy for your brand.
When it comes to bringing brands and content together, we have you covered. Check out the other articles we have written on product placement and branded integrations to start your promotional campaign today!
Interested in building your knowledge on product placement? Check out this video below!
---