---
The Most Expensive Advertising On Air
The big game day came again, and advertisers spent the last six months getting read for their moment in the spotlight: the Super Bowl! Our agency's attention is focused on the high priced commercials and those celebrities that star in them, in what is appropriately deemed the most expensive night on TV. In 2018 brands paid the highest ad price in Super Bowl history at $5.2 million for a 30-second ad, reaching 103.4 million viewer audience. In 2019 brands eclipsed that figure, and paid $5.25 million per ad, reaching 98.2 million.
That loss in viewership didn't impact pricing for this year, with those 30 second-ads costing a record breaking $5.6 million - $187,000 per second of airtime - reaching 102 million US viewers. That is not the entire price tag to consider, as many brands buy 60 to 120 seconds of air time across single or multiple ads, plus millions of dollars to celebrity endorsers or famous directors, and the cost to production companies to create these most watched ads of the year. In this blog, Hollywood Branded looks at the 38 brands who incorporated over 65 celebrities and personalities, and the best and worst of the Super Bowl 2020 commercial celebrity endorsements.
---
---
Automotive Celebrity Endorsement Ads
This year, 8 automotive brands debuted Super Bowl commercials, including Audi's Volkswagen, GM's Hummer, Hyundai, Hyundai's Genesis, Jeep, Kia, Porsche and Toyota, with ### featuring celebrities.
Audi (Volkswagen) - Maisie Williams
Making their 11th appearance this year, Audi partnered with Game of Thrones star Maisie Williams singing Frozen's Let It Go while driving an E-Tron Sportback while singing Let It Go from Frozen. This is the debut of Audi having an electric vehicle entering the market. A top favorite song matched with a favorite celebrity could be a winning combination indeed. Agency: 72andSunny
60 Second Ad
Ford Mustang Mach E - Idris Elba
Jumping on board the theme of all things electric vehicle, Ford Mustang's Mach E showcased a celebrity partnership voiceover and starring role by Idris Elba.
Agency: Unknown
60-Second Ad
Super Bowl Ad
Hummer - LeBron James
The ad is one that was edited at the last minute due to Kobe Bryant's death. Called "Quiet Revolution," it features LeBron James and introduces Hummer as an electric vehicle.
Agency: Leo Burnett Detroit
30-Second Commercial
Super Bowl Ad
Hyundai - Chris Evans + John Krasinski + Comedian Rachel Dratch + Boston Red Sox David Ortiz
The Boston-themed ad features four Boston-linked celebrities: Actors Chris Evans and John Krasinski, comedian Rachel Dratch and Boston Red Sox legend David Ortiz. The ad is focused on all things Boston - from tight parking spots to its famous celebrity faces, while showcasing some pretty incredible self-parking by the car's Remote Smart Parking Assist ("smaht pahk".
Agency: Innocean Worldwide
60-Second Commercial
Super Bowl Ad
Genesis (Hyundai) - John Legend + Chrissy Teigan
Featuring celebrity power-couple John Legend and Chrissy Teigan, the ad pokes fun at what "old luxury" means versus today's luxury - leading into the power duo driving away in a Genesis. The intro to the ad was cut out due to Kobe Bryant's death, due to an opening scene showing their wealth by arriving to the party with a helicopter scene.
Agency: Innocean Worldwide
60-Second Commercial
Super Bowl Ad
Jeep - Bill Murray + Stephen Tobolowsky
Jeep's Super Bowl ad plays on the fact that Super Bowl falls on 2020's Groundhog Day, and they brought back both Bill Murray and his iconic film "Groundhog Day" to help celebrate. Murray played meteorologist Phil Connors who relived the same day over and over in Punxsutawney, Pennsylvania. Additionally, Ned Ryerson, the nerdy insurance salesman character from the 1993 movie (played by Stephen Tobolowsky) makes an appearance.
Agency: High Dive
60-Second Commercial
Super Bowl Ad
Kia - Oakland Raider's Josh Jacobs
In Kia's Super Bowl ad, Oakland Raiders' Josh Jacobs has a conversation with his younger self with a focus on youth homelessness. For every yard scored during the game, Kia will donate $1,000 to charities supporting the cause.
Agency: David & Goliath
60-Second Commercial
Super Bowl Ad
Toyota - Cobie Smulders
The Toyota Highlander SUV stars actress Cobie Smulders and kicks-off a new campaign for the Highlander SUV as it comes to save the day in momentous scenes - from nuclear meltdown, to Western outlaws to alient critters - or even your son's exit from a movie theater in the rain.
Agency: Saatchi & Saatchi
60-Second Commercial
Super Bowl Ad
---
Beverages Celebrity Endorsement Ads
Bud Light/Bud Light Seltzer (Anheuser-Busch InBev) - Post Malone
Anheuser-Busch InBev purchased four 60-second ads in Super Bowl 2020 - but it also got a cameo in a Tide commercial, something that was a very unique add-on option this year with different corporate owned brands appearing in a mix of other brand's advertisements. Two of the ads heavily featured celebrities.Bud Light and Bud Light Seltzer pre-released two ads featuring Post Malone whose internal body's cast of characters try to control helping him decide between Bud Light and Bud Light seltzer. The company let social media choose which of the two would air in the game. The winner, was a spot showing Post Malone in a bodega trying to decide between Bud Light and Bud Light Seltzer.
Ad Agency: Wieden & Kennedy
30-Second Commercial
Super Bowl Ad


Michelob Ultra (Anheuser-Busch InBev) - Jimmy Fallon + John Cena
Michelob Ultra's Super Bowl ad features late-night host Jimmy Fallon and pro-wrestler John Cena who urges Fallon to let go of his hatred for working out, and after... to go for a Michelob Ultra for a post-workout beer.
Agency: FCB
30-Second Commercial
Super Bowl Ad
Mtn Dew - Bryan Cranston + Tracee Ellis Ross
In this brilliant knock-off of Steven King's The Shining, Bryan Cranston is seen as a reinvention of Jack Nicholson's "Here's Johnny" scene with n a Tracee Ellis Ross. Leveraging familiar storylines and movie content can make magic happen with an audience that is going to absolutely transported to that moment in time when they watched that same film or TV show... and create a massive emotional bond.
Agencies: TBWA/Chiat/Day New York
30-Second Commercial
Super Bowl Commercial Extended
Pepsi (PepsiCo) + Missy Elliott + H.E.R.
In a which is better blast from the past, Pepsi takes on Coke in its add starring Missy Elliott and H.E.R. remaking the Rolling Stones classic "Paint it Black." The ad shows a red can similar to Coke's iconic packaging being painted black, the color of the new can for Pepsi Zero Sugar.
Agencies: Goodby, Silverstein & Partners
30-Second Commercial
Super Bowl Ad
SodaStream (PepsiCo) - Bill Nye
A mission to Mars finds water for the first time - and Bill Nyethe Science Guy weighs in on the amazement felt by all. But one of the astronauts is off to the side with the SodaStream, and uses the Mars water by mistake to power his drink.
Agencies: Goodby Silverstein & Partners
30-Second Commercial
Super Bowl Ad
---
CPG Celebrity Endorsement Ads
Olay (Procter & Gamble) - YouTube Creator Lilly Singh, Actresses Busy Philipps and Taraji P. Henson, Retired NASA astronaut Nicole Stott and Newscaster Katie Couric.
Olay's all-female led cast includes Canadian YouTube creator Lilly Singh, actress Busy Philipps, retired NASA astronaut Nicole Stott, Taraji P. Henson and Katie Couric in this space-themed branded content play inspired by last year's all-female spacewalk, and very able to be repurposed for International Women's Day campaigns.
Agencies: Badger & Winters
60-Second Commercial
Super Bowl Ad
Procter & Gamble - Rob Riggle + Busy Philipps + Troy Polamalu + Sofia Vergara + Manolo Gonzalez-Ripoll Vergara
In the ad, seven brands came together through an interactive video featuring Bounty, Charmin, Old Spice, Febreze, Mr. Clean, Olay and Head & Shoulders. The video included Rob Riggle, Busy Philipps, star-made Isaiah Mustafa, Troy Polamalu, Sofia Vergara and her son Manolo Gonzalez-Ripoll Vergara.
Agencies: Grey Midwest
60-Second Commercial
Super Bowl Ad
Tide (Procter & Gamble) - Charlie Day + Emily Hampshire
In this ad, a couple Charlie Day("It's Always Sunny in Philadelphia" ) and Emily Hampshire ("Schitt's Creek") are throwing a Super Bowl party when Emily puts a handful of chili across Charlie's shirt. In meltdown mode, Charlie tries to figure out when the right time is to interrupt his life to clean his shirt. What was so interesting is that both Bud Light's Dilly Dilly and Pepsi make an appearance in this commercial - all three owned by three separate companies and Tide interwove this themed ad throughout 4 different ads it purchased during Super Bowl.
The message is that now you can do your laundry later and not need to worry about the stain setting.
Agency: Woven, New York
60-Second Ad
Super Bowl Ad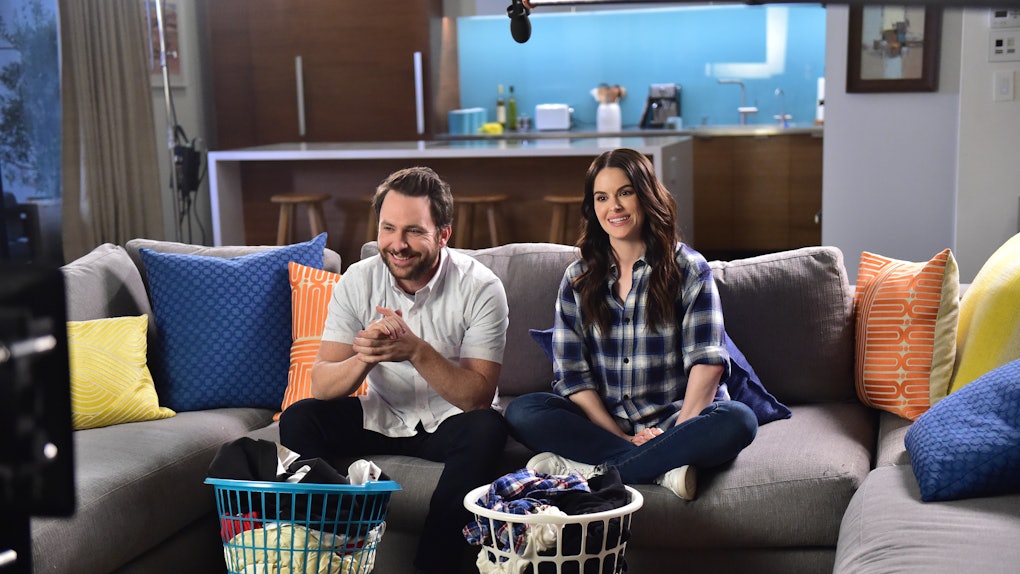 Tide - Wonder Woman + Gal Gadot
In another spot Tide super-smartly started their Wonder Woman co-branded marketing campaign for Summer 2020 now - releasing a :15 second ad using clips from the movie, and one scene cut in with their own brand and actor. Brilliant usage of pop culture content guys - super well done!
Agency: Unknown
15-Second Commercial
Super Bowl Ad
---
Delivery Service Celebrity Endorsement Ads
Postmates - Martha Stewart
What is interesting for both commercial spots that Postmates ran is... that they aren't new spots. But they were never so over-run that they lost their impact. In fact, the first spot debuted back in May 2019. In this spot, Martha Stewart is providing advice on how to cook Thai Chicken - except that the woman was storing her sweaters in the oven which she just ruined. ust Postmate it.
15-Second Commercial
Super Bowl Ad
In her second commercial (run with 2 other spots in between), Martha Stewart is again providing advice on how to cook Salmon, to a woman in an office that is using a trashcan instead of a grill. Just Postmate it.
15-Second Commercial
Super Bowl Ad
---
Entertainment Celebrity Endorsement Ads
National Football League + Anquan Boldin
The NFL created an ad in an effort to show that it is addressing concerns brought into focus over the last many years of Colin Kaepernick's fight to focus on inequalities by black men and police. The ad featured retired NFL receiver Anquan Boldin, sharing the story of his cousin, Corey Jones, who in 2015 was shot and killed by a Florida police officer dressed in plain clothes while waiting for roadside assistance. It plugs the NFL's "Inspire Change" program that includes social justice programs such as the one Anquan started.
Agencies: 72andSunny
60-Second Commercial
Super Bowl Ad
---
Food Celebrity Endorsement Ads
Avocados From Mexico - Molly Ringwald
1980s iconic teen idol Molly Ringwald stars as the host of #AvoNetwork, a mythical shopping network where all items are avocado-themed in this magical wonderland.
Agencies: EnergyBBDO creative strategy/production; Havas Media ad buying/execution; Richards Lerma social media/digital; Padilla PR.
30-Second Commercial
Super Bowl Ad
Cheetos (Frito-Lay) - MC Hammer
MC Hammer stars with this iconic flashback "U Can't Touch This" song and Cheetos spot, which shows all the things people can't touch after grabbing a handful due to your orangey fingers.
Agencies: Goodby Silverstein & Partners
30-Second Ad
Super Bowl Commercial
Doritos (Frito-Lay) - Lil Nas + Sam Elliott
Rapper Lil Nas X challenges Sam Elliott to a dance battle in Doritos' Super Bowl commercial, which debuted on Jan. 29. Lil Nas X song, "Old Town Road," is featured in the spot, along with Billy Ray Cyrus. The spot is focused on Cool Ranch Doritos.
Agencies: Goodby Silverstein & Partners
60-Second Commercial
Super Bowl Ad
And the monologue commercial that preceded it out on social media:
Heinz (Kraft Heinz) - Directed By Roman Coppola
Not every ad spot needs the allure of a celebrity on screen when they can have it behind the camera. Directed by Roman Coppola, the son of Francis Ford Coppola, Heinz released a very movie-esque overlay of four stories showcasing ketchup as being the center of each one.
Agencies: Wieden & Kennedy
60-Second Commercial
Super Bowl Ad
Planters (Kraft Heinz) - Matt Walsh + Wesley Snipes
Actors Matt Walsh and Wesley Snipes lived to see another day as spokescharacter Mr. Peanut fell and ultimately exploded in a teaser ad campaign that ran prior to the Super Bowl on TV and social media. Following the debut of the commerical was a smorgasboard of coordinated social media stunts with spokespeople from other brands. The funeral ad that ran during the Super Bowl revealed to perhaps not-so-many people's surprise, a baby nut, borrowing from the story feel of Baby Groot from Guardian of the Galaxy franchise being reborn to live another day.
Agencies: VaynerMedia
60-Second Commercial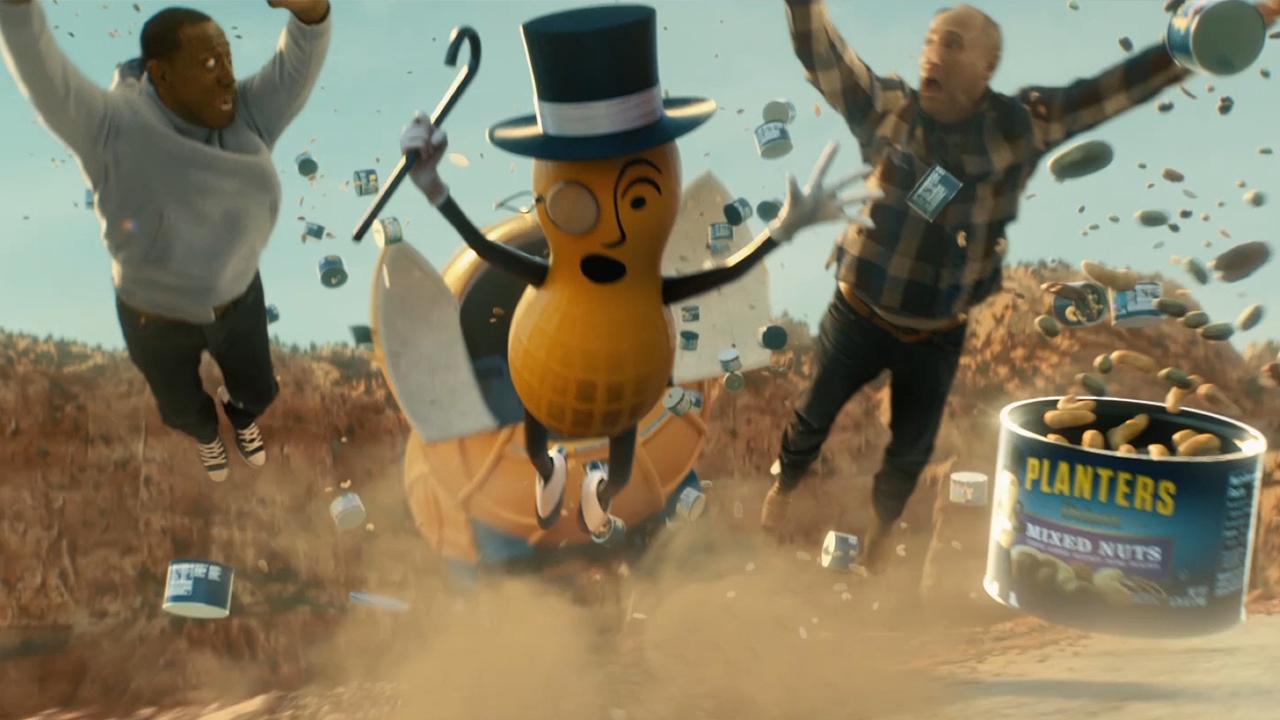 Super Bowl Ad
Pop-Tarts (Kellogg's) - Jonathan Van Ness
"Queer Eye" star Jonathan Van Ness is at the top of his game with the success of Netflix's series, and stars in Pop-Tarts' new pretzel flavor campaign.
Agency: MRY
60-Second Commercial
Super Bowl Ad
Pringles (Kellogg) - Adult Swim's Rick And Morty
Pringles partnered with Adult Swim's animated series Rick And Morty to bridge the world of pop culture animation with reality. Adult Swim's Rick and Morty partner with Pringles "to unlock endless flavor combinations through stacking" and to top it all off and bring it to retail, a Pickle Rick flavor will also appear in stores.
Agencies: Adult Swim, in partnership with Grey
30-Second Commercial
Super Bowl Ad
Sabra - Teressa Guidici + Caroline Mazo + T-Pain + Kim Chi + Miz Cracker
For their first ever spot, Sabra invested in multiple celebrities plus showcased a brand partner with the cameo of the Cheeto's guy dipping Cheetos in the hummus. The brand pre-released three teasers for its spot starring "Real Housewives of New Jersey's" Teresa Giudici and Caroline Manzo, T-Pain and former "RuPaul's Drag Race" contestants Kim Chi and Miz Cracker.
Agency: VaynerMedia
60 Second Commercial
Super Bowl Ad:
Snickers (Mars Wrigley) - Luis Guzman
In an effort to rid the world of things that people find negative, Snickers makes the case that all can be solved by bringing a massive group of people together to feed the earth a Snickers. It must work, as a pair of influencers immediately fall into a giant crevice to disappear forever to have Luis Guzman point out the miracle of it already working to make the world a better place.
Creative: Snickers is looking to fix the world in its Super Bowl ad. These problems include grown men riding scooters and parents naming children after produce. Snickers plans to fix these problems by burying a giant candy bar in the ground. The company released the spot on Jan. 29.
Agencies: BBDO New York and AMV BBDO
60-Second Commercial
Super Bowl Ad
---
Financial Celebrity Endorsement Ads
Discover - Variety of Movies
Always something we love... when a brand smartly licenses creative content to repurpose in their ad and create an immediate connection with the established fan base being marketed to. The spots feature scenes from "Friends," "Austin Powers," "30 Rock" and "American Pie," among others, borrowing on massive star power.
Agencies: The Martin Agency
15-Second Spot
Super Bowl Spot
Quicken Loan's Rocket Mortgage - Jason Momoa + Lisa Bonet
In this awesome piece of branded content, heartthrob Jason Momoa is revealed to be a little less of the on screen muscle-bound heartthrob we all know him to be. Complete with a cameo by his wife Lisa Bonet. The brand began teasing the commercial on Instagram with short videos of Momoa in a bubble bath (he "likes bubbles" he says), reading a romance book and reciting his credits to a pink hairbrush in front of the bathroom mirror. "You've seen him as a superhero, a warrior, and an outlaw," Momoa says to himself - "but you've never seen him like this." And then on Super Bowl Sunday, they ran a 2 minute back-to back commercial ($11.2 million commercial buy time alone… plus that dual celebrity endorsement figure + production costs).
Agencies: In-house; HighDive
120-Second Commercial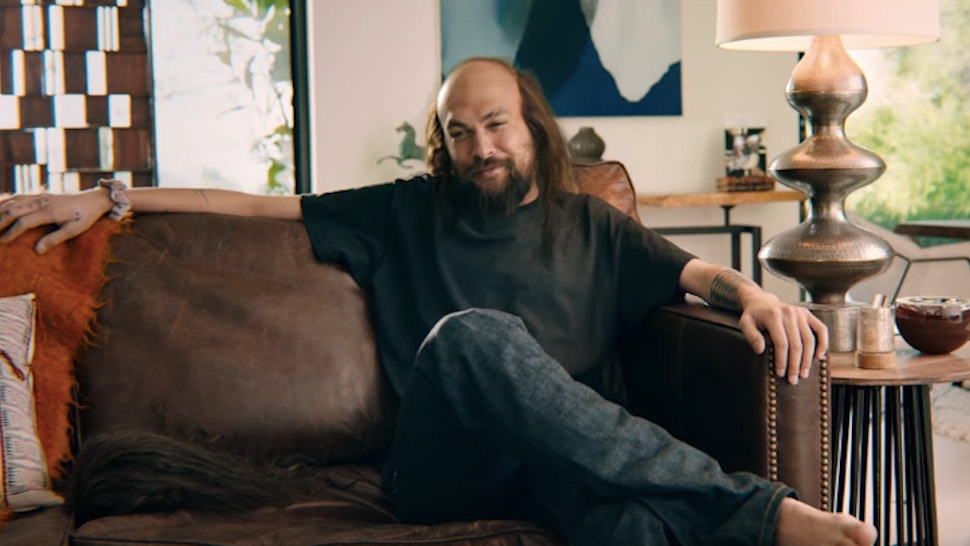 Super Bowl Ad
---
Retailer Celebrity Endorsement Ads
Walmart - Bill & Ted's Excellent Adventure, Star Wars, Toy Story + More!
Creative:
Sometimes a brand can find a unique way to create a massive celebrity endorsement ad that actually saves you additional dollars as the rights come with awesome special effects. Walmart's ad does just that as they licensed the content versus hiring and shooting an ad totally from scratch. And it comes off well in a very big way! The ad features scenes or characters from a dozen movie or TV shows, including Disney's "Star Wars" and "Toy Story" - all lines the retailer also sells in store.
Agencies: Publicis Groupe's Department W
60-Second Commercial
Super Bowl Ad
---
Tech Celebrity Endorsement Ads
Alexa - Ellen DeGeneres + Portia Del Rossi
What I loved most about this commercial was how the brand partnered with Ellen's talk show to debut it, and gift everyone in the audience an Alexa. It was a brilliant way to launch and guarantee a very on-target demographic in Ellen's own show. In the spot, Ellen and Portia imagine a world with no Alexa, and see how their days would be unglued.
Ad Agency: Unknown
60-Second Commercial
Super Bowl Ad
Microsoft - Coach Katie Sowers
In another commercial that is able to be re-purposed for International Women's Day campaigns, Microsoft tells the story of Katie Sowers, a coach for the San Francisco 49ers, who became the first women ever to coach in the Super Bowl.
Agencies: McCann New York
60-Second Commercial
Super Bowl Ad
---
Telecom Celebrity Endorsement Ads
T-Mobile - Anthony Anderson
Buy: T-Mobile will air one 60-second spot during the fourth quarter of the game. Last year the mobile carrier ran four ads.
T-Mobile's Verizon-bashing commercial stars "Black-ish's" Anthony Anderson and his real-life mother, Doris Hancox, where she uses T-Mobile's 5G network everywhere from the aquarium to the movie theater to the kitchen... and even a club.
60-Second Commercial
Super Bowl Ad
---
Travel Celebrity Endorsement Ads
Hard Rock International - Starring JLo, Arod, DJ Khaled, Pitbull and Steven Van Zandt
Hard Rock International came to the Super Bowl in a very big way by not only hiring Michael Bay to direct the action-packed spot,but featuring a massively star-laden cast of characters. Filmed at Hard Rock's new guitar-shaped hotel and casino in Hollywood, Florida - but also featuring Jennifer Lopez, Arod, DJ Khaled, Pitbull and Steven Van Zandt.
Agencies: VaynerMedia
60-Second Commercial
Super Bowl Ad
Verizon - Harrison Ford
Voiced by Harrison Ford, Verizon tells the story of how its 5G network will help first responders be able to do their jobs better and that as a result, you will be safer.
Ad Agency: McCann
60-Second Commercial
Super Bowl Ad
---
Website Celebrity Endorsement Ads
Facebook Starring Sylvester Stallone + Chris Rock
Sylvester Stallone and Chris Rock make a cameo in the ad promoting Facebook Groups.
Agencies: Wieden & Kennedy Portland
30-Second Commercial
Super Bowl Ad
Squarespace - Winona Ryder
Winona Ryder goes home to visit her hometown and namesake - Winona, Minnesota, to show the power of Small Town, USA and small businesses.
Agencies: In-house
30-Second Spot
Super Bowl Ad
Turbo Tax - Music Video Director Calmatic
TurboTax, "All People are Tax People"
Wieden & Kennedy
Score:
Advertising Agency: Wieden & Kennedy
Similar to a few other Super Bowl 2020 commercials, Turbo Tax chose not to bring in a face of a celebrity, but instead to showcase a director that is currently all the rage thanks to a recent hit. Prettybird's Calmatic, best known for the music video hit "Old Town Road" which Dorito's also ran their campaign around, united a wide variety of a cast of characters dancing their way through the Turbo Tax music video spot.
60-Second Commercial
Super Bowl Ad
And here's a fun teaser of a mish-mash of the ads with E! News.
---
Read To Start Using Celebrities?
Did we forget any? Shoot us an email if you think so!
Which of these brands do you think best leveraged the dollars paid for a celebrity endorsement? And do you think these were effective celebrity endorsements? Worth it or not - you can be the judge.
And if you have interest in seeing what brands did in the past, check out our blogs:
Celebrity endorsements are more effective than you may think! Check out these blogs on celebrity endorsement deals for brands: