---
How Artists Drive Massive Revenues For Sneakers
The market of sneakers is undoubtedly one of the biggest out there, driven by pop culture. Just in 2019 alone the sneaker market reached $700 million dollars.
We hear about sneaker partnerships with athletes, but celebrity partnerships don't end there. Major music and fashion artists like Travis Scott, Kanye West, G-Dragon and Virgil Abloh have partnered with sneaker brands to create millions in sales. In this blog, Hollywood Branded discusses the power of artist collaborations with footwear brands and sneakerheads.
---
---
Why The Sneaker Market Is So Popular
The typical sneaker is suggested to last up to 500 miles. Yes, that is correct, shoes also have a mileage lifespan just like cars. The average American man owns around 12 pairs of shoes while women typically own an average of 27 pairs. Companies know this, that is why competition is brutal in the sneaker market. Brands release new models every month, for all types of tastes. This only motivates competitors to come out with new ideas to maintain the hype in the industry because sneakers became part of a lifestyle.
In order to create more relevance with the public, popular brands such as Adidas, Nike, Reebok and Under Armor started to endorse athletes and this strategy transcended companies from shoemakers to sporting goods. Now companies like Nike and Adidas invest in the best players to ensure brand exposure for example: Nike endorses popular soccer players like Neymar Jr, Cristian Ronaldo, Zlatan Ibrahimovic among others. Likewise, for Adidas who endorses; Leo Messi, Paulo Dybala, Gareth Bale, Manuel Neuer and many more famous players.
---
Nike + Celebrity Partners
In 1984 Nike signed Michael Jordan and immediately started producing the Air Jordan 1s which would become an iconic silhouette with uncountable colorways. Nike was dominating the market but Adidas, one of Nike's biggest competitors, saw how endorsements proved to be profitable and decided to take an extra step in the footwear industry. The brand with the three stripes noticed the potential in the music industry, in 1986 Adidas endorsed Run-D.M.C which was the first 1-Million-dollar endorsement deal between footwear brands and hip-hop artists. It created a whole movement around the Adidas superstar sneaker, since then, it seems like a marriage of culture between street wear and footwear brands.
As a response, Nike has collaborated with several artists to create exclusive sneakers which sell out almost instantaneously.
Some noticeable collaborations:
Travis Scott: the Air Jordan 1, Jordan 6 and Air Force 1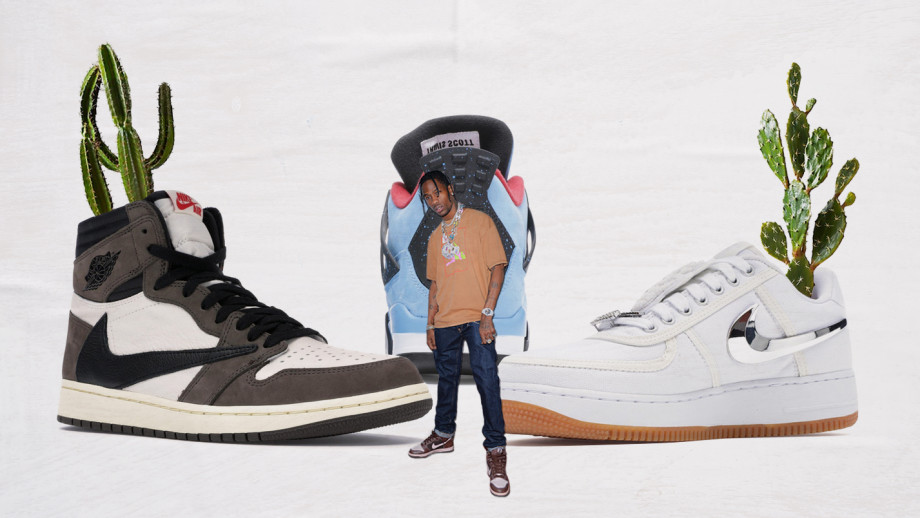 G-Dragon and Nike Air Force 1
Fashion artist Virgil Abloh
All of the above sneakers produced by such artists sold out instantly and are reselling for twice and even triple its retail price. Although shoe collaborations make a small percentage of the sneaker market, the main impact is not financially but the hype created by followers behind the artists.
The loyalty that fans have to an artist is often unmeasurable. These artist deals can make people pay inflated prices over limited supply shoes. The limited supply strategy backed by a good brand of footwear only makes the recipe better. It seems like footwear brands like Nike have found the perfect strategy to transcend from a sport brand to a lifestyle street wear apparel. Nike has earned a space in the top 10 of American footwear brands.
---
Reebok + Celebrity Partners
In 2003 Reebok had its own collaboration with Hip-hop artists Jay-Z and 50 Cent, creating The S. Carter shows which is the result of Jay-z creativeness. Reebok claimed to be the sneaker that changed the industry because it proved that artists can compete with athletes' popularity.
When the S. Carters released, 10,000 were sold the same day. Reebok dominated the street wear market during this time, until decades later another brand experienced in collaboration stepped in.
---
Adidas + Celebrity Partners
Adidas signed with Kanye West in 2013 to bring Yeezy into the industry, and Kanye was no newbie in the sneaker world. He previously collaborated with brands such as Louis Vuitton and Nike. However, Adidas gave Kanye the first opportunity to create his own line.
In 2015 Yeezy released their first season earning the award for shoe of the year from the Footwear News Achieving Award (FNAA). Adidas and Kanye adopted a demand and supply strategy for their sneakers, and as a result the majority of Yeezy sneakers sell out in hours if not minutes. Their shoes are exclusively seen as lifestyle wear, gaining a good percentage of the industry market. Just as its competitors Yeezy's sneakers resell market doubles its original retail price.
In 2019 Yeezy was valued at $1 Billion dollars and considered one of the fastest growing companies. Kanye West said in a Forbes interview that people do not buy his shoes for the price, but for the art behind it, as he said "there is a spirit in them" while admiring all his shoe's concepts. This only enforces the idea that artists have surpassed athletes' influence on the sneaker market.
---
The Power Of Footwear And Partnerships
There is no doubt that if footwear companies want to stay relevant in the sneaker market, they need to think outside the box. In order to transcend typical brand marketing, footwear brands need to join ideas with those who know their consumers the most, and in most cases artists are a good guide point to creating strong fashion statements.
Adidas Nike and Reebok are companies who were willing to take a risk and invest in new concepts and competitors should take this as an example and use it as motivation to step up with revolutionary ideas.
Interested in brand and artist collaborations? Take a look at some of the blogs our team has written:
Interested in learning more about the power of celebrity endorsement deals? Then check out our video on successful celebrity partnership case studies.