---
They Are More Than YouTubers
Do you ever go down the YouTube rabbit hole? I know I have, and a lot of the videos I can't stop binging fall under the category of Entertainment videos. Forbes has released their list of the top Entertainment influencers, and all of these people have one thing in common: millions of people can't stop following their every move.
YouTube is not the only thing these men and women do, it is just the beginning of how they share their daily lives. From books to TV shows, these self-made digital stars are doing it all, and brands who pay them are a big part of how they can profit from their self made lives is all made possible. In this blog, Hollywood Branded looks at Forbes' list of the Top 10 Entertainment Influencers and the brands they have partnered with.
---
---
King Bach
King Bach became world famous for his Vines, where he became the most-followed person on the now defunct platform. From his Vine popularity, Bach got numerous gigs on mainstream TV, and has a massive following across all other social media platforms.
Instagram: 16 million followers
Twitter: 2.65 million followers
YouTube (Multiple Channels): 3,551,608 combined subscribers
In this music video, King Bach makes a music video wishing that Steph Curry was his roommate because his current one always finishes the pitcher of water from the video's sponsor, Brita.
In this video, King Bach helps to promote the new Madden NFL 19 videogame.
---
Cameron Dallas
Cameron Dallas also got his start on Vine and parlayed that into a huge following across all social media platforms. He has also had mainstream success, as he signed a recording deal with Columbia Records and had a Netflix docuseries entitled 'Chasing Cameron'.
Cameron has taken his popularity and good-looks onto the runway, as he has walked in the Dolce & Gabbana Men's Fashion Show. He has also promoted the brand on his social media, as seen here from his Instagram page, where he posted a photo from a photoshoot for the brand.

Cameron has not just been a part of fashion shows and photo shoots, he has made it all the way onto the covers of magazines! Here he is promoting his issue of Seventeen Magazine, as well as telling his millions of followers he will follow them back if they buy it and tag him in a post with the magazine.
---
Shane Dawson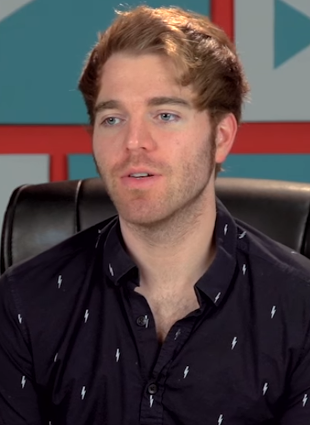 Shane Dawson got his start on YouTube in 2008, and for the last ten years has been one of the biggest stars on the platform. He has also had success in other areas of entertainment besides YouTube as well, including writing two New York Times bestselling books.
Instagram - 7.5 million followers
Twitter- 6.48 million followers
YouTube- 16,255,469 subscribers
NEW VIDEO PODCAST UP NOW with DREW & the new set! get FULLSCREEN for FREE if u have ATT! https://t.co/PbEK2sDnsV 🔥🙌🏻🎧👯 pic.twitter.com/4PWvZy6AZD

— Shane Dawson (@shanedawson) May 5, 2017
Shane launched his podcast, 'Shane and Friends' back in 2013, and with its rise in popularity, moved to a new platform. In 2016, Shane became one of many to make content on the now defunct Fullscreen platform. Even though Fullscreen shut down earlier this year, Shane was one of the people who helped keep it running as long as it did.

In this Instagram post, Shane promoted Bark Box by showing how his pets love the products so much, along with his trademark sense of humor.
Hannah Hart
Hannah Hart is best known for her YouTube channel. She gained notoriety with her weekly series, 'My Drunk Kitchen', and has been a top influencer for years. Her tipsy cooking segments have taken her from the kitchen to more mainstream opportunities. Who would have thought getting drunk could lead to this much success!
Earlier this year, Hannah signed a deal to create an unscripted series with Ellen's Digital Network. This opportunity will help her grow her brand and be a part of the Ellen DeGeneres Empire, not a bad place to be at all!
Last year, Hannah signed a first look deal with Lionsgate, where she will star in and executive produce films. Back in 2016, she also starred in the film Dirty 30 that was produced by the company.
---
Ariel Martin
Ariel Martin aka Baby Ariel, got her start posting lip-sync videos on Musical.ly in 2015, and within a year became the most followed person on the platform. She's now signed to CAA and has recorded her own music along with gaining millions of followers on other social media platforms.
In this video, Universal Orlando had Ariel and her entire family in for some fun, and she helps promote the brand by creating this video participating in the first row on a rollercoaster challenge.
In this video, Ariel goes shopping for the perfect prom dress in this video sponsored by Nordstrom's. Partnering with someone like Ariel helps a brand like Nordstrom's reach a younger demographic.
---
Colleen Ballinger/ Miranda Sings
Colleen Ballinger started the character Miranda Sings as a joke on YouTube, and she would have never guessed how popular Miranda would become. She has written a New York Times bestselling book, has had sold-out tours, and a Netflix original series, 'Haters Back Off'. She also has a very popular YouTube channel just about Colleen.
In this video on the Miranda Sings YouTube page, Miranda, alongside other YouTube star Rebecca Black, make a music video all about Dunkin' Donuts newest item, Donut Fries.
This video is one of many on both Colleen and Miranda's channels that is sponsored by Audible. Here she explains why she loves the brand and explains what it is.
---
Tyler Oakley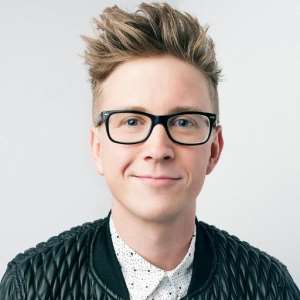 Tyler Oakley started posting videos in college 11 years ago and now is a media superstar. He has written a book, made a documentary, and gone on a worldwide tour among other amazing opportunities.
Like Colleen above, Audible sponsored this and other videos on Tyler's channel. Getting involved with multiple YouTubers is a great way to expose brands to multiple audiences.

In this Instagram post, Tyler helps to promote his new line of glasses with the brand Warby Parker. Partnering up with an influencer to create their own line of products is a great way to get millions of eyes on your brand, or in this case covering your eyes!
---
Logan Paul
Logan Paul got his start on Vine, and since then has blown up to become one of the biggest stars of the internet, alongside his brother, Jake. Logan is no stranger to controversy, but brands have still wanted to partner up with him due to his overwhelming popularity.
Yeah, what he said 👍 @LoganPaul #WhyNotWednesday https://t.co/FzpvhunZNb

— Verizon (@verizon) November 19, 2015
Logan has done deals with many brands over the years, including promoting Verizon, who tweeted a Vine he made endorsing them. RIP Vine!
When YouTube decided to make premium content, they started with some of the platforms stars, including Logan. By having Logan promote the film on his own channel, it helps to drive his fans to upgrade their YouTube experience to see him in action.
---
Lele Pons
Like many others on this list, Lele Pons got her start on Vine, with Lele being the most popular female star. She has also taken her talents to YouTube and is very popular on Instagram. She has also done some big mainstream projects, including starring in the music video for Camila Cabello's hit, 'Havana' and hosting the Teen Choice Awards this year.
In this Instagram post, Lele works with Budweiser to help promote the brand as well as their involvement in this year's World Cup.
Here, Lele is helping to bring in the summer on Instagram with Cîroc, by promoting their summer colada beverage.
---
Lilly Singh
Lilly Singh also known as Superwoman has really earned that moniker. She has been the highest earning woman on YouTube, has had a sold-out tour and a New York Times bestseller. She truly is the Superwoman of the internet!
In this video, Lily helps to promote Lionsgate newest film, 'The Spy Who Dumped Me'. She discusses how she loves the film and makes her video relate to the plot of the movie.
In this post, Lilly announces her partnership with Pantene. She also promotes the brand with another Pantene partner, Priyanka Chopra.
---
Join The Fun With An Influencer!
If you are intrigued with what you see here, getting your brand involved with an influencer is a great way to get noticed! We here at Hollywood Branded are ready to help with all your Brand Integration needs!
Check out some of our other blogs below:
Interested in working with influencers? Then we have the course for you! Enroll in our Influencer Marketing School to learn how to best leverage influencers for your brand!