Toy Story Effect: How Film's Product Placement Increased Sales Of Toys
---
Entertainment Content Has Long Been Considered A Major Sales Tool
Entertainment content is considered a major sales tool for toy brands, and one of the films that has the biggest impact on toys in recent years is the Toy Story franchise, the first computer animated film in Hollywood. K

ids everywhere watched and wanted to join the lives of Woody, Buzz and the Toy Story gang.

Having released 3 Toy Story films to date (with a 4th coming out this year), Disney and Pixar have made some of the film's featured toys household names to younger generations. From Etch-A-Sketch, Slinky to Mr. Potato Head, Generation X's favorite toys have been introduced to children all over the world.
In fact, one of these toys was actually out of business when the first Toy Story came out in 1995 by director John Lasseter. And demand brought the toy (and jobs) back! In this blog, Hollywood Branded takes a look at how Toy Story product placement increased sales of toys.
---
---
How The Toy Story Franchise Has Impacted Sales
Arguably, the Toy Story films have been a game changer for animated movies, triggering a chain of Disney Pixar animated feature films - and a chain of toy-turned-action-movie feature films backed by Mattel. With earnings upward of $1.06 billion, Toy Story 3 became the second highest grossing animated film of all time in 2010.
In the years since, animated movie watching has continued to soar:
#1 James Cameron's sci-fi fantasy, "Avatar" starring Sam Worthington and Zoe Saldana, was released in 2009 and earned $2.79 billion.
#2 Live-action-looking CGI remake of Disney's 1994 animated feature, Jon Favreau's "The Lion King" was released in 2019 and earned $1.75 billion.
#3 The animated sequel 'Frozen II' released in 2019, and flew past the original's box office earning $1.45 billion.
#4 Disney's animated "Frozen" released in 2013 and won an Oscar for best animated feature film and earned $1.280 billion.
#5 Disney's animated film "Incredibles 2" was released in 2018, nearly 14 years after the first "Incredibles" and earned $1.24 billion.
#6 Pierre Coffin's animated film "Minions" was released in 2015 and earned $1.16 billion.
#7 Almost 10 year after the 3rd's release, "Toy Story 4" won an Academy Award winner for best animated feature and earned $1.07 billion.
#8 Released in 2010, animated "Toy Story 3"earned $1.06 billion.
---
Mr. Potato Head
Sales of the Mr. Potato Head toy increased 800 percent after the original Toy Story movie release. Mr. Potato Head was created in 1953, and is licensed to Mattel. The original product was sold as a box of mixed body parts that children could use their imagination and 'stick' into their own root vegetable. In 1964, Mr. Potato head was manufactured with a plastic body. The original Toy Story added eyebrows to their character interpretation of Mr. Potato Head – the appeal of the film adaptation of Mr. Potato Head influenced the toy make to adopt Mr. Potato Head's on screen look and from there forward Mr. Potato Head has now been manufactured with character eyebrows.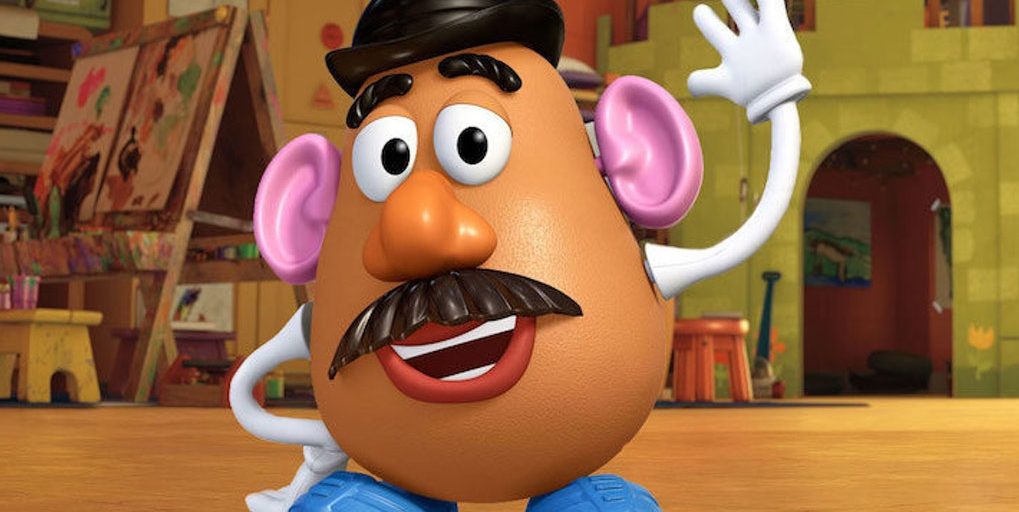 ---
The Slinky Dog
The Slinky Dog's producer, James Industries of Philadelphia, had stopped manufacturing the toy at the time the first Toy Story was made. The manufacturer had been out of business for 10 years and the slinky dog toy off the shelves for four years prior to the movie's release. However, following Toy Story's success, James Industries was inundated with 20,000 new orders and put back into business.
---
Etch-A- Sketch
Perhaps the most exemplary experience has been by Etch-A-Sketch, for which product placement increased sales by 4,000 percent. The toy was created in 1960 by the Ohio Art Company. The company reports that they have sold well over 100 million units. The toy was also seen in Elf - where the elves were seen building the units, and then Will Ferrell's character wrote a note in perfect cursive later in the film.

---
Here's What To Look Forward To
Toy Story 4's 2019 release introduced even more new toys to the film, and again created major toy sales impact. The franchise has realized the power it has in the toy space, and now also features in the content Disney-owned and manufactured toys, having successfully created its own marketing machine.
Toy Story 4 is not the only sequel Pixar continuously refreshes. Titles including Finding Nemo (and Dory), Cars, and The Incredibles, all result in licensed toy deals, furthering the impact of movies on the toy industry. And it's why Mattel is behind so many movies of their own.
---
Learn More About The Benefits Of Product Placement
Check out our blog post and infographic 4 Brands Product Placement Sales Success for more examples of how product placement increased sales for various brands!
Check out our blogs below to learn more:
Are you interested in learning more about how product placement can benefit your brand? There are so many product placement options for brands seeking a brand integration in films - to learn more, download our Product Placement and Promotions 101 e-book.