Competition Is Everywhere
With heavy competition on both the rideshare and app delivery fronts, it's certainly a battle among brands on how to stand out in consumers' minds. Uber has managed to stay at the top having worked with some of the hottest IPs, best-known brands, and coolest music artists over the years.
As for a company, the fight never truly ends as long as it's around. In this blog, Hollywood Branded discusses some of Uber's partnerships from 2022 to stay in the lead.
---
Order Up!
Initially a rideshare service, Uber was founded in 2009.
Photo: Eli Schiff | Uber
Photo: Uber
Since then, the company has entered into the app delivery service and electric transportation businesses. Uber did this through its acquisition of Postmates in 2020 and investment in Lime in 2018.
Photo: Uber | Postmates
Uber has established itself as a tech giant, but even giants can fall. As a result, Uber has continued in its efforts towards curating major partnerships with brands and IPs to remain in front of consumers and always on their minds.
---
Rick & Morty Partnership with Wendy's and Uber Eats
Early this September, Wendy's and Rick and Morty partnered with Uber Eats to giveaway limited edition Morty merch. All the fans of Ricky and Morty had to do was order a Rick and Morty Combo Meal from Wendy's on Uber Eats.
Photo: Toy Meal Culture | Wendy's | Adult Swim
After their purchase, fans would receive an email containing a pin to enter into Uber Eats Wendy's Rick and Morty Combo Meal Sweepstakes (that's a mouth full)!
In the sweepstakes, there were 7,000 prizes awarded. Fans had a chance to win a Rick and Morty Custom Hoodie, Rick and Morty Custom Sweatpants, a Rick and Morty Custom T-shirt, a Rick and Morty Custom Hat, a Rick and Morty Tote Bag, or a Rick and Morty Custom Pint Glass.
The sweepstakes ran a total of 5 days (September 7, 2022 to September 11, 2022).
This sweepstake is a prime example of how like-minded brands can come together to create one great experience for consumers that's beneficial for all parties. Both the brand and the franchise got tons of press coverage to compliment the release of season 6 (about $4.3M in media value, according to Critical Mention).
Photo: Uber Eats | Wendy's | Adult Swim
---
A Partnership As A Stance
Sometimes a competitor has an idea and is able to execute it before its rivals, and that's totally okay. It doesn't mean they can't follow suit if it's a good one.
This is the case in terms of Uber's recent partnership with ADT. Three years behind Lyft, but you can never go wrong with a safety upgrade! To clarify, Uber has added and offered features for their rider's and drivers' safety. The difference is Uber relied on their own form of GPS tracking and user reporting to 911 via text (or call) as that safety measure. These quick-to-act ways are accessible through the safety toolkit section of the app.
Although Lyft did partner with ADT first, it's great to welcome Uber to the club this year! In this partnership, users can find extra assistance through the help of a live ADT agent.
Photo: Uber | TechCrunch
The "Live Help" feature works both via call and text. What makes this feature a valuable one, in addition to direct communication with an ADT agent, is that agent is able to help riders with issues that aren't a 9-1-1 emergency. If a rider feels uncomfortable, the ADT agent is able to stay on the phone with the rider to help monitor the situation or call 911 if needed.
As a brand, it's hard to always be ahead of the curve, so when one decides to follow another's suit and make improvements that benefit the customer, it should be celebrated. After all, happy customers (new and old) make for happy brands!
---
Uber and Nuro
In order to remain ahead of the competition, something all brands must ask themselves is, "What's next? How can we do better?" Uber has done this in their recently finalized partnership with Nuro.
The 10-year deal means that we'll soon be seeing Nuro's autonomous AND electric delivery vehicles on the streets filled with Uber Eats orders.
Photo: Uber | Nuro Reproduction
Uber and Nuro are currently releasing the vehicles in Houston, Texas, and Mountain View, California. Next on the list to see these delivery vehicles is the Bay Area.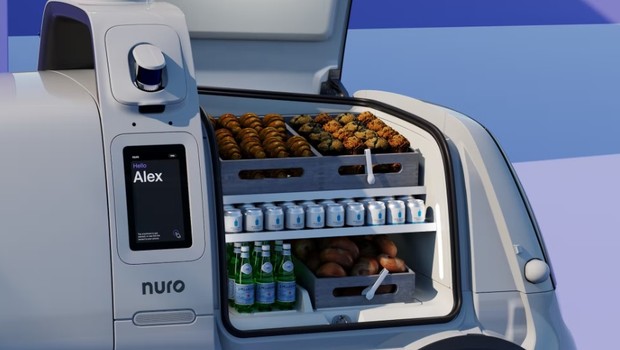 Photo: Nuro Reproducion
Photo: Nuro Reproduction
GIF: Nuro Reproduction
An exciting addition to Uber's list of partnerships and an interesting move, as Lyft is already working on self-driving cars for their service. It's a smart decision for Uber to concentrate on the autonomous delivery route side of its business development. The reasons being that there's less risk involved (meaning no human passenger lives involved), and it helps differentiate the company from Lyft, which is developing its rideshare service.
---
Diversity In Well Thought-Out Partnerships Is Power
Always a dilemma for brands, but when done correctly and wisely, it can lead to many wins and cement the brand in consumers' minds.
What Uber has done is something other brands should take note of. Uber has diversified in its business investments ingrained in its core as a company, technology. As an app-based service company, Uber has expanded into related yet different fields through partnerships.
Uber can be found a part of the transportation and entertainment industries. From partnerships with huge names, brands, and IPs such as Elton John and Lil Nas X, The Weeknd, Spotify, Estée Lauder's Jo Malone and Origins, and Deadpool
Photo: Uber Eats | Special Group US
Photo: Postmates | Monty's
Photo: Courtsey. | Business of Fashion | Postmates | Jo Malone | Origins
Its efforts have paid off, as they have resulted in tons of unpaid verbal mentions and placements in film and TV. The tons of dollars invested into each thought-out placement have secured them a spot in consumers' top-of-mind, which is the most valuable real estate for a brand.
---
Find Out How Your Brand Can Rise To The Top
In an ideal world for a brand, no others can compare. It's the only one in its field and the go-to for all consumers.
Unfortunately, that isn't the case. There will almost always be at least one other competitor. Therefore, in order to win a place in consumers' minds, brands have to come up with creative ways to keep their interest and keep up brand satisfaction. Check out the articles below for some inspiration and knowledge on how your brand can create a successful brand partnership!
Are you a pro podcaster? Want to share your marketing tips? Apply to become on our show "Marketing Mistakes (And How To Avoid Them)!"
---