---
A Brand That Did Oscars Branding Right
Walmart created a savvy Oscars ad campaign working with female directors Nancy Meyers, Melissa McCarthy and Dee Rees. The goal was to have each of the three directors create a :60 short film inspired by a Walmart branded box. Working with ABC and The Academy of Motion Pictures Arts & Sciences (what you know as The Oscars), the brand not only heavily invested in paying for three talented directors to be the face of the campaign, but also for the commercial ad time surrounding the Oscars with a teaser ad running during the red carpet, and then three :60 ad spots debuting each woman's completely different vision for their film.
Walmart's campaign managed to address their support of the politically rife issue of the low number of women in positions in Hollywood, by only working with women directors - a major hot topic that accompanies the #metoo political movement. And which directly contrasts to their partnership with only male directors for their 2017 Oscars campaign partnership. In this blog, Hollywood Branded shares the highlights from the Walmart Oscars branded short film partnership with directors Nancy Meyers, Melissa McCarthy and Dee Rees.
---
---
Shaking up The Second Year As An Oscars Sponsor
As a second year sponsor of The Oscars, Walmart returns again with a series of short 60-second branded content films. Last year's films were directed by three men: Antoine Fuqua, Marc Forster and producing partners Seth Rogen & Evan Goldberg. The films in 2017 were based on a Walmart receipt that had six items: paper towels, bananas, a scooter, wrapping paper, batteries and a baby monitor video device.
Take a look at the 2017 campaign videos below. Note, Walmart doesn't have them posted on their website any longer as their rights to have the endorsement campaign is well over at 12 months post campaign. If a brand wants to keep content created for a specific time frame (or forever), that is part of the negotiating process that has to be outlined before a deal is even submitted as an offer to contemplate. Adding in that ask later just will raise the fee by tremendous leaps and bounds. I've written about the importance of figuring out your ask before making an offer to a celebrity in this blog:
Antoine Fuqua - The Gift: :60 Second Walmart Oscars Short Film On A Receipt
Marc Forster - Lost & Found :60 Second Walmart Oscars Short Film On A Receipt: Lost & Found
Seth Rogen & Evan Goldberg- Banana Town :60 Second Walmart Oscars Short Film On A Receipt
---
Teasing The Campaign Of #TheWalmartBox
This year, the big switch to the campaign was their decision to feature three women - in a complete about-face from their previous year's male trio of directors. The women who were chosen included Melissa McCarthy, Nancy Meyers and Dee Rees. Each ad spot begins with an insert shot of Walmart's signature blue shipping box (the impetus for the ad campaign, versus the receipt of last year's campaign). From there, the directors each created their interpretation of where the box was supposed to go, how it arrived, and the super big mystery question - what exactly is inside!
This year Walmart also partnered with Women In Film Los Angeles, an organization which hosts various events to help women who are more entry level become connected with those women already established in Hollywood. The campaign added an additional layer, with three up-and-coming female filmmakers being able to follow the three celebrity directors shooting the :60 second film series.
The Walmart Oscars campaign debuted with a :15 teaser of the campaign.
The :15 Teaser Ad
Behind The Scenes Video
Then Walmart launched an extended cut version of a behind-the-scenes conversation with each of the directors.

---
Dee Rees :60 Walmart Oscars Short Film
The first of the director's commercial spots to run was the all black cast of Dee Rees's take on her inspiration for the story of the Walmart box, which showed a little girl's imagination run wild in an alien adventure, who is told to go to bed by her mom, after we see her hiding in the Walmart box watching the TV version of her fantasy play out, as her own grown up female hero fighting alien creatures.
---
Nancy Meyers :60 Walmart Oscars Short Film
Next debuted, was the vision of the story of the Walmart box by Nancy Meyers who shows Academy Award winner composer Hans Zimmer playing a keyboard, having issues composing his piece, when an assistant brings in the Walmart box. Outside his room is a group of musicians patiently waiting for him to finish. We then through various cuts see an increasingly frustrated Zimmer trying to compose - even using the Walmart box as a side desk to hold a pot of coffee, as Zimmer pounds out his frustrations at not being able to compose. One of the musicians waiting for him comes in, picks up the Walmart box, and begins drumming on it in accompaniment, allowing Zimmer to better feel his own flow. The rest of the musicians come in, and begin playing to this new inspiration brought by the Walmart box.
---
Melissa McCarthy :60 Walmart Oscars Short Film
The vision Melissa McCarthy shared through her branded :60 spot on the Walmart box was actually NOT a :60 second piece, but a 2:32 longer form content piece. In the spot, a middle aged woman is in a subway, when she sees another woman look at her while putting down the Walmart box on the side of the platform. She opens the box, and climbs in - to another world of screaming booing mean teenagers, and her former self on stage waiting to perform. After whispering in her younger self's ear, the girl belts out a song to the cheers of her peers in the audience, changing the woman's entire life - and leading her to become a star in her own right. She is then seen giving the magic Walmart box to another woman who appears down on her luck at a bus stop, where the magic will be shared again.
The :60 Spot
The 2:32 Minute Longer Form Spot
---
Working With Celebrities
What Walmart did exactly right in this campaign was to leverage each asset to the fullest max possible. Not only did Walmart create behind the scenes content that they used as a commercial ad spot itself, they also bought time in the Oscars telecast - teasing the partnership several times during the more affordable red carpet walk covered by ABC Live On The Red Carpet.
They also created a campaign microsite which housed all of the content created for the campaign, which consumers could visit easily - and which was promoted out with each of their ads.
The biggest issue we typically see with celebrity endorsement campaigns is that the brand is not prepared for both the cost of the celebrity endorsement, but the back end cost to heavily promote it. In this case, Walmart spent big all around - but also created a big win in the process.
When working with celebrities, there are tricks to be sure you keep in mind to be successful, which we share in the following blogs:
Using Social Media At Events
Are you interested in learning how to successfully partner celebrities to your brand - without spending a million? Watch this short webinar to learn Hollywood insider tricks to create and kick start an entertainment marketing campaign that is the perfect extension for your social media program.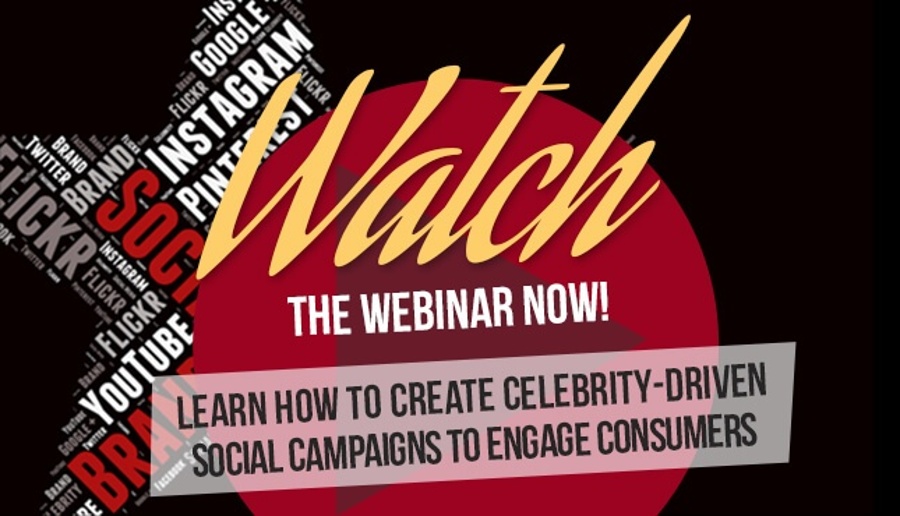 ---