Restaurants Gain Free Advertising In Lyric Mentions
Have you ever heard a restaurant you are familiar with mentioned in a song and thought "hmm that sounds really good to me right now"? Even though many of these major food chains don't need the advertising and exposure that comes with having their name mentioned in a song lyric, none will ever turn down the opportunity to have an A-list musician call out their name.
Popular musicians have an immeasurable influence over their fan base, even when it comes to the food that they consume. If Harry Styles tells me that White Castle is his favorite restaurant, I am now a White Castle stan. That being said, it is no surprise that when a musician calls out a specific restaurant or chain in their music, that business experiences a period of increased buzz around their name. In this blog, Hollywood Branded discusses instances of restaurants being name-dropped in songs and the benefits of having musicians mention their brands in the lyrics.
---
---
McDonald's
In recent years, McDonald's has become an all-time pro at harnessing pop culture in favor of business. From a specific meal named after Travis Scott to having their name mentioned in over 300 song lyrics, the global food chain knows how to stay relevant. However, McDonald's continues to receive free marketing every day despite whether or not they need it. In 2014 Migos mentioned their famous chicken nuggets in their song "Struggle" with the lyric "I remember taking chicken nuggets from McDonald's. I remember mama said get up, go get that money" and I can only imagine how many people were reminded to enjoy this childhood staple. But that isn't the only time Migos paid tribute to the delicious meal. In 2017 they once again included a line in their song "Motorsport" which featured Cardi B and Nicki Minaj. The song's huge popularity and number 6 placement on the Billboard Hot 100 not only meant success for the artists, but also for the 10 piece Chicken McNuggets.
---
Kentucky Fried Chicken
Even though Kanye's song "Touch the Sky" came long before Kimye did, it isn't hard to imagine that Kanye probably sang the iconic lyric "Me and my girl split the buffet at KFC" over family KFC buckets like the rest of us, right? Kanye is known for being highly opinionated and having controversial things to say about most topics, so KFC was probably able to breathe a sigh of relief when they received the stamp of approval from Kanye. Who knew that there was chicken out there good enough to make the famous couple take a pitstop in Paris to eat instead of going to the Michelin Star restaurants available to them? And with the song at almost 159 million plays on Spotify, KFC most likely made out on the deal because if I heard KFC mentioned in a song, an 8 Piece Fill Up would be in my near future.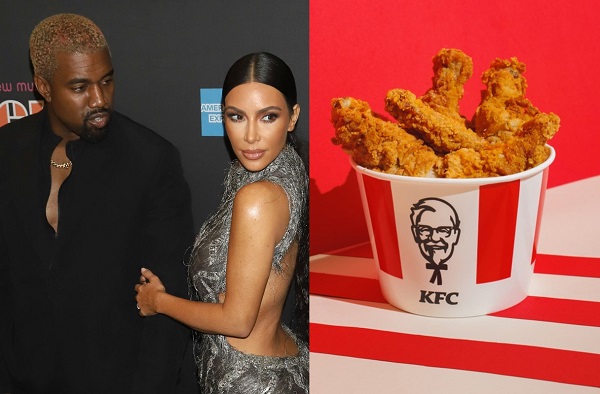 ---

---
Burger King
There probably isn't anyone on this planet that isn't at least somewhat familiar with Eminem's song "The Real Slim Shady", and this can be backed up by its just over 693 million listens on Spotify. And even though the idea of having a potential Slim Shady poser "Spittin' on your onion rings" doesn't sound too appealing, who wouldn't want to eat a meal made by Eminem himself? All jokes aside, Burger King's profit in 2000 (the year the song dropped) was about 300 million dollars, which was a 9% increase from the previous year. Even though I can't officially tie the fast-food chain's success to the song, I can unofficially say that the popularity of the song may have boosted business for BK.
---
Starbucks
Every preteen, tween, and teenage girl from 2010 remembers the iconic song "Baby" that shot Justin Bieber to stardom and had their hearts fluttering. All of those girls could also probably recite Ludacris' entire verse where he refers to how infatuated he is with his girl...so much so that he doesn't even need the caffeine boost that Starbucks provides to keep him awake. That being said, the very mention of Starbucks most likely had anyone listening thinking about the Java Chip Frappuccino that they'd like to be enjoying while listening to the love anthem of 2010.
---
Taco Bell
In Fergie's ever-popular song, "Glamorous" which transports every 20-something girl back to the early 2000s, she mentions going through the Taco Bell drive-through. She uses this line as a way to somewhat humble herself as she sings, "I still go to Taco Bell / Drive through, raw as Hell / I don't care, I'm still real / No matter how many records I sell." The song has amassed nearly 207 million listens on Spotify as Fergie's third most listened to song on the app. Not only is Taco Bell the best meal to eat after a night out, but if it can bring me closer to being as glamorous as Fergie, you know I'll be hitting up the Taco Bell drive-through. I'll bet those 207 million other listeners agree with me on that one.
---

---
Red Lobster
There are few musicians on the planet that I would rather have promoting my brand than Beyoncé. So to have her do it at the Superbowl Halftime Show? You can count me in. Even though Red Lobster is one of the smaller chains mentioned on this list, they managed to make a fan out of one of the biggest popstars on the planet and received a mention in one of her most famous songs. At the 2016 Superbowl Halftime Show, Beyoncé debuted her song "Formation" with the iconic line "When he f--k me good I take his ass to Red Lobster." What better advertising is there than to have Beyoncé essentially say on a national stage that she considers your food to be the best reward?
---
Olive Garden
Italian chain restaurant Olive Garden's most recent mention in Taylor Swift's song "No Body, No Crime" actually ended up earning the singer a personal thank you from the restaurant chain's CEO. Gene Lee, the CEO of Darden Restaurants, thanked Swift back in December for the buzz that her song was able to create about their restaurants and added that she was making their brand "very, very relevant." After the song was released, many of her fans jumped on Twitter to start making memes and hashtags about Olive Garden's name drop and even the official Olive Garden Twitter account joined in the fun by responding to numerous fan tweets. Hopefully, this favor means that Swift is gifted with free breadsticks for life.
---
Next On The Menu
All of the restaurants mentioned in this blog found success in song lyric name drops and your brand could be next! Interested in reading more about what celebrities are doing to advertise and create exposure for brands? Read through the blogs below!
Want to know how to get your brand on the minds and in the hands of influencers and celebrities? There are more ways than just getting your name casually mentioned in a T-Swift song. Read the guide below to find out more.