Branded Content, On A Deserted Island!
These days it is a challenge to watch any sort of television or film without catching a glimpse of branded content in the material. Today, product placement and branded integrations are more relevant and commonplace in media than ever before, as they serve as both a revenue stream and production asset.
While some may think that reality-television shows (especially ones that take place on deserted islands) are exempt from branded content, they would be wrong! CBS's 20-year-old Survivor has been host to branded content for some time now and it doesn't look like they are slowing down, any time soon. In this blog, Hollywood Branded discusses 3 instances of major branded content in CBS' iconic reality-competition show, Survivor.
---
---
Outwit, Outplay, Outsell
Survivor has been a fan favorite since 2000, when it first aired on CBS. With nearly 20 years of airtime and 40 seasons under its belt, Survivor is no doubt, an iconic show that people turn to for entertainment, year after year.
The show's cult-like following also speaks to its success. Survivor wiki pages and sub-reddit communities continue to garner support throughout each season, and Survivor Halloween costumes make appearances every October across the country. While it's undeniable that Survivor has managed to remain a television hit, it has also adapted to keep up with the changing media landscape as well. Just as host Jeff Probst and the team have tweaked and changed the game play of the show by introducing immunity idols and phasing out "exile island," Survivor has also been host to a fair share of branded content.
It all began in the show's infancy. When Survivor first aired on CBS, it was sponsored by Panasonic, who at the time, was releasing televisions as a part of its initial launch year. As one might assume, this type of sponsorship peaked with the debut of new technology; however, since then other brands have jumped into the mix for commercial exposure, and they have only gotten more and more creative.
---
Outback To The Rescue!
Any survivor fan knows that some of the biggest elements in the game are the challenges. As part of the competition portion of the show, contestants are expected to compete in two challenges over the course of each week: one for immunity from elimination, the other for much needed reward.
After living out in the backcountry for a handful of weeks, the smallest bit of food or comfort becomes an enormous win for Survivor contestants. This makes reward challenges a natural space for branded content. One standout example of branded content in the show took place on Survivor Season 35 "Heroes vs Villains" where challenge winners were treated to a feast presented by Outback Steakhouse.
In this instance, the victorious tribe was escorted to a gorgeous villa on the beach where a mouth-watering spread of food was presented to them. Throughout the scene, from contestant interview to contestant interview, we hear sound bites of individuals recalling good memories spent at Outback, and expressing their happiness to be eating steak and salad in the shade.
In this integration, Outback comes to the contestants' rescue, granting them much needed nourishment, valuable time to strategize, and an opportunity for team unity. Additionally, team rewards like the Outback Steakhouse feast serve as useful time to hunt for a hidden immunity idol, making these scenes pivotal moments, throughout the course of the show.
---
A Sprint To The Finish Line
While feasts are some of the most common forms of reward in the game of Survivor, not all challenges end in a big meal. In a game where most contestants spend over three weeks in a remote jungle environment with no real-world contact, partners at Samsung and Sprint recognized an opportunity.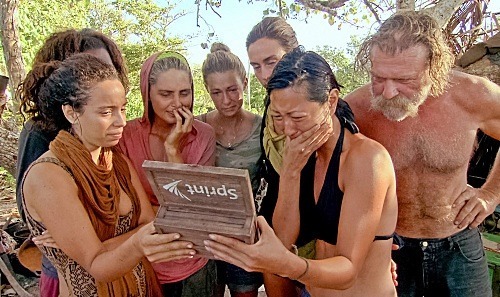 After a classic showdown for reward, award-winning host Jeff Probst announced the winners would be receiving Samsung's latest mobile innovation, the Instinct, which was powered by Sprint. Aside from winning the device, the survivor who won the challenge would also get a chance to watch a video from a loved one through the Samsung Instinct's video feature.
For this scene, the winning contestant was given the opportunity to choose several friends to relish in the reward. All then gathered around the branded device, as it provided them with some much-needed encouragement and hometown love.
---
Stayin' Alive with Sears
As evident in the Samsung/Sprint example, Survivor producers find interesting ways of displaying branded content on the show. While Survivor in no way shies away from logo exposure, they do have a way of putting their own Survivor twist on branded presentation.
Very much in theme with the show's backcountry, rugged vibe, treats like the Outback feast and Samsung reward are often presented in a rustic aesthetic. Often, branded content is painted, printed, or even whittled onto boxes, crates, or plaques to keep with the overall theme of the show.
In addition, rewards can also serve to match the very necessities Survivor contestants may need to stay alive or healthy. In a classic example in Season 35, "Heroes vs. Villains," contestants took part in a challenge presented by the department store Sears. Here, winners rejoiced in a spread of Sear products— from tarps and sleeping bags to inflatable mattresses.
---
More To Come
Survivor has enjoyed immense success throughout its time on CBS. With the help of intensely competitive challenges and their own wit, contestants spend weeks in remote areas in hopes of making it to the end. Despite the niche circumstances of the show, Survivor has found a way to integrate brand deals into its ecosystem. From challenge rewards that include feasts, all the way to heartwarming personal experiences, there is seemingly no end in sight.
---
Learn More On The World Of Product Placement and Brand Integration
Want to learn more about Influencer Marketing? Be sure to check out other blogs that Hollywood Branded has written about influencers!
Think you've got what it takes to be an influencer? Learn all there is to know about influencer marketing through Hollywood Branded's very own Influencer Marketing School!
---