Influencers Monetizing Their Daily Routine
---
Influencer Partnerships Based On Signature Brand
Everyone dreams of being sponsored by their favorite brand. Now, imagine going to the coffee shop and seeing your favorite drink listed on the official menu by your own name. Influencers have been monetizing iconic parts of their brand in order to gain followers and invite their audience to live life alongside them.
At over 100 million followers on TikTok, almost anything Charli D'Amelio does is copied by fans. In this blog, Hollywood Branded discusses influencers monetizing parts of their signature brand, focusing on Charli D'Amelio's brand deal with Dunkin' Donuts inspired by the TikTok star's genuine love for iced coffee.
---
---
Charli D'Amelio's Candid Creation Of Her "Brand"
Charli D'Amelio is the most popular creator on TikTok with over 100 million followers. She is known for her impressive dancing videos, making her a multi-millionaire at 16. Charli has many parts of her iconic look, such as her eyelash extensions, her long manicured nails, and her love for Dunkin' Donuts iced coffee. Charli features her iced coffee in many of her dance videos, usually featuring just a sip at the beginning of the video.
D'Amelio occasionally posts daily vlogs on TikTok which start off with a run to Dunkin', and even confidently films dance videos inside the Dunkin' Donuts restaurants.
This was not a paid sponsorship by Dunkin', but rather Charli simply and candidly showing her life, which includes her favorite iced coffee drink.
Eventually, fans started asking her what her go-to order was, to which she responded it was a "large caramel cold brew with whole milk". Charli's unintentional promotion of Dunkin' iced coffee showed to be very beneficial for the brand, as fans of Charli started to order that exact drink as well, inspired by Charli, even if Dunkin' was not their go-to for iced coffee. This earned media tactic is very beneficial for brands which consists of unpaid, organic promotions from clientele.
Dunkin' Donuts caught onto the craze Charli brought to their business, and she began to rep exclusive Dunkin' Donuts merch and other products from Dunkin'. Their relationship quickly changed from Charli independently promoting Dunkin' to Dunkin' leveraging Charli's fanbase to promote their company.
---
"The Charli" is Born
Fans started speculating that Charli was going to get her own drink named after her on the menu when Dunkin' workers revealed on their own TikToks that a drink called "The Charli" had one day appeared on their back-end cash registers, though no press releases regarding a new partnership had been made public. This speculation increased fans' excitement for an official drink inspired by their favorite creator. Finally, on September 2, 2020, "The Charli" was released onto the Dunkin' menu. Fans could now order their favorite creator's signature drink simply by asking for "The Charli" without having to know the exact details of the order.
Dunkin created a contest called "The Charli x Dunkin'" , asking fans to post their Charli drink on Instagram using the hashtag #CharlixDunkinContest to enter for a chance to hang out with Charli virtually.
"Challenges" such as the #CharlixDunkinContest motivate consumers to participate in purchasing a product, especially those that compete for a reward.
VP of Dunkin's Brand Stewardship Drayton Martin commented, "This is the partnership fans have been rooting for since Charli first danced onto TikTok with her Dunkin' Cold Brew in hand. Charli is one of our biggest fans and the feeling is mutual. We're thrilled to finally make it official and make it easy for people to run on Dunkin' just like Charli."
On the day 'The Charli" made it onto the menu, "Dunkin' even saw a 20% sales boost for all cold brews that day as well as a 45% surge the following day." (roguerocket.com) The Dunkin' app also saw a 57% increase in app downloads and set a new record for daily users on the app.
---
Other Influencers Monetizing Their Routines
Charli continues to feature her signature drink in her videos in order to promote the new paid partnership.
Other influencers have been seen creating partnerships by monetizing iconic parts of their daily lives. Everyone has something that makes them them, and influencers are no exception. When the majority of their lives are plastered on social media for all to see, fans and followers are able to see their favorite influencers' favorite things, which allows them to emulate their favorite influencers. From coffee to makeup to fragrances, influencers are capitalizing on their brand by creating their very own companies dedicated to their favorite things.
---
Emma Chamberlain x Chamberlain Coffee
For example, Emma Chamberlain, YouTube and social media star, frequently incorporates making an iced almond milk latte in her vlogs, and fans started to use her recipe and methods to drink the same iced almond milk latte in the morning, using the exact same ingredients down to the brand. Chamberlain capitalized on this growth by creating her own brand, Chamberlain Coffee, an instant coffee packaged in tea bags.
tigerbeat.com
---
Colleen Ballinger x Lipstik
Another example of creators capitalizing on their signature brand is Colleen Ballinger, also known as Miranda Sings, a parodic Youtube singer with iconic overdrawn lipstick. Ballinger created and formulated two lipsticks, a natural pink shade called "Daisy Mae" that represented Colleen, a middle-aged girly singer, and a hot red shade called "Miranda Red", matching Miranda's signature "voluptuous" red lip look.
Source: tubefiltersam
---
Travis Scott x McDonald's
Travis Scott also recently created a partnership with McDonalds, putting his go-to order on the menu called the "Travis Scott Meal", consisting of a Quarter Pounder with bacon and lettuce, fries, BBQ sauce, and a Sprite.
Similar to Charli's partnership with Dunkin', Scott created collab merchandise with McDonald's promoting this partnership.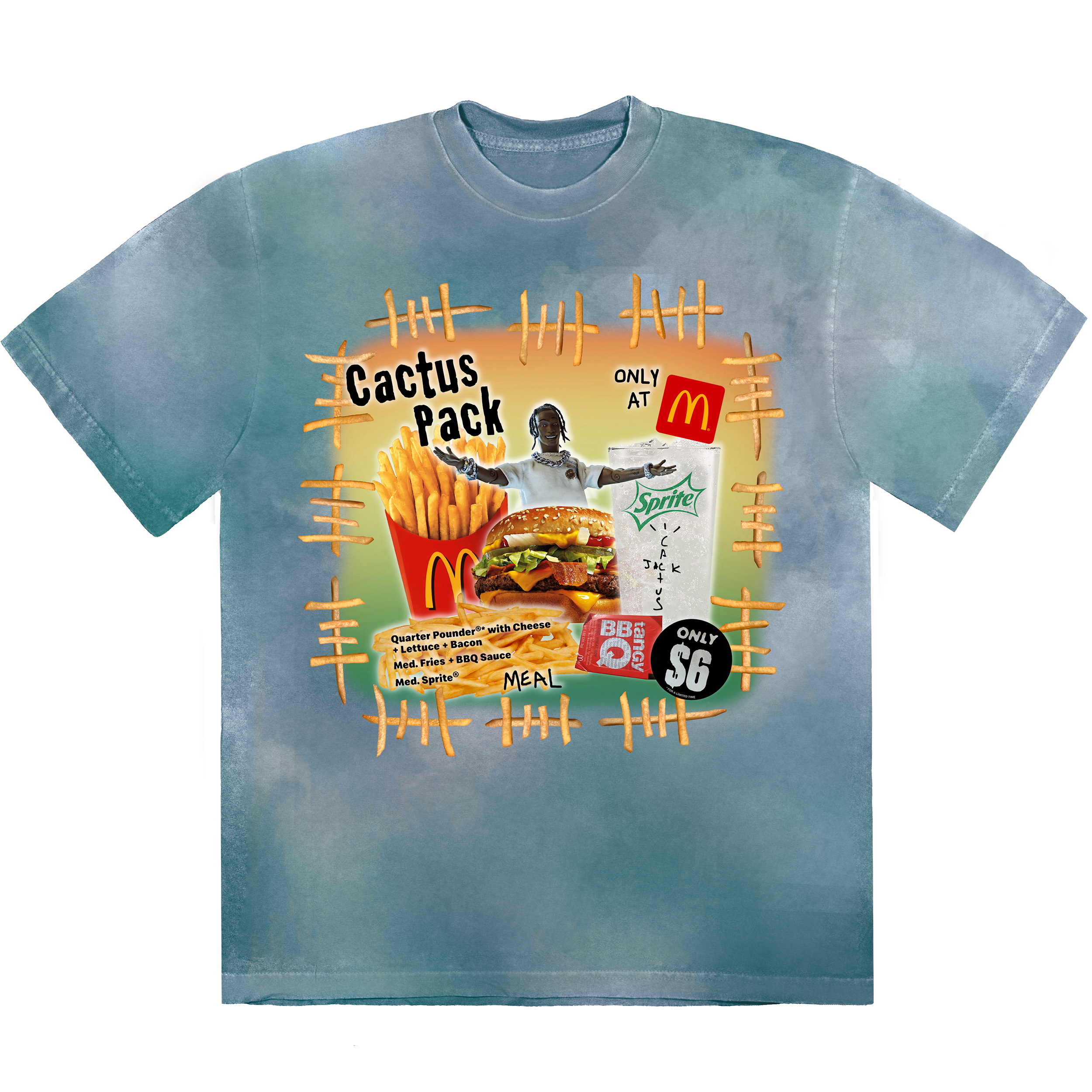 Though many don't associate Travis Scott with McDonald's in the same way they do Charli and iced coffee, Scott found a way to monetize his lifelong love for the fast food restaurant. McDonald's U.S. Chief Marketing Officer Morgan Flatley stated, ""Travis is a true McDonald's fan having grown up visiting our restaurants in Houston, not to mention one of the biggest musical acts and cultural icons in the world…This is the first time in nearly 30 years we've introduced a superstar's name to our menu -- we're excited to bring the Travis Scott Meal to a McDonald's near you". Though the meal is a simple combination of pre-existing menu items, the Travis Scott meal has become so popular that restaurants had lines out the door and a shortage of ingredients.
---
Increasing Fan Support
Charli D'Amelio is one of the most-followed and most-praised influencers today, so much so that even her coffee order is copied. When influencers create their own brand, even the smallest details of their day-to-day routine can be made into large partnerships. Charli has many other iconic looks that could be made into other partnerships, such as her pink hair streaks, eyelash extensions, or acrylic nails. Once creators have built a large presence, a brand deal can be made out of almost anything, as seen with Travis Scott's partnership with McDonald's . Charli's brand deal with Dunkin' is a smart, targeted partnership that will continue to draw customers to Dunkin' and increase fans' love for Charli even more.
Read more about influencers building their brand and creating meaningful partnerships for their fans to support.
Learn more about influencer marketing at Hollywood Branded's Influencer Marketing School.
---