---
Sports Fans Will Find A Way To Watch Sports - Even Fictional Gaming
So far, 2020 has not exactly turned into the best of years due to the COVID-19 outbreak - especially for sports brands and those that advertise in sports marketing. Because of social distancing brought to limit the spreading of the virus, almost all sporting games and events including the major leagues have been either postponed or canceled for the forseeable future.
However, COVID-19 is not a complete disaster to all sports. One sports league event has been on the rise in recent years, and is now experiencing an all out explosion of popularity both with very engaged fans who have no where else to turn for competitive play, and for brand advertisers. What am I talking about? eSports - where brands are heralding eSports as their new mecca to advertise within. In this blog, Hollywood Branded discusses the rise of eSports during COVID-19.
---

---
Increasing Viewership And Widening Demographics
Canceling sports on a global level is not a new experience entirely, although it is something current generations including up through Baby Boomers haven't had to ever deal with. Even the 2020 Tokyo Summer Olympic Games has been postponed to 2021. There have been only three other Olympic games cancelled or postponed in the history of the Olympics, and those were during WWI and WWII.
And in consequence, brands who invest in traditional sports advertising and marketing are experiencing major nightmares.
Out of all the sporting fixtures, eSports remain strong and now stand alone in a vacant market. Many eSports have traditionally held live tournaments or championships, which have people filling venues to watch the video game play live, many including League of Legends, Overwatch, Dota2, and CSGO have adjusted their live tournament schedules and forfeited their match day revenue. They also however have the option of online formats - and this is what is propelling a 2nd tier sports league to the top of the charts of popularity.
As a result, the global viewership of eSports has increased by 10% on Twitch and 15% on YouTube gaming, and around 20% people are more likely to consider watching eSports with the absence of traditional sports. In addition, according to Comcast, network usage of gaming downloads has increased significantly by 77% in general.
Now that eSports has become the all-out winner in COVID-19 new world we are facing, it is still not too late to start thinking about marketing your brand through eSports. Let's take a look at some of the brand partnerships examples we've collected to shed some light on brand partnerships with eSports in general.
---
Traditional Sports Engaging With Fans On eSports
Obviously, the COVID-19 outbreak has been massively destructive in the traditional sporting world. However, many sports teams and athletes are still finding their way to keep fan engagement going by turning to eSports.
One example is NBA's Phoenix Suns. After the NBA officially suspended the 2019-20 season until further notice, the Phoenix Suns decided to move on to take their game to the digital basketball court in Take-Two Interactive's 2K NBA 2020. And you shouldn't be surprised.
The NBA is actually the first major sports league trying to tap into the eSports community by creating its own eSports league – NBA 2K League. This is a joint venture under the partnership between NBA and Take-Two Interactive (check out more about NBA product placement in our previous blog NBA Video Game Product Placements in eSports League.
The partnership not only allows NBA and its subsidiary teams to maintain their brand appearance in front of their fans during this gloomy time, but also creates a win-win opportunity for both NBA and Take-Two interactive as the audiences on both sides merge.

Sports Video Group
---
Jones Soda + eSports
Despite that many marketers who originally planned to advertise through traditional live sports events are now suffering with the fallout from COVID-19, some businesses are seizing the opportunity to promote their brands through online eSports events.
One brand that took a quick (and smart) re-direction is the Seattle-based beverage company Jones Soda. The company originally had a big event planned for 2020 but was forced to cancel due to social distancing requirements. It quickly reacted and made the switch from live event sponsorship to digital through a partnership with Torque Esports.
Jones Soda became the title sponsor for the Last Chance Qualifier competition in The Race All-Star Series which is a five-week eSports sim racing series. The series drew more than half a million viewers on YouTube driven by the participation of racing superstars through a simulation system. Even though the viewership might not seem to be a giant metric compared to real-world racing events like NASCAR, under the current circumstance, it still helps Jones Soda reach a great percentage of racing fans. For drastically lower costs as well - including not needing to have on site activation teams in place. And most importantly, this partnership shows brands the rising potential of digital sponsorships with eSports and demonstrates a success story in how it can be carried out.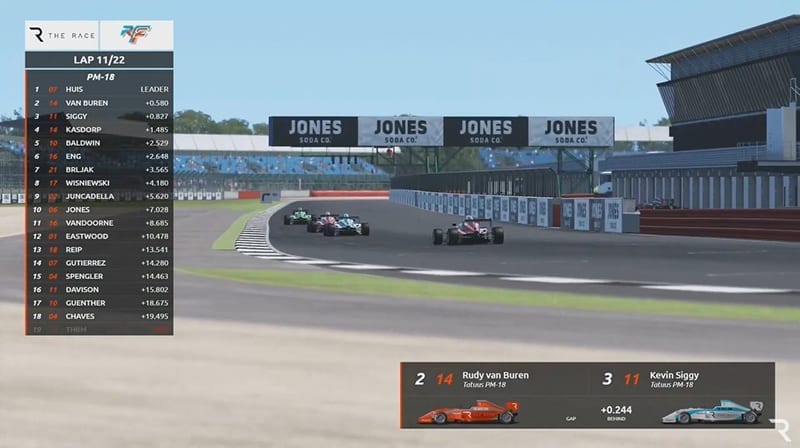 Event Marketer
---
Options Beyond Big eSporting Events - (Games!)
While brands like Jones Soda were not ready to embrace eSports as a new marketing platform until the coronavirus outbreak, many other brands have already begun to participate in the available e-gaming sponsorships.
Movie distributors like Disney and Warner Bros. have been using Fortnite as a platform to market their superhero upcoming movies before theatrical release. In the most recent case, Travis Scott gave a virtual performance in Fortnite with spetacular and immersive visual effects during the locke-down, drawing 12.3 million concurrent participants around the world attended the concert.

Hollywood Reporter
Fashion and luxury brands like Louis Vuitton and Nike have also partnered with esports in the effort to reach the audience age 18 -34. Check out this blog our team wrote on How Luxury Brands Are Utilizing Entertainment Partnerships.
Esport Junkie Twitter:@ThePotatoWard
Some brands might be intimidated by these brand names and consider eSports marketing a cost-prohibitive marketing method. Yes, it can be very expensive for brands to sponsor big eSports events, however, you don't necessarily need to do that to get into eSports. There are options for brand advertisers of all sizes!
---
It's A Sponsorship Platform For Brands Of All Budgets
In fact, eSports is an overall very broad concept and does not solely include only professional eSports tournaments. There are many eSports influencers who are live streamers on Twitch and YouTube Live who also have fans ranging from the low thousands to multiple millions.
Twitch allows live streamers to participate in its partnership program to run ads and make extra earnings. Brands can work with Twitch streamers and promote products through their channels just like influencer marketing but with a larger, more specific, more engaged, and more loyal audience base.
One of the most successful examples is Hershey's collaboration with Ninja and Dr. Lupo, who have a combined follower of almost 15 million and a concurrent viewership of 70,000. As the counterpart of the effort to market their new Reese's Pieces chocolate bar to female audience using a wedding-themed promotion on conventional social media channels like Facebook or Twitter, Hershey sought to partner with Twitch streamers to reach out to the male viewership. In the actual practice, not only did Ninja and Dr. Lupo put the ads on the corner of their screen, they kept mentioning how delicious the chocolate bars are while eating the bars and streaming Fortnite.

Through this partnership, Hershey successfully reached their target audience in a very engaging and authentic way. And the cost was WAY lower than sponsoring an event.
---
Takeaways You Should Consider
Esports is rising with the inactive of other live sporting activities during COVID-19. It will continue to grow and change the marketing landscape. Even sports betting apps put game bets now on eSports, and there is no time like the present for brands to explore brand partnership opportunities with eSports!
However, marketers should pay close attention to find the right game and avenue to work with. Keep in mind that this very engaged community values authenticity more than any other group. Make sure you know who your target audience is and how your brand resonates - and aligns - with them.
Interested in learning more about how to get your brand into eSports and other entertainment content? Then check out some of the blogs our team has written below:
Interested in learning more about product placement? Then check out our eBook which contains all the basics you need to know!