There's More To Pride Than Rainbow Flags and Parades
To the average person, Pride may just seem like an opportunity to wave around rainbow flags and cover your body in glitter. However, Pride Month and Pride in general is about much more than simply having a good time in a world of rainbow hues. It is about celebrating all gender identities and sexual orientations while fighting to end the bigotry and hatred that the LGBTQ+ community often faces.
Pride is an individual battle as well as a communal one. There are thousands of groups and organizations putting in the work to change the narrative for the LGBTQ+ community, and many people are looking to large brands and companies to make their move. In this blog, Hollywood Branded looks at 25 brands that are doing their part to work towards a more Pride-filled world.
---
---
Adidas
Adidas very often drops Pride collections in support of Pride Month each year and they followed their own trend again in 2021. This past June they released their "Love Unites" collection that includes various Pride-themed products. In the collection, there is footwear, clothing, and accessories so that you can sport your athletic-wear while still supporting the LGBTQ+ community. Even though the profits from the collection are not directly tied to an LGBTQ+ organization, Adidas does support Athlete Ally year-round. Athlete Ally is an organization that supports LGBTQ+ individuals that participate in sports as they "believe that everyone should have equal access, opportunity, and experience in sports -- regardless of your sexual orientation, gender identity or gender expression."
---
Apple
In June of 2021, Apple came out with two new Pride bands and Pride watch faces for their Apple Watches. Not only does Apple want everyone to sport their Pride-themed gear on their wrist this year, but they are continually proving their support for the LGBTQ+ community through the multiple organizations they work with. They support organizations like Encircle, which provides safe spaces for LGBTQ+ youth, young adults, and families as well as the National Center for Transgender Equality, which works towards providing social justice advocacy for transgender individuals.
---
ASOS
2021 marks the fourth year in a row that European retailer ASOS has partnered up with GLAAD to create a Pride month collection. GLAAD is an LGBTQ organization that uses media to change the script for the LGBTQ community and the way that society views them. Under this partnership, ASOS is putting 100% of their sales from their Pride collection towards GLAAD and the work they are doing for the LGBTQ community.
---
Balenciaga
This year's Pride collection from Balenciaga not only features an iconic sweatshirt and T-shirt embroidered with "Gay" in the same style as the GAP logo but also baseball hats, sports bras, tops, bracelets, a faux fur purse, and even a jockstrap that includes a rainbow waistband. In an effort to work against the bigotry and hatred that many LGBTQ+ people face in Georgia, where the creative director and designer of the sweatshirt is from, Balenciaga will be donating 15% of the money made from their Pride collection to The Trevor Project. The Trevor Project provides a 24 hour, toll-free suicide hotline that provides a completely anonymous and confidential safe space for LGBTQ+ youth.
Image Credit: V Magazine
---
Bath & Body Works
This year Bath & Body Works has set their sights on donating $1 million to the Human Rights Campaign Foundation in honor of Pride Month. The Foundation's work goes towards helping the LGBTQ+ community through a number of different initiatives that achieve various goals like improving transgender rights, promoting workplace equality, and helping children and their families. Bath & Body Works intends to reach this goal with the help of sales from their Love Always Wins collection that features candles, soaps, mists, and many other products that feature the rainbow colors.
---
Brooks
This year, Brooks' Pride collection is meant to represent and celebrate not only all who love running but all who love. They put out a collection of running gear adorned with rainbow colors and awarded four grants that are meant to be used by Front Runner chapters towards philanthropy. Their goal for this grant money is for each chapter to either sponsor a Pride Run/Walk or expand their imprint through other methods.

---
Calvin Klein
Everyone has always loved their Calvins and now there are even more styles to love. This year the brand introduced multiple new styles as part of their Pride Capsule. These styles are adorned with all the typical Pride rainbows as well as bold graphics. The collection came along with a meaningful partnership with Outright Action International and sponsorship by PFlag. Through these partnerships and the collection, the brand hopes to celebrate the full spectrum of Pride and the LGBTQI+ community.
---
Converse
Like many other brands, Converse also produced another popular product as part of their annual Pride collection. Five creatives on the Converse team were inspired by their own Pride stories and experiences to create the Converse Pride Chuck 70s. The shoe doesn't come alone, however. The team put together an entire graphic capsule collection that combines footwear, apparel, and accessories to give people a chance to show off their own joy and freedom.
---
Disney
Anyone who had Disney as a part of their childhood, even the smallest part, knows of the famous Mickey Mouse Ear hats that many people wear around Disney theme parks. Over the years, many variations of styles and color of these hats have been released, and this year was no different. As part of the Rainbow Disney 2021 collection, a rainbow Mickey Mouse Ear Hat has been released along with other items like tees, pins, mugs, backpacks, hats, fanny packs, and much more. Because of the size of the company as well as its global status, Disney has opted to donate to LGBTQ+ organizations all over the world. This includes ARELAS in Spain, Famiglie Arcobaleno in Italy, Nijiiro Diversity in Japan, and GLSEN in the U.S.
---
Dr. Martens
Everyone knows that having an awesome pair of Dr. Martens in your collection basically makes you the main character, and this year the company decided to help you up your coolness factor even more. This year they have updated their classic 1461 Oxford shoe by putting a simple rainbow Pride flag on the heel tab as well as a rainbow heel loop printed with the common "Airwair" featured on all Dr. Marten shoes and boots. If that's not enough rainbow for you, though, you can opt for rainbow laces and Dr. Martens athletic socks with fun rainbow stripes. The brand has even taken it one step further by creating an entire Pride page on their website where they give details about the work they have done for the LGBTQ+ community as well as information about their 2021 partnership with The Trevor Project. Through this initiative, Dr. Martens has pledged to donate $100,000 to The Trevor Project in recognition of all the diverse audiences they serve and the impact this has had on their ability to thrive as a business.
---
Harry's Razors
This year Harry's has compiled a limited edition collection of rainbow razors, hats, fanny packs, and more, showcasing art from Zipeng Zhu, a New York City based designer, illustrator, animator, and art director. As they have done in the past, and like many other brands are doing with their Pride collections, Harry's will be sending all of the proceeds from the collection to The Trevor Project.
---
Kate Spade
For Kate Spade, Pride this year meant limited edition rainbow everything! They put out rainbow bags, face masks, jewelry, apparel, tech gear, and even shoes with unique graphics and designs. Additionally, they will be donating 20% of their profits from The Rainbow Shop to The Trevor Project, an organization they have been partnered with for years.
---
LEGO
Even though kids toys are not an area that you typically see getting an update near Pride month, LEGO stepped up and broke barriers with their "Everyone is Awesome" set. It embraces diversity with the use of different colors and styles to represent every person. The kit is 346 pieces, making it a great option for any age to enjoy. Even though LEGO's work in the LGBTQ community is not directly tied to the Everyone is Awesome set, they still maintain partnerships with organizations like Stonewall, Workplace Pride, and Open for Business.
---
Levi's
The classic clothing brand is hopping on the Pride train as well with their All Pronouns All Love collection. With this collection, they set their sights on spreading awareness about different pronouns and how to be most respectful of the pronouns that a person chooses to use. The main piece to the collection is a denim jacket with a rainbow panel on the back with the words "they/them, she/her, he/him" typed across the rainbow print. However, this is not the only piece you can purchase; there are also t-shirts, sports bras, boxer shorts, and a fanny pack. The money made off of the collection will go towards OutRight Action International to help them achieve their goal of advocation for the rights of LGBTQ+ community members all over the world.
---
MAC Cosmetics
MAC Cosmetics is no stranger to embracing diversity when it comes to the LGBTQ+ community and has years of activism and beauty campaigns to back it up. Even though MAC did not launch a specific beauty collection in honor of Pride this year, they are keeping up with their long time dedication to the fight against HIV/AIDS with the profits from the Viva Glam line. The line originally launched in 1994 and has since had the MAC Viva Glam Fund created in honor of it, with $500 million being raised worldwide since its launch.
---
Morphe
Morphe's Pride 2021 Live With Love Collection is nothing if not colorful and fun. The limited edition line features a 25-pan eyeshadow palette, a brush set, and a hand mirror. The page for the collection also includes an introduction to famous American rapper Todrick Hall and credits him for the way he incorporates his experiences as a Black gay man into his passion for art while inspiring LGBTQ+ youth. Like many of the other brands and companies on this list, Morphe has sent 100% of the proceeds from their collection to The Trevor Project.

---
Old Navy
Old Navy's move for this year's Pride Month comes as an individual piece of a larger collection of T-shirts that were created by a panel of diverse artists to commemorate International Women's Day, Juneteenth, LatinX Heritage Month, Pride Month, and various other cultural celebrations of diversity. Specifically for Pride, Old Navy worked with queer artist Edward Granger to design a unisex crewneck tee with the word "love" colored in with a rainbow of geometric shapes. Granger also designed an alternate design on a white tee with an abstract geometric design in rainbow hues. He views it as a "love letter to the LGBTQIA+ community" as he wants to spread the message of loving yourself no matter who you are and staying connected to that. Additionally, Old Navy will be donating $1 million to the Boys & Girls Club of America as part of their Project We initiative.
---
Ralph Lauren
If you are one for more of a subtle Pride inspired rainbow look, try Ralph Lauren's collection of Polo shirts, T-shirts, hats, water bottles, socks, sunglasses, and even scents. The full proceeds of every Polo shirt sold and 25% of the purchase price from every other item has gone towards the Stonewall Community Foundation and the work they have been doing to help improve the quality of life for LGBTQ+ people.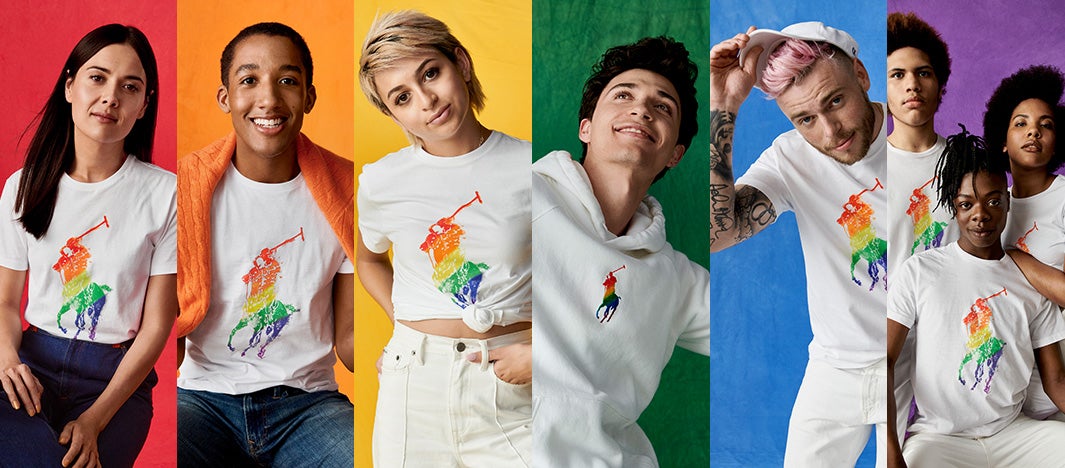 ---
Savage X Fenty
Rihanna's brand, Savage X Fenty has been the uniform for every lingerie loving hottie for the last few years, and now you can be an equality advocate while looking sexy at the same time. This year, the brand released a Pride collection that embraces not only diversity and inclusivity but size inclusivity through its wide variety of size offerings. The line includes typical lingerie items like panties, bras, lingerie sets, boxers, and jock straps. The collection didn't only turn every Pride lover into a total smoke show, but it also provided funds towards organizations like GLAAD, the Audre Lorde Project, and the Trans Wellness Center through a partnership with the Clara Lionel Foundation.
---
Teva
Not only is Teva's Pride collection this year stylish in design, but it is sustainable in materials and will make any wearer feel good about their purchase. The variety of rainbow sandals that Teva has produced not only come in white or black, but there is also a fun platform option as well as a flat option. The straps of each sandal are made from recycled plastic bottles AND the collection has been made alongside Teva's donation to the Human Rights Campaign Foundation of $35,000. These are the perfect shoes to rock at any Pride Parade or summer festival.
---
Toms
Everyone knows that Toms has always had world/community improvement at the center of their mission and their Pride collection remains perfectly in line with that. This year they released their Toms Unity Collection which features the classic Alpargata shoe in different patterns and colors, along with socks, sunglasses, and masks. Along with the colorful collection, Toms has announced that they will be giving away 1/3 of their net profits to grassroots organizations so that they can support the LGBTQ+ community all year. One of the organizations they have been supporting is Brave Trails, a summer camp for LGBTQ+ kids 12-18 who are located in California and Maryland.
---
UGG
This past May, UGG released an all gender capsule to be sold year round in support of the LGBTQ+ community. The brand wants to encourage anyone, no matter their gender identity, to strut their stuff in their Pride-inspired fluffy slides. Not only did they release the capsule for year round availability, but they have opted to donate $125,000 to GLAAD in hopes of advancing acceptance and equality for the LGBTQ+ community.
---
Uno
Uno has been an integral part of many people's childhoods for the last 50 years and they are doing their part to make sure they remain a part of every home through their support of The Pride Movement. this year the card game brand came out with their Play With Pride deck that is more colorful than ever. In addition to the vibrant new cards, Uno's parent company, Mattel, plans to donate $50,000 to the It Gets Better project, whose mission is to "uplift, empower, and connect lesbian, gay, bisexual, transgender, and queer (LGBTQ+) youth around the globe."
---
Vans
Vans has never been one to shy away from color when it comes to products they put it out, and their Pride collection this year is no different. The line includes their classic slip on shoes in a variety of rainbow patterns along with T-shirts, hoodies, hats, sunglasses, backpacks and more. Not only do they have all the gear to keep a sporty Pride lover stocked up, but they have connected with numerous LGBTQ+ organizations like GLSEN, Casa 1, Where Love is Illegal, and Tokyo Rainbow Pride through their promise of a $200,000 donation.
---
VS PINK
Victoria's Secret PINK came out this year with a collection for Pride that not only features adorable rainbow patterns and colors on their popular products like panties and tops, but they have also included models of all different gender identities, ethnic backgrounds, and sizes. Not only is this an amazing opportunity for PINK to flaunt their PRIDE merch, but it also comes after a long history of being ridiculed for only showcasing thin models who fit into the Western ideals of beauty. On top of all the amazing things this collection achieves when it comes to representation, PINK has also vowed to donate $100,000 to Campus Pride, an organization that works to eradicate bigotry on college campuses and create a safe space for LGBTQIA+ students.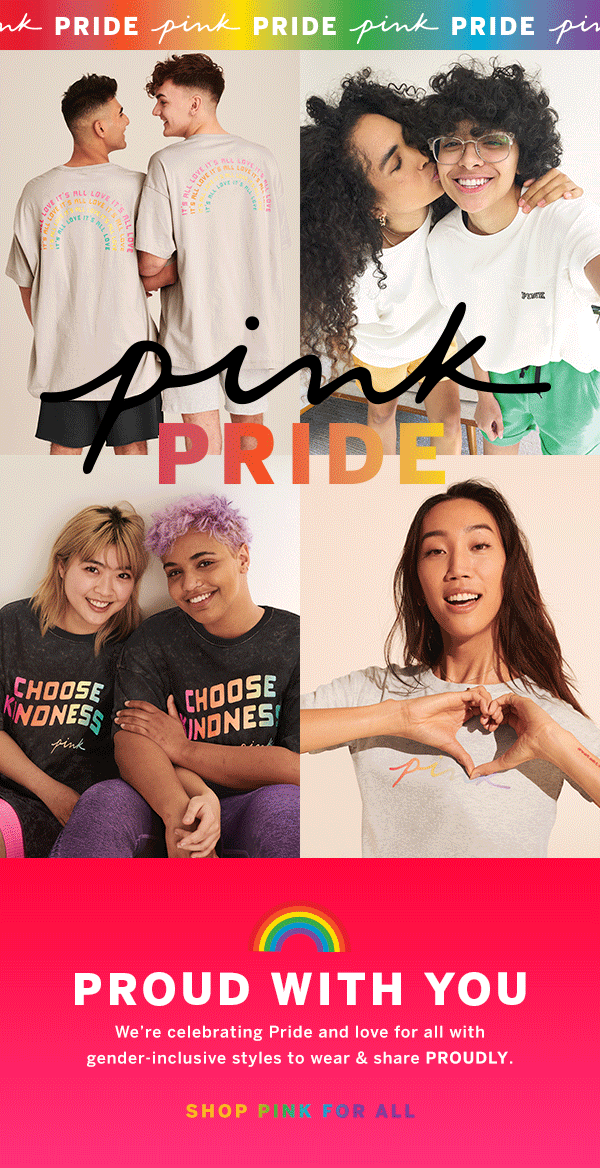 ---
Pride Never Ends
If you are passionate about supporting businesses that embrace Pride and what it means to be an ally, there are hundreds more that you can take advantage of. You'd be surprised how many mainstream brands there are creating Pride collections and supporting the LGBTQ+ community in their own way, and some may be ones you already shop with. You can even take it a step further and find an organization in your area, or even a national one, that is doing work in the LGBTQ+ community that you connect with and jump on board!
---
Times Are Changing And So Are Brands
Interested in learning more about brand activity and what brands are doing to stay relevant? Read our blogs below to become a brand marketing connoisseur.
Recognize some of these brands from placement in your favorite movies, TV shows, or their iconic advertising? Download the guide below to see how you can make your brand the next hot trend through effective promotions and product placement.
---