---
Campaigns That Became The Best In The Universe
More secretive than the C.I.A., more powerful than the F.B.I., they are the marketing campaigns of the Men in Black: International, and they're making protecting the Earth from the scum of the universe look good.
With bold new looks, sleek style, and a plethora of creativity, these (not so) mysterious heroes in marketing rose through the ranks to claim as the top agents of advertising. Best news? We've unclassified their dossiers just for you. In this blog post, Hollywood Branded brings you the top brand partnerships with Men in Black: International, no neuralizers required.
---
---
A Little Video Teaser To Get You Started
---
Suit Up And Sit Down For A Wild Summer Ride
It's no secret that summer blockbuster season is in full swing, and movie-goers have a new hit awaiting them almost every weekend at the box office across all studios. Pixar's darling Toy Story 4 opens June 21st and Disney's highly-anticipated live action The Lion King waits in the wings for its debut July 19th. Not to mention, Marvel's Spider-Man: Far From Home will flirt with 4th of July weekend, set to swing into theaters July 2nd. Honorable mentions include Paramount's live-action Dora and the Lost City of Gold opening August 2nd, and Universal's heavy hitter Fast & Furious Presents: Hobbs & Shaw cruising to the box office that same weekend.
What about this weekend? In an all-new adventure Men in Black: International blasted into theaters Friday, June 14th, eyeing a $100 Million opening projection at the time this blog was written. The sleek suited crew faced larger than life competition however, with Warner Bros. Godzilla: King of the Monsters raking in a whopping $301+ Million since opening May 31st and continues to grow as it heads into its third week. Other heavy hitters hail from Disney and Fox respectively, with Aladdin soaring at $621+ Million, and Dark Phoenix holding steady at $146+ Million.
After years of scrupulous searching to finally find the Men in Black base, Molly (Agent M) becomes newest agent on the block, where she is promptly paired up with top of the class Agent H. But, when a series of alien attacks leads to MIB becoming infiltrated by The Hive, Agent M and Agent H must travel around the globe for answers and a solution. The fate of the world and intergalactic freedom once again falls onto the shoulders of the Men (and women) in Black.
The fourth installment to the Men in Black franchise brings an all-new cast of characters here to proudly take the torch and continue the story. Stepping into the polished black shoes in Will Smith and Tommy Lee Jones' stead is Creed's Tessa Thompson as Agent M, and Thor himself -- Chris Hemsworth as Agent H. If you think you've seen this pair before you'd be right, Thompson and Hemsworth partnered up for the massively successful Thor: Ragnarok back in 2017 as Thor and Valkyrie. I'd be willing to wager that Marvel fans will be heading to the box office to catch this team up again in Men in Black: International... (I know I will be).
Along for the rocket-car ride on the big screen are Emma Thompson (Saving Mr. Banks), Liam Neeson (Taken), and Rebecca Ferguson (Mission: Impossible - Rogue Nation). Lending his voice as Agent M and Agent H's alien sidekick, Pawny, is Kumail Nanjiani -- whose action comedy ride-along with Dave Bautista, Stuber, opens July 12th.
But, I know you're here for the brand campaigns and partnerships. So, let's get down to business and dive into the top brand partnerships with Men in Black: International.
---
1. Lexus
Starting out our list is a luxurious partnership between Sony Pictures and Lexus which named the automotive company as the official vehicle supplier of the film! Lexus vehicles were featured as the official fleet of Men in Black agents globally throughout the film, to which the 2020 Lexus RC F took on a starring role as the vehicle of choice for Men in Black agents... (and can also be spotted in the trailer!).
The 2020 Lexus RC F may have been the star of the show, but, throughout Men in Black: International the Lexus RX Hybrid and Lexus LX SUVs also served up supporting roles, and an alien encounter or two.
In all, the collaboration between Sony Pictures and Lexus included integration in the film, a co-branded TV spot, a custom Men in Black RC F, and sponsorship of the film's premiere. Not to mention, the hero car turned Hollywood superstar even attended the red carpet event alongside other A-list talent, decked out with the Men in Black symbol decal, and rim light features.
As an added comedic element to the promotion, Lexus and Sony Pictures pulled a hilarious out of this world prank... Men in Black style.
In the spirit of the film's release the Lexus dealership of Thousand Oaks, California had some intergalactic fun, pulling a prank that involved a dealership employee to be transformed into an alien-housing vessel. Sound like something out of the movies? You'd be right. For Men in Black fans, aliens in disguise is to be expected in the film, only this time, it wasn't reserved for just the big screen.
Don't live in California? Don't worry! Lexus and Sony Pictures created a video showing off the special effects used to make the Lexus dealership employee's double, and the reaction of unsuspecting customers who experienced their very first alien encounter.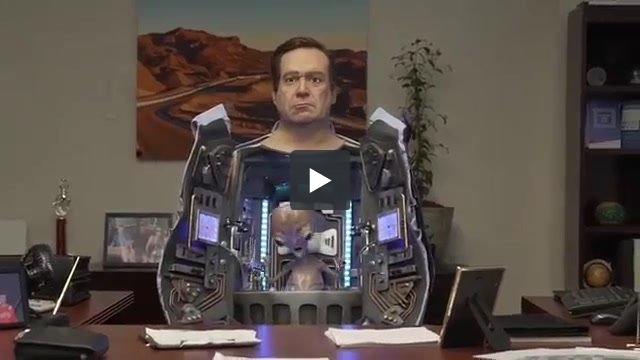 ---
2. Hamilton
Next on our list comes this sleek addition to the Men in Black agents wardrobe, courtesy of the partnership with Hamilton as the Official Watch of the Men in Black. The watch gained heavy integration in the film by becoming standard issue for all MIB agents.
Most notably, Agent M (Thompson) wore the Hamilton Venture throughout the film, and can clearly be seen in the trailer as she gets suited up for the first time. But, she wasn't the only one sporting the new style... Agent H (Hemsworth) wore the Ventura Automatic with H-10 automatic movement, cut out dial and brown leather strap throughout the film.
Along with integration in the film, Hamilton also published two co-promotional digital videos with one taking a behind the scenes look into the Men in Black and their iconic wardrobe. In the video, members of the cast including Tessa Thompson, Emma Thompson (Agent O), Liam Neeson (Agent High T), and Men in Black: International's Producer, Walter Parkes.
Parkes comments, "There's a sort of hard-boiled toughness to a Men in Black agent that actually reflects itself in their style. Extraordinary weapons, and sharp black suits. Over the years we've pushed the style a little bit but the thing that's been there since the beginning is the Hamilton watch, which was somehow both retro and futuristic; and it became standard issue for the Men in Black."
Hamilton's website also touted the title of Official Watch of the Men in Black, with a landing page decked out with Men in Black promotional images, and high-res shots of the watch along with other notable MIB gear including the famous black suit, shades, and neuralyzer -- you know exactly the one. Together, Hamilton and Sony Pictures brought us a campaign not so easily erased from our memories!
---
3. Booking.com
Ever wanted to visit the Men in Black: International Headquarters and live out your special agent fantasy? Well, thanks to an ingenious partnership with Booking.com you too can join the big leagues with the first ever MIB HQ experience... exclusive to London, England. Sorry, North America...
Booking.com and Sony Pictures teamed up to offer fans a chance to stay in the London headquarters featured in Men in Black: International. From the official press release published online announcing the MIB installation, Booking.com painted the full picture of the promotion.
Following in the footsteps of the new duo of galaxy defenders -- Agent H and Agent M, luck guests of this exclusive stay will be able to heroically prepare, equip and guard themselves (and the universe) against any extraterrestrial mayhem during their stay... Just don't forget to pack your neuralyzer!

Available exclusively on Booking.com and accommodating up to two guests per night, those lucky enough to book this unique stay will enjoy a fully immersive Men in Black experience and an exclusive look at the original set pieces used in the movie.

From the agent check-in area, to the main hall of the HQ (including a recreation of the all-seeing eye, which is featured prominently in the movie), to the undercover agent's bedroom, the space has been inspired by the futuristic world of the Men in Black.
The branded experience recreated the Men in Black headquarters which guests entered through a super secret industrial space with just a subtle identifier in the centre as seen in the film. Guests were then confirmed as MIB "agents" and were fitted with a black suit and sunglasses. A sliding door then opened to reveal the first of many interstellar experiences, including the impressive Men in Black HQ (pictured below) where their experience as an agent took a lot of unexpected turns... what those turns were exactly remain confidential information.
Senior Vice President of Accommodation at Booking.com, Pepijn Rijvers, went on to say: "We know that travellers are inspired by what they see in the movies when planning their vacations, so we are very excited to collaborate with Sony Pictures, to recreate the Men in Black Headquarters in London."
Rijvers continued, "With over 750 Million guest arrival in alternative accommodations, we've been connecting travellers with the most diverse range of incredible places to stay for decades and the Men in Black HQ is no exception and is sure to be one of the most out-of-this-world places to stay this summer."
Vice President of International Marketing Partnerships at Sony Pictures, Andre Seddoh, also commented: "We are always looking to be innovative and entertain people all over the world, so we are delighted to be working with Booking.com. The collaboration has enables us to offer a once in a lifetime opportunity to stay in a recreation of the London MIB HQ and extend the hidden universe of Men in Black: International from the big screen and into the real world."

---
Want To Make Your Brand Campaigns Out Of This World?
When it comes to interstellar partnership campaigns there's nothing better than knocking out the competition, and with some of Hollywood Branded's stellar creativity every brand can become a hero in marketing!
Want to see other successful brand partnerships? We have you covered! Check out some of our other blogs on previous promotions and marketing strategies, and see what some out of the box thinking can do for your brand when it comes to entertainment!
Ready to start getting your brand in TV shows and feature films? Then check out our Product Placement & Promotions 101 Guide that you can download below!