---
Products With Courtside Seats To The Hottest Ticket In Town
Following the highly anticipated film's opening weekend smash, and raking in $15.5MM despite going up against Jurassic World: Fallen Kingdom, Incredibles 2, and Sicario: Day of the Soldado - a movie that was launched from a brand's ad campaign has come in #4 overall for the weekend. (And has barely broken a sweat in the process.)
This is a unique turn of events, where a brand has literally created a feature film based off of an ad campaign. The mecca of all motherloads for the brand. And most interesting... is the number of other brands interested in jumping on the bandwagon to help support the ad (ahem, film) in some pretty large ways. In this blog, Hollywood Branded shares how one brand's TV ad became a movie, and the top five brand partnerships with Uncle Drew who helped propel the movie to becoming a top hit.
---
---
What (Or Who) Is Uncle Drew?
The Man. The Myth. The Legend.
It was the year 2012, times were simpler, and the next viral sensation was on the precipice of making himself known. In a new advertising campaign to promote Pepsi Max, star Boston Celtic Kyrie Irving was cast to play the part of Uncle Drew - an old man who can ball with the best of them in a five-minute online video.
Soon after hitting the court (and YouTube) the ad went viral, racking up a collective total of 52MM views - and still climbing with the recent release of the feature film.
Check out the short film that ultimately inspired the film. It was originally released in chapters on YouTube, helping to build the audience that ultimately attended the film.
After opening weekend, Uncle Drew sits pretty on $15.5MM worth of box office sales, which is already more than what the powers behind the movie were hoping for.
According to Variety, the original goal was to make between $10 million and $13 million in its first weekend, as a means to help offset a sub-$20 million budget (prior to marketing).
By the numbers provided in an article published by Inc.com, the audience demographic also lived up to expectations, primarily skewing male (which comes as a surprise to no one), and was comprised of 39% African-American attendees, 32% White, 17% Hispanic, and 9% Asian. The missing few percentages was subsequently listed as the ubiquitous "other".
Speaking of marketing, any marketing works to Pepsi's ultimate benefit, so it's a slam dunk for the people behind the marketing campaign. Not bad for an ad from 2012...
So, what brands hopped on the Uncle Drew hype wagon? Quite a few actually, and we put together the top five best partnerships.
---
Nike And Uncle Drew
First on our list is Lionsgate Entertainment's partnership with Nike, who served as one of the larger promotional partners for the theatrical release of Uncle Drew. Uncle Drew himself, Kyle Irving, unveiled his own shoe, the Kyrie Low, debuted as a Quickstrike "Uncle Drew" colorway.
In a press release, designer Benjamin Nethongkom went on to explain that, "Kyrie wanted his Low to have everything his signature game shoes have had, but retooled with an all-day play component."
Coinciding with the film's release the QS Uncle Drew shoe was available to purchase starting June 29th across all retailers/outlets, for $120 USD.
In addition, Nike released a special collection of footwear and apparel inspired by the movie, including hoodies, t-shirts, hats, basketball shorts, sweatpants, basketball shirts, and of course, basketball shoes.
Also, to celebrate the premiere, the infamous "Red Carpet" colorway saw its return, trademark for the bright red color and golden Nike logo embroidered on the side.
All items are limited time availability.
---
Wheaties And Uncle Drew
Walter Payton, Michael Jordan, Bruce Jenner, Tiger Woods... all of them legends in their field. And now perhaps one of the greatest basketball players of all time takes his place on the coveted cereal box: Uncle Drew.
Kyrie Irving broke some big cereal news on ESPN back in May where he revealed that he'll be on a Wheaties box, along with Uncle Drew – the lead character he plays in the upcoming Lionsgate film by the same name.
"It's more or less a dream come true," Irving told ESPN's Scott Van Pelt in an interview. "An opportunity afforded through really showcasing Uncle Drew, the movie, and then being able to be on Wheaties – The Breakfast of Champions. I'm just appreciative of the company, General Mills, and everyone involved in this whole entire process."
The Irving/Uncle Drew limited-edition Wheaties box is currently available across the United States, for a limited time.
---
Pepsi And Uncle Drew
If you thought Deadpool was the poster-child for meta advertising, as proven in our previous blog Top Brand Partnerships With Deadpool 2, you don't know Drew. Two weeks prior to the film's release Pepsi begun running a new ad to tout its feature film based on the character starring in the original ad.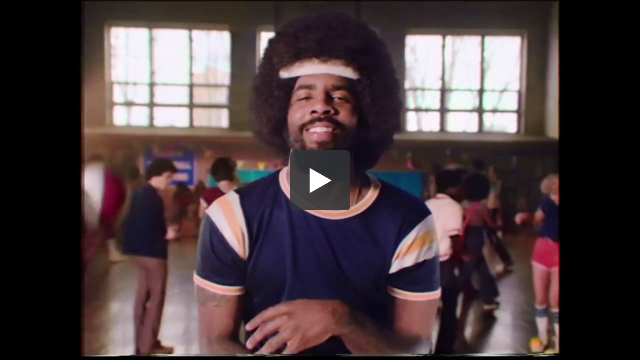 The ad, appropriately titled "Timeless", shows Irving's Uncle Drew character over several decades, sticking with the cola's recent ad approach of portraying the brand as a constant, and has lasted over multiple generations. In typical fashion, a movie plug rounds out the ad to help drive viewers to the box office.
Uncle Drew amounts to one of the largest bets by Pepsi to leverage its intellectual property for commercial gain beyond directly partnering the soda through product placement or an integration. Although, to be expected, the drink of choice? Pepsi, which you can even see in the trailer is anything to go by.
---
Aleve And Uncle Drew
It's really a no-brainer that a film starring professional athletes, one playing an elderly athlete, would inevitably team up with a pain medication. Still, we have to commend the campaign and marketers involved for the clever partnership, since it does truly make all the sense in the world - that's the beauty of it, really.
The ad says, "Whether you're trying to make an epic comeback or just get through the day with back and muscle pain, staying in the game means there's no time for stopping to take pills every few hours. That's why there's Aleve Back & Muscle Pain. It provides pain relief for up to 12 hours – with just one pill."
The message is heard between overlays of snippets from Uncle Drew, and finishes with the call-to-action to see the film in theaters.
Given that Aleve bottles are rather small, and unfortunately don't lend themselves to large packaging options for in your face branding with insert shots, the only real visual to the partnership comes with the bright orange stripe across the container, matching the Uncle Drew scheme.
All in all, this partnership is definitely a slam dunk.

---
American Express And Uncle Drew
Lionsgate secured another brilliantly strategic partnership with American Express, with an offer of advanced screenings of Uncle Drew exclusively to Card Members.
Lisa Kahn, AMEX's Director of Global Partnership Strategy, Team Sports & Venues said in a statement, "Our partnership with Lionsgate for Uncle Drew is the latest example of our commitment to back our customers in life and business, offering NBA fans unprecedented perks to fuel their fandom throughout the season."
---
Get A Leg Up On Your Competition
Interested to see other successful brand partnerships? We have you covered! Check out some of our other blogs on previous promotions and marketing strategies, and see what some out of the box thinking can do for your brand when it comes to entertainment!
Ready to start getting your brand in TV shows and feature films? Then check out our Product Placement & Promotions 101 Guide that you can download below!